In 2005-06, Quinnipiac made a major move in Division I hockey by switching from Atlantic Hockey to ECAC Hockey. Their top scorer led all NCAA defenseman and all Atlantic Hockey players in scoring the previous season.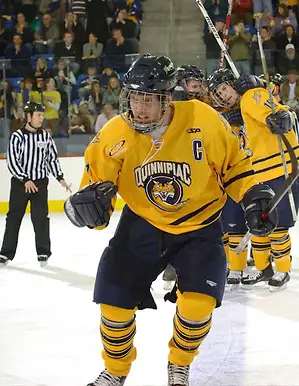 Critics said things would be different for the Bobcats in the new league. Reid Cashman would be silenced on the power play and on the scoreboard.
The critics were wrong.
Rand Pecknold, then Cashman's coach, remembers not being worried about Cashman and the league change. "He had great competitiveness, great work ethic, his hockey sense was excellent," Pecknold said. "He was a really high-end offensive defenseman, which is hard to come by in college and on the professional level."
Teams in Atlantic Hockey knew that and soon, the ECAC did as well.
Cashman continued to tear apart opposing defenses, scoring 41 points to lead all ECAC defensemen in scoring in his first year in the new league. He posted his third straight 40-plus-point season the following year en route to earning the respect of his coach both on and off the ice.
"He's not just a great player, but a great person, too," Pecknold said. "He did a lot here from a character perspective. He is arguably one of our best players of all time and one of our best people of all time."
After eight seasons playing professionally in the AHL, ECHL and a brief stint in Austria, Cashman is returning to his roots.
Hiring delayed
In mid-June, Quinnipiac announced that assistant coach Ben Syer had left the team to fill the void left at Cornell when assistant Casey Jones left to become Clarkson's head coach.
"Our applicant pool was phenomenal," Pecknold said. "We had successful college coaches, NHL players that were looking to get into coaching, AHL coaches, and alumni that were all interested in the position. I was absolutely blown away by how good the applicant pool was."
A month later the New Haven Register reported that Quinnipiac had found a replacement. But when former Michigan State assistant Brian Renfrew backed out (he later became an assistant coach at Nebraska-Omaha), the position opened again.
"I went through the first-round pool and it was decided that the university was going to go a different route, and that was totally fine with me," Cashman said.
It was at that point that Cashman figured it was time to continue his playing career, or so he thought.
When things didn't work out with Renfrew, Pecknold came calling to Cashman.
"I got the call on I believe a Wednesday," Cashman said. "I was in New Hampshire and was literally packing to go to Germany on Friday. If they had called 48 hours later, I would have been gone and had to turn the offer down."
So in early August, Cashman got the call from his alma mater to return as the new assistant coach. He couldn't say no.
Fitting his role
Once Cashman signed, Pecknold was clear that he wanted someone fresh, even if it did come in a familiar package.
"When Ben left one thing that I was looking at is that we wanted someone that would bring something new to the table," Pecknold said. "Obviously, [Cashman] will bring in some of the same things as us because we coached him, but he has been on other teams since that time and has played for some great coaches and learned a lot more."
One of those coaches is 2009 Stanley Cup champion Dan Bylsma of the Pittsburgh Penguins. Cashman played for him in 2009 while Bylsma was still with the AHL affiliate in Wilkes-Barre/Scranton.
"I tell people that he was one of the best coaches that I ever played for," Cashman said. "When he got called up midway through the season that year, my teammates and I were sitting in the locker room thinking that he could be the difference-maker for that team."
One of the major pieces that Cashman brings to the table is his expansive knowledge of the power play, something that Quinnipiac struggled with last season. The Bobcats converted on just 25 of 179 chances, good for 14 percent.
"Last year was one of our poorest offensive seasons that I can remember in my time here," Pecknold said. "Our power play was our worst in maybe 14 seasons. That needs to get better."
Said Cashman: "I am just trying to fit the role here. Being on the power play was one of my jobs when I was at Quinnipiac and throughout my playing career, and if the coaches want my help, then that will be a part of my role."
Still, with all the praise that Cashman has received since the league change and throughout his professional career, he is once again the target of raised eyebrows.
When asked if he was afraid about hiring someone who has never coached before, Pecknold tilted his head with a smirk. "Everyone has to start somewhere," he said.
For Cashman and Quinnipiac, there might not be a better place to start.
"You can feel the buzz around here," Pecknold said. "The people that know Reid are really excited to have him back."