If you're of the mind-set that a college hockey team goes only as far as its goaltender takes it, a few schools have a pretty good outlook at the dawn of the 2011-12 season.
Here's a look at some choices for the top 10 goaltenders in college hockey: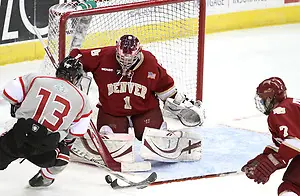 Heading into his sophomore season, the sky should be the limit for Brittain. As a freshman, he notched a NCAA rookie-high 19 victories in 33 games. His 2.40 goals against average was second in the WCHA, helping him garner WCHA and USCHO all-rookie team honors.
He would be higher on this list, but a knee injury suffered in the second period of the WCHA Final Five championship game against North Dakota will cost him time this season. He backstopped the Pioneers through their two NCAA tournament games before it was determined in the offseason that his injury required surgery and time to heal. Brittain hopes to be back in the lineup for the Pioneers' playoff run in late January or February.
It didn't take Kapalka long last season to unseat incumbent starter Brian Mahoney-Wilson, who had 81 games under his belt before Kapalka even arrived on campus. He got off to an inauspicious start, losing to Michigan Tech 6-2 on Oct. 9, but he earned his first win two weeks later over Colgate, and wrestled the starting job from Mahoney-Wilson by early December. He celebrated the opportunity with a pair of 1-1 ties with Bowling Green before earning eight of his 12 wins over his last 21 starts.
Kapalka forced Notre Dame to overtime in the first game of their CCHA playoff series before beating them 4-3 in the second game. The Fighting Irish came back to win Game 3 and the series, but Kapalka gave them all they could handle.
After winning 17 times in his first two seasons combined while splitting time with veteran Andrew Brathwaite, Cannata posted 25 wins last season as he helped the Warriors to a fourth-place finish in Hockey East. Playing in all 39 Warriors games, Cannata solidified the defense, keeping opponents to just 2.48 goals per game.
Cannata truly solidified himself as a top goaltender late last season when the Warriors hosted Maine in the opening round of the Hockey East playoffs. He surrendered six goals on 55 shots as the Warriors earned the sweep. From there, Cannata defeated Matt DiGirolamo and New Hampshire 4-1 on March 18 before falling to Boston College in the championship game. He also made 33 stops in a 4-3 overtime loss to Notre Dame in the NCAA Northeast Regional.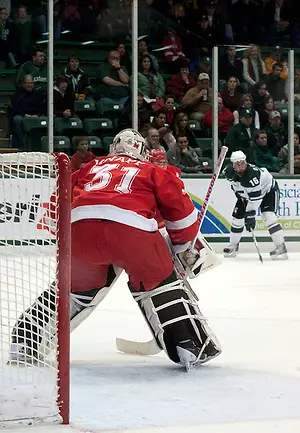 "You really have to include them both," one opposing coach said when discussing Miami coach Enrico Blasi's luxury of having Knapp and Cody Reichard between the pipes. "They've both been very good every year."
The RedHawks have been blessed not only with one of the top offenses in the country the last three seasons, but also with the best goaltending tandem in college hockey. Knapp, now a senior, has won 31 times in 60 career games, but more impressively, he sports a career GAA of just 2.03. Two seasons ago, Knapp posted a 1.97 GAA in 20 games, good for third in the country. His best game that season may have been the 3-2 double-overtime victory over Michigan in the NCAA Midwest Regional, when he made 55 stops.
Unfortunately for Knapp, sharing time has meant that he has seen his number of appearances decline each season, from 23 to 20 to 17 last season.
"He won a national championship as a freshman," an opposing coach said of Millan. "He's been strong every year for them and I expect he will continue to be this season."
Millan backstopped the Terriers to college hockey's pinnacle as a freshman in 2009, winning 29 times in 35 appearances that season. There was an abundance of talent on that squad, with seven players having played at least one game in the NHL. Since that season, Millan has won 16 games each of the last two seasons. Last season, he posted a 2.68 GAA in 36 games, helping the Terriers to a third-place finish in Hockey East.
Millan gets an early test Oct. 8 against DiGirolamo and the Wildcats. He saw DiGirolamo five straight times to end last season and the Wildcats are the first regular season opponent on the docket for the Terriers this season. He won two of the five contests at the end of last season, and will look to build off those victories.
"I think Scott doesn't get as much recognition because he plays in Alaska, but I really like him," an opposing coach said.
A relative unknown to those outside of the CCHA, Greenham has quietly posted back-to-back double-digit win seasons for the Nanooks. Playing in 77 games over the past two seasons, Greenham has given the Nanooks a chance to win on a nightly basis, posting a 2.23 GAA last season and a 2.20 GAA in 2009-10, and several coaches from the CCHA now include him in their lists of top goaltenders.
Michigan State found out firsthand just how tough Greenham can be to beat when the Spartans played host to the Nanooks in the CCHA playoffs. Greenham made 56 saves combined in lifting his team to a 3-2 overtime win and a 4-3 win in double overtime.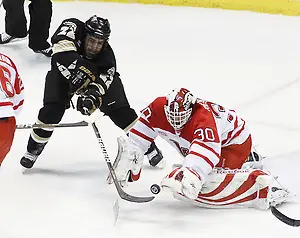 Spending each of his first three seasons as the other half of the RedHawks' tandem, Reichard has been among the nation's elite netminders every season. In 2009-10, he posted a nation's-best 1.87 GAA in 27 games. He helped the RedHawks win two of their five consecutive games against Ohio State at the end of the CCHA regular season and opening round of the CCHA playoffs.
Last year, he was nearly as good, earning victories in 15 of his 24 appearances, including wins over Notre Dame and Western Michigan to capture the CCHA tournament crown. Reichard was bested by DiGirolamo in the NCAA Northeast Regional, surrendering two goals on 26 shots.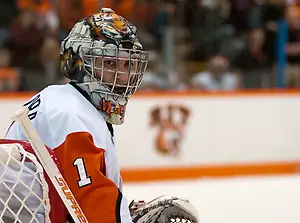 After playing just five games during the Tigers' fairytale run to the Frozen Four as a freshman, Madolora more than proved the cupboard wasn't bare for coach Wayne Wilson during his sophomore campaign. Posting the nation's third-best 1.93 GAA in 28 starts, Madolora was outstanding all season. He posted eight consecutive victories from Oct. 29 to Dec. 30. In fact, he made 21 straight undefeated starts before finally succumbing to Robert Morris 5-3 on Feb. 19. His six shutouts tied with three others, including North Dakota's Aaron Dell, for the national lead.
Several opponents found him tough to score on, as he posted a .935 save percentage, tops in the NCAA. But his season was cut short on March 19, when the Tigers fell 1-0 in the Atlantic Hockey tournament title game.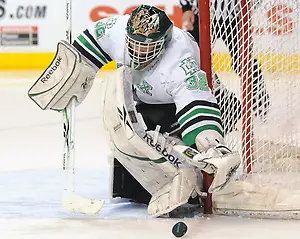 "I don't know if Dell is just that good or if he is just a product of the system they employ at North Dakota," an opposing head coach said. "They're always tough."
After two strong seasons, it appeared that the Fighting Sioux were ready to head into 2010-11 with Brad Eidsness as their top netminder yet again, but Dell changed all that just three weeks into the season with wins in each of his first two starts. Over the remainder of the season, the sophomore won 28 more times, including victories over Brittain and the Pioneers in the WCHA tournament and then over Rensselaer and Brittain's Pioneers again in the NCAA Midwest Regional.
Dell's 1.79 GAA for the season was tops in the country. His save percentage of .924 tied with Kapalka for the eighth-best in the NCAA. Dell was second-busiest in the country to DiGirolamo with 2,349 minutes, 2 seconds played. He also posted six shutouts.
After waiting his turn while getting only spot duty during his first two seasons, DiGirolamo heads into his final campaign looking to build off his outstanding junior season. He topped the nation in saves with a school-record 1,145 in 39 games. His 2.44 GAA was good enough for third in Hockey East and helped him garner Hockey East all-star honorable mention while helping the Wildcats to a second-place finish.
Merrimack can attest to just how tough DiGirolamo was last season, as it fired 42 shots at him on Nov. 27, only to lose 2-1. Miami also found out how stingy DiGirolamo can be — he held the RedHawks to just one goal on 22 shots in the opening game of the NCAA Northeast Regional.