After looking at the best of the best defensively, it's time for those who believe the best defense is a good offense. Included in this list are 10 forwards looking to have impact years for their respective clubs.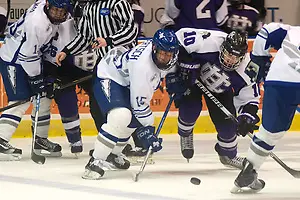 The only player on this list not from a traditional hockey power, Fletcher began his sophomore campaign looking more like a freshman than a veteran. Having missed three quarters of his rookie season due to injury, Fletcher had just 13 points through his first 17 games. He blossomed after Jan. 1, however, scoring 25 points during the final 20 games of the season to finish as the Crusaders' leading scorer.
Eight of the Kanata, Ontario, native's 38 points came in one weekend against American International in early February, when he notched three points on Friday night before adding two goals and five points on Saturday. In the opening round of the Atlantic Hockey tournament, he posted four goals and six points in three games against Canisius. He will be leaned on heavily to do more of the same this season.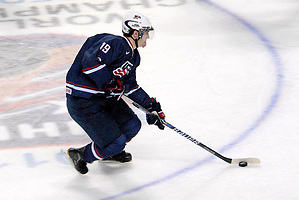 "He's been hidden behind others," an opposing coach said about Kreider. "But he should be counted on as a leader this season."
Scoring only 26 goals and 47 points over his first two seasons, Kreider seems like an unlikely choice for a top forwards list on statistics alone. However, considering he has been buried on a veteran-laden Boston College team for each of his first two seasons, Kreider has had the opportunity to develop slowly while under the tutelage of top-notch forwards such as Cam Atkinson, who posted back-to-back 30-plus goal and 50-plus point seasons.
This year, Kreider comes into the season as the Eagles' third-highest returning scorer on offense, and he will look to carry a larger part of the load in the Eagles' drive for another Hockey East championship. Their cross-town rivals certainly have already seen their fill of the Boxford, Mass., native; he posted two goals and three assists against Boston University in four games last season.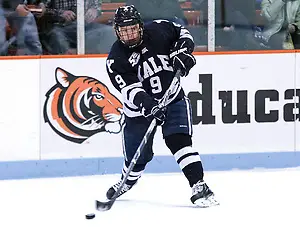 If there's one word that describes O'Neill, consistent is it. O'Neill scored 26 points as a freshman and has notched 45- and 46-point campaigns each year since. Both totals led the Bulldogs in scoring. Last season, O'Neill had 12 multi-point games, starting with a three-point effort against Brown on Oct. 29 and ending with a pair of assists in a 6-0 drubbing of Cornell in the ECAC Hockey championship on March 19.
The Yardley, Pa., native scored points in each of the first six games of the season and each of the final six as well. He also enjoyed working the power play; he notched half of his team-high 20 goals on the man advantage. He will need to be as good, if not better, if the Bulldogs want to return to the top of the conference this season.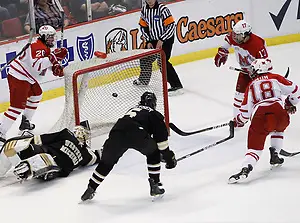 "He's looking to answer with another great year," an opposing coach said of Smith. "[He needs to] prove that he can do it no matter who is on his line."
As a sophomore playing on a line with seniors Andy Miele and Carter Camper, Smith enjoyed a 34-point jump from his freshman campaign. His 28 goals led the RedHawks, but what really makes that number impressive was that he had only one hat trick, on Oct. 23 against Northern Michigan, and just five other multi-goal games, all of which came after Jan. 1.
This season, Smith will be leaned on heavily to deliver the same kind of consistent scoring threat despite having new linemates. Playing against Lake Superior State four times could help — last season, the Mimico, Ontario, native notched five goals and five assists in four games against the Lakers.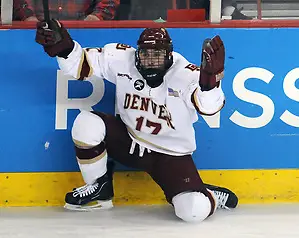 "Some of the goals he scored last year were just amazing," an opposing coach said of Zucker.
As a freshman, Zucker finished second only to senior forward Drew Shore in scoring for the Pioneers, trailing by just a point. After scoring just one point in his first four games, Zucker began to figure things out with a two-goal night against Wisconsin on Oct. 22, and rattled off a four-game goal-scoring streak from Oct. 29 through Nov. 11. Less than a month later, he tagged eventual national champion Minnesota-Duluth for four points on Dec. 3.
The Las Vegas native had seven multi-point games after Jan. 1, including a goal and two assists in the Pioneers' double-overtime NCAA regional victory over Western Michigan. His sophomore campaign begins against Boston College, and he'll also face Smith and Miami on Nov. 26.
"I really like him," an opposing coach said about Tynan. "[Teammate Anders] Lee is good, but Tynan is impressive."
A lot was made early last season of the Fighting Irish's dynamic rookie duo and just how quickly they would adapt to college hockey. Not only did Tynan fit in quickly, he made short work of CCHA goaltenders, scoring 23 goals and 54 points in 44 games. He finished 10 points higher than his closest teammate, and classmate, Lee.
Tynan had eight multi-point games before Jan. 1, including a two-goal, two-assist night against Canisius on Dec. 29. The Orland Park, Ill., native will have an excellent test of the potential sophomore slump in a pair of nonconference tilts against the Minnesota-Duluth Bulldogs. In November, he will also be searching for his first point against Alaska, the only team to stymie him last season.
"He's a very gifted player, both skillful and very fast," one coach said of Moses. "He's going to have a very big year."
With New Hampshire losing its top three scorers — Paul Thompson, Mike Sislo and Phil DeSimone — to graduation and their fourth, Blake Kessel, to an early departure, someone is going to need to step up and take the reins. The Wildcats' coaching staff expects that player will be Moses, who after scoring 11 goals combined during his first two seasons netted 14 last season. Coach Dick Umile and his staff thinks so much of his leadership skills, they've named him an assistant captain for the upcoming season.
A native of Leominster, Mass., Moses wouldn't mind seeing either the Northeastern Huskies or the Vermont Catamounts every night. After the Huskies kept him off the score sheet in each of their first three contests last season, Moses exploded for two goals and three points on Feb. 26, just 12 days after notching three points at Vermont. The Catamounts also don't want see any more from Moses than they got last season, as he burned them for three goals and three assists in five games.
"I really love that kid," one coach said of Lee. "Tynan is a very good college player, but I think Lee will be a National Hockey League player."
While not as flashy offensively as his classmate Tynan, Lee proved his skill with and without the puck night in and night out last season en route to a 24-goal, 44-point freshman campaign. He opened his collegiate career with a hat trick against Holy Cross on Oct. 8 and never looked back.
A measure of a player could be how he reacts to adversity. Lee suffered scoreless stretches of three games, two games, and four games at different points. Each time, he came roaring back with multi-point nights to get back on track. The first time this happened was against Smith and Miami on Dec. 3. After not scoring for three games, the Edina, Minn., native notched three assists against the RedHawks.
"He should be near the top of everyone's lists," one opposing coach said when discussing Connolly. "But he could struggle without his linemates."
When coach Scott Sandelin brought in a pair of guys with the last name of Connolly — no relation — excitement began to buzz around the Bulldogs. A local product, Jack Connolly scored 29 points as a freshman before finding himself paired with Mike Connolly and Justin Fontaine during the 2009-10 campaign. He has led the Bulldogs in scoring since, notching 108 points in 82 games, but he will be hard-pressed to do so again without Mike Connolly, who left school early, and Fontaine, who graduated, and with a new role as team captain.
Last season, Connolly netted four points on two different occasions, but his Bulldogs couldn't overcome a feisty Bemidji State squad during the WCHA tournament. Despite the loss, the Bulldogs punched their ticket to the big dance, and Connolly notched two goals and two assists in four games during the NCAA tournament to help lead the Bulldogs to their first national championship.
"He's a great player," an opposing coach said about Schwartz. "But then again, he was a great player in juniors. Hopefully this will be his last year in college hockey so we won't have to see him again."
Considering that the younger Schwartz brother played in just 30 of his team's 45 games last season, his 30 assists and 47 points were good enough to lead the Tigers in both categories, and had he played a whole season, he might have challenged Miele for the national scoring lead. Playing on a line with his older brother Rylan, Jaden's freshman campaign started off with a bang as he notched a goal and an assist on Oct. 8 against Rensselaer and never really looked back.
Schwartz notched three or more points six times last season, including five, a goal and four assists, at home against Denver on Nov. 6. He posted seven points, two goals and five assists, in a weekend at Michigan Tech in December. He also lit up Boston College to the tune of four points in the NCAA West Regional semifinal. Despite adding only an assist against Michigan in the West final, Schwartz ended his season with 14 points in his last six games. That's plenty to build on heading into his sophomore campaign.