Quick — what team won the first women's hockey NCAA tournament game?
Admittedly, the title of this article, coupled with the fact that Clarkson didn't even have a varsity women's team until 2003, kind of gives it away, but yes, the St. Lawrence Saints upset top-seed Dartmouth to advance to the first NCAA Championship in 2001. That was the first of five Frozen Four appearances and seven NCAA tournaments for the Saints, including six tourney bids in succession, the last coming in coach Chris Wells's inaugural season at the St. Lawrence helm in 2008-09.
The Clarkson Golden Knights got their only taste of the NCAAs in 2009-10. Last season, they dropped to sixth in the ECAC, while the Saints came in seventh. When neither was invited to last season's dance, it marked the first national tournament without North Country representation since 2003 — back when the Golden Knights didn't even exist.
So what are the prospects for the two upstate New York neighbors to return to the NCAA tournament, or at least get back to hosting an ECAC quarterfinal series?
"I think everybody starts the league, their first goal is to get home ice in the playoffs," Wells said.
The Saints started out with promise, scoring 19 goals as they opened 3-0-1, but then saw the flip side of the coin as the offense dwindled to five goals over an 0-3-1 stretch. Scoring remained elusive for SLU through a 2-1 win at Rensselaer and a 2-2 tie at Union.
"We had a lot of early success, and the puck got some favorable bounces in our direction, and we were able to capitalize on those and make good decisions with those pucks that bounced our way," Wells said after the team's first two league games hosting Harvard and Dartmouth. "I don't think it's for a lack of effort the last couple of weekends. We've hit posts and some great saves by the goalies, and they just haven't gone in as much, but I think we're getting as many quality chances."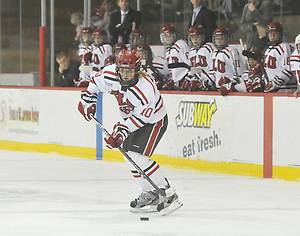 Especially early in the season, what a coach sees on the ice can be more important than what is displayed on the scoreboard. Wells felt that was the case over the recent skid that included a tie with New Hampshire and single-goal losses to Boston University and Dartmouth.
"I just think that's the landscape of the game right now, except for a few that have kind of distanced themselves from others, is a group of teams in that five to 20 range, five to 21, 22 range in the country, that any given night is going to be a one-goal game," he said. "We're happy with where our team is at and the effort that's been put forward, and where we feel we can go."
One facet of the Saints' game that looks to need some improvement is their penalty kill, as opponents have already reached double digits in power-play goals for the season.
"I'm in charge of that, so I guess I'd better either figure it out or fire myself and get somebody else in there to do it," Wells said. "That's been a key; I think if you look at a lot of our goals, almost half of our goals have been given up on the penalty kill. There's a couple of things that probably have to bend there, and that's a little bit more discipline and just doing the little things on the penalty kill that can keep the puck out of the net. Ten is a number that you want to strive for the entire year almost, 10 to 15 to compete at the level that we want to compete at, and we're already there. So we better either shut it down or stay out of the box."
Although the Saints rank in the top 10 in penalty minutes through the early weeks, history seems to be on his side in that regard.
"That's been one of our strengths my first three years here," Wells said. "We've always been one of the least-penalized teams in the country."
A successful penalty kill revolves around goaltending, and the Saints look to youngsters Carmen MacDonald, a freshman, and sophomore Caitlyn Lahonen.
"We've been comfortable with both of them in the net," Wells said. "They've both been given a chance, and they'll continue to be given a chance over the next couple of weeks. We feel that's a strong point in our game."
Up front, SLU lacks the high-octane superstars of some teams, instead relying on good balance and contributions from throughout the roster.
"I think just a slight increase in everybody's performance will get us to where we'd like to be," Wells said. "Certainly with the effort that they've put forth and the space for improvement, I think that's what has us excited about this team for the season."
The jury is still out on whether St. Lawrence (4-3-3, 1-2-1 ECAC) will ascend the ECAC standings, but Wells is optimistic.
"I like the way that our team plays, and we feel like we can compete with anybody any given night, with our speed and the components that we have."
Roughly 10 miles to the north and east from Canton, where the Saints hope to hang more banners in Appleton Arena, is Potsdam and Cheel Arena, home of the Golden Knights. Clarkson is attempting to rebound from a 2010-11 season doomed by a slow start.
"We graduated a very good senior class the year before that kind of led us to the NCAAs, and we brought in eight freshmen," said Clarkson co-head coach Matt Desrosiers. "We had a pretty young team. It always takes a while for freshmen to get up to speed, and even though the kids that we brought in had Canadian national team experience and that, it's still an adjustment to make the jump to the college level. We expected that, at the beginning of the season, that we were going to take some hits here and there, just kind of learning how to play the game at the college level."
To borrow from late basketball coach Al McGuire, "The best thing about freshmen is that they become sophomores," and that's been apparent at Clarkson. The Knights (5-3-4, 1-2-1) have started much better this time around.
"They have that year under their belt, and they kind of changed things around a little bit at the end of last year, and they're kind of carrying that over into this season so far," Desrosiers said.
Two of the sophomores vital to Clarkson's fate are goalie Erica Howe and forward Jamie Lee Rattray.
"Erica is a really strong goaltender," Desrosiers said. "That's why she got invited to the Canadian under-22 program. She kind of started putting a little bit more focus into practice and that, and all of a sudden she started turning it around. Now we're playing hard, we're not giving up those second, third opportunities, and Erica's standing in tall, making the saves that she's got to make. She's playing really strong for us right now."
While Howe works to keep opponents silent on the scoreboard, her former teammate with the Ottawa Senators, Rattray, is doing her part to increase the total for Clarkson. The Kanata, Ont., native leads the team with five goals and 10 assists through the first 12 games, after finishing tops in points with 25 as a rookie.
"She came back in great shape," Desrosiers said. "She's a lot quicker, a lot stronger. I think this year, she's a little more focused, and as long as she's creating those opportunities and just keeps doing it, we're going to start putting some of those in. I think she's just a little bit more mature, both on and off the ice, as far as what she needs to do and how she needs to prepare going forward."
The Knights don't have that same maturity yet across their blue line, as they have three rookies playing defense.
"We've had the luxury of dressing seven 'D,' so we've been able to ease them in," Desrosiers said. "We haven't had to have them be the go-to players right away, and I think that's helped them out quite a bit. It's always difficult coming into your college career as a defenseman as it is, but then you start getting three of them on there, it kind of puts a lot more pressure on them."
Clarkson had a run of tight contests to kick off ECAC play. An extra-attacker goal by junior Danielle Skirrow earned a 2-2 tie with Dartmouth, but it came up short versus Harvard, falling 2-1 in overtime. On the road for a second weekend of league action, the Knights were upset 2-1 by Union before winning by the same score over Rensselaer. An uptick in offense would go a long way to improving outcomes.
"It's been a major focus for us leading into this week is trying to bury our opportunities," Desrosiers said. "The nice thing is, we are creating a lot of opportunities, scoring chances, which is nice, but at the same time it's got to get to the point where now we've got to start burying some of those chances."
If the Golden Knights can put away enough pucks, perhaps they can find a way back onto home ice for the playoffs and even into the NCAA field.