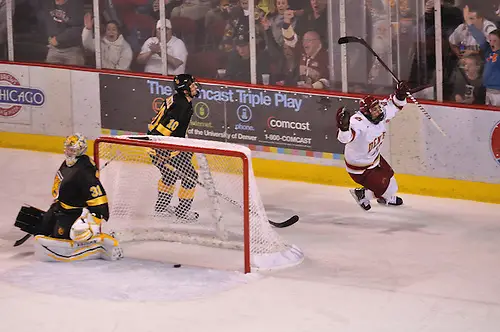 Denver coach George Gwozdecky may have said it best on Saturday night.
"It wasn't a goaltender night for either team," said Gwozdecky in reference to the performances of DU's Adam Murray and Colorado College's Joe Howe in the Pioneers' hang-on-from-ahead 5-4 win at Denver's Magness Arena.
But Gwozdecky didn't necessarily have to stop at that night alone when talking about goaltending struggles at Colorado's two WCHA schools. Neither the Pioneers nor the Tigers have received what could be considered stellar play from their goaltenders thus far this season, particularly recently.
While the position was a question mark for Denver throughout the offseason due to starter Sam Brittain's knee surgery for which he has yet to return, one of CC's biggest strengths was considered to be in goal with the return of junior Joe Howe.
Tabbed to keep Denver's goal crease warm until Brittain's return—pegged for sometime in January—Adam Murray has battled through an up and down, injury-plagued start to the season.
In his past three appearances, including an injury-shortened start at Michigan Tech, Murray has surrendered 10 goals in 135:04 of playing time for a 4.44 goals against average and a .873 saves percentage. For the season, Murray is 4-2-1, 3.32 and .904.
Much is expected of Howe in Colorado Springs a season after he brought the Tigers to the brink of the Frozen Four. Howe went 5-3-1 in his final nine games last year with a 2.48 goals against average and .919 saves percentage, including a 41-save performance in a 2-1 loss to the Michigan Wolverines in the NCAA West Regional final.
But Howe has stumbled significantly in his last two outings allowing 10 goals on 55 shots for a whopping 6.67 goals against average and an alarming .818 saves percentage. Against the Pioneers on Saturday, Howe was pulled in favor of Josh Thorimbert after giving up four goals on 17 shots in just over 30 minutes of play.
"I don't think it was his best night so we made a change," said Owens of Howe after the game.
Murray was marginally better against CC on Saturday but did nearly blow a 5-1 lead and let in a goal that Gwozdecky admitted was "kind of weak" on a second-period Colorado College power play.
Gwozdecky said that although everyone, including Murray himself, knew Murray wasn't on his A-game against the Tigers, he appreciates the way his goaltender fought through it.
"Not once did he give that body language that maybe you see, sometimes, goaltenders do," said Gwozdecky.  "All of a sudden they're pointing their fingers at somebody that made a mistake; Adam didn't do that. To me that's a real sign of maturity and a sign of ownership to his position, that he is responsible for his position, and understands that.
"It wasn't a great night for him but he kept battling."
The battling between DU and CC, however, was supposed to have been at the top of the WCHA standings not mired in the middle of the conference pack as it stands now.
Moving forward, both teams will need much more from the goaltending position to make that a reality.
Parity is alive and well
George Gwozdecky said it best after his WCHA-leading Denver Pioneers narrowly defeated a Minnesota State team that sat in ninth place  in February 2010.
"You couldn't tell who was the No. 1 team and who was the No. 9 team tonight," Gwozdecky said. "That's the WCHA."
And two seasons later, parity remains an ongoing theme up and down the league.
On Friday, Wisconsin beat Minnesota, which, last weekend, swept North Dakota. Two weeks ago, the Sioux split with St. Cloud State, which beat Wisconsin 7-2 last Friday. The Badgers swept the Fighting Sioux, Oct. 21-22, a week after they got swept by Michigan Tech, which allowed Minnesota State its first win of the season and just this weekend, the Mavericks played two close games and split with SCSU.
That's just a recent sampling of parity in the WCHA, but it means any team has a chance to win on any given night, making it more and more difficult to predict winners each week.
No one is safe at the top
Minnesota grabbed 32 first-place votes and leapfrogged four teams to the No. 1 spot in the Nov. 7 edition of the USCHO.com rankings. Then, the Gophers went to Wisconsin and lost 3-1 Friday night before they salvaged a split with a 4-1 win Saturday.
It will be interesting when the new rankings are released today if Friday's loss could knock the Gophers out of that top spot. Looking at the rest of the top 5, however, they just might stay put.
No. 2 Boston College was looking good after a win Friday but took a beating at home, 5-0, from rival Boston University, Sunday afternoon. No. 3 Colorado College lost 5-4 in their only game of the weekend Saturday at Denver. Fourth-ranked Michigan went 0-1-1 and No. 5 Western Michigan got swept, both against unranked teams.
Minnesota seems like the favorite and should keep the top spot, but that's up to the voters.