For Providence College (PC) freshman Allison Micheletti, this is literally not her father's college hockey world. Nor is it her uncle's, or her other uncle's.
Nonetheless, the similarities and differences between the PC women's program and the University of Minnesota men's team — alma mater of Micheletti's father, Don, and two uncles, Joe and Pat — mesh favorably enough for her.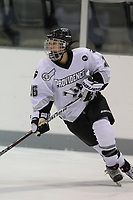 When Don and Joe Micheletti enrolled in Herb Brooks' capstone class in the latter half of the '70s, PC was burgeoning as one of the pioneer programs for women.
A decade later, when Pat Micheletti was on his way to setting Golden Gophers scoring records that still stand, the Northeast remained the sole region for females seeking a higher education with hockey on the side.
Granted, since its 1997 inception, Minnesota's women's hockey team has hung up two NCAA championship banners, which is two more than any school east of the Great Lakes can proclaim, but when Micheletti visited Schneider Arena on the PC campus, she saw one decisively alluring testament to the Friars' heritage that couldn't be found back home.
"When you walk toward the locker room, (the walls in the hallway) have the jerseys of every (PC) player that played in the Olympics," she said.
In other words, every Friars home game, practice, or team function begins with a reminder of the tracks made by Chris Bailey, Laurie Baker, Alana Blahoski, Lisa Brown-Miller, Vicki Movsessian, Sara DeCosta, and someone by the name of Cammi Granato. All seven took gold in Nagano in 1998, amidst or after their Providence days.
Then there are those that have stoked the torch since, namely Finland's Mari Pehkonen and Team USA's Karen Thatcher, who continues to double as a Star-Spangled skater and PC assistant coach.
Micheletti, who consistently dreamed of propping up the family tradition for the better part of her childhood in the Twin Cities metropolitan area, has always had parental consent to follow her pursuits elsewhere. By the time she was a junior at Rosemount High School, she "realized that Minnesota was way too large," and that left all Eastern schools on her table.
Providence ultimately beat Vermont and Mercyhurst for its longer, denser hockey tradition, as well as location, campus size, program philosophy, and a diverse roster that is represented by Minnesota more broadly than any other state or province.
Although Micheletti is applying her genetic assets more to carry on the legacy of the Cammis, Saras and Karens than that of the Dons, Joes and Pats, they are valid all the same.
"There's no question that has added to her hockey IQ and her instincts," said Friars coach Bob Deraney. "Obviously, coming from a hockey family, your saturation of the game and what you think about the game is affected in a very positive way, whether that's conscious or unconscious.
"The other thing too, is that she handles the fact that she comes from such an historic hockey family extremely well. That's a credit to her perspective, and I admire that about her."
Deraney, who served as an assistant on the Massachusetts-Amherst staff before moving to Providence, recalled working with 1996 Minutemen recruit Jeff Blanchard, who is the nephew of Hall of Fame NHL defenseman Bobby Orr.
"I could see how the pressure of being Bobby Orr's nephew could get to Jeff sometimes early in his career," he said. "So I've had some experience in this type of situation.
"The way Allison handles this is refreshing, and reassuring that she will continue to develop every time she comes to the rink because of the healthy perspective that she has."
Considering one of her secondhand childhood mentors, it can even be termed fitting that Micheletti's college career serves a storied name on the front of her jersey as much as an ornate name on her back, if not more so. Her father and elder uncle took part in the height of the Brooks era in Minneapolis, and her father barely missed out on a spot on Brooks' 1980 Olympic roster.
Micheletti had only a few brushes with the iconic skipper before his untimely passing in 2003, when she was 10 years of age, but she has inherited enduring on-ice and off-ice principles from her two relatives who played for Brooks.
"My dad said Herb Brooks was all about 'If you're not working hard, then you're not going to play,'" she said. "You can't take anything for granted. You have to take what you get and work for it. There's no wishing or pretending or anything of that nature."
Indeed, nothing of the sort. Through her Brooks-inspired work ethic, Micheletti has attained authentic fulfillment in her college arrangement, and her current, firsthand instructor expects a cycle of abundant gratification to continue for the next three-plus years.
"She's a hockey player's hockey player," said Deraney. "When she gets out there, her instincts are terrific. They're impeccable, actually.
"And this is just the beginning of her college career as she transitions from Minnesota high school hockey to Division I college hockey on one of the best teams in the country. Her transition has really sped up here of late, and you can really see the possibilities and the type of career she can have here at Providence College."