Over the last 20-plus seasons in Houghton, Mich., the Michigan Tech Huskies have had two consistencies. One was losing more often than winning, and the other was solid goaltending.
While Huskies goaltenders might not be household names, several have seen more than enough pucks to hone their skills and advance to the professional ranks.
After three seasons of wondering who was going to be the next in line, Huskies players and fans are privy to the evolution of one Josh Robinson. A senior from Frankenmuth, Mich., Robinson had just six career victories in 55 games over his first three seasons. In just 11 games so far this season, he already has seven wins with a goals against average of 2.08, more than a goal per game fewer than his previous best (3.09 as a freshman).
"I think he's been playing more aggressively and that has helped him," Minnesota State coach Troy Jutting said after playing the Huskies this season. "As a senior, there's a focus and a concentration that may not have been there in previous years."
When former Huskies coach Jamie Russell stepped down after last season, the Huskies had won just 15 times over the last three seasons. New coach Mel Pearson and his staff has already coaxed eight wins out of this year's group. One big reason for the improvement has been a defensive philosophy change from which Robinson seems to be thriving.
"We are playing a different style," said Pearson. "We're trying to give up less shots than we saw last year. I think last year, [the] goalies were just inundated with shots."
When Pearson took over, he determined that Robinson and juniors Kevin Genoe and Corson Cramer could all stand to learn from a friend and former player of his during his time at Michigan, Steve Shields. Shields played for six teams in the NHL from 1995 to 2006.
Convincing Shields that Michigan Tech would be a good fit for him took a bit longer than Pearson might have hoped, but early returns show that his persistence has paid off.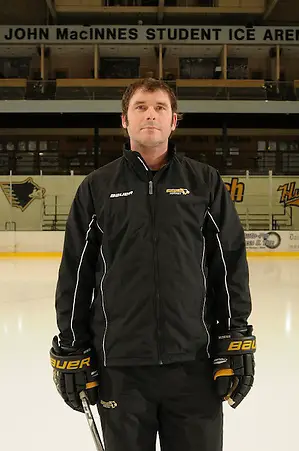 "I talked to Steve about it in Ann Arbor of all places," said Pearson. "We happened to be there at the same time and we talked about it there. One thing led to another, and he thought it would be good himself as far as where he was in his career and wanting to be a coach."
Robinson spent the majority of the offseason in the Minneapolis area working with young goaltenders and also getting the opportunity to work with a number of professional coaches.
Shields met with Robinson after the summer ended and was pleased with Robinson's ability and his willingness to learn while setting the bar high.
"I asked [Josh] what was the best game he played last year; he said it was against Michigan at the GLI," said Shields. "I said, 'Josh, that's the only game I was going to watch from you because that's the standard you set for me, so that's what I expect from you and you should expect that from yourself.'"
Shields was also impressed with who Robinson had learned from, and felt that incorporating what Robinson had learned with where he would need to improve was going to prove doable as all the coaches share a similar philosophy.
"[Josh] works with a goalie coach in the summer who I am familiar with and is a friend of mine," Shields said, referencing former Wisconsin goaltender Mike Valley, now goaltending coach for the Dallas Stars, whom Robinson works with in the summer. "In that respect, it makes it easier because that goaltending coach has the same philosophy as I do pretty much. We've come from the same school of goaltending. When Josh is out on the ice, I think he does get that assurance that somebody is watching him who feels the same way he does about how he feels he should be playing."
Shields has been on the ice with Robinson, Genoe and Cramer four days a week, working on more than just stopping pucks or improving reaction time. Robinson attributes work on his positioning as a huge step forward in his ability to stop pucks.
"Before [team] practice we go out with him and work on specific things, what he sees in the games," said Robinson. "It's more technical, the small, little details, the small movements like how you position yourself on the post … all the small, little stuff that goes into goaltending that people don't notice but are the difference between getting that push over and making that save with your chest as opposed to sprawling and trying to make that save."
With Robinson playing the way he has thus far, the Huskies have served notice to the rest of the WCHA that they have no intention of being the pushover they've been in years past. This season, the Huskies have already defeated Wisconsin twice and Denver once.
Robinson is quick to recognize that he wouldn't be in the position he's in most nights without the help of his friends. After his 1-0 shutout against Minnesota State, Robinson was quick to mention that it was a total team effort that led to victory. The Pearson-led Huskies have changed their defensive scheme this season, and that gives Robinson more room to see pucks.
"A lot has to do with communication with the defense, how I communicate with them and how they communicate with me," said Robinson. "Instead of coming right back at me when there are guys coming at me, they go to the corners, give me options. It's how we work as a D corps back there more than anything."