It's becoming less and less unusual for college hockey players to come from non-traditional recruiting areas, with players coming from places like Arizona, Florida, Texas and even California.
Western Michigan is a prime example of how players don't need to come from the Midwest or East Coast to make an impact. The Broncos have seven players from California on this season's roster.
Yes, seven — as in almost 25 percent of the roster. New coach Andy Murray also has experience out West from his time behind the Los Angeles Kings' bench.
All seven players — forwards Chase Balisy, Brett Beebe, J.J. Crew and Robert Francis and defensemen Dennis Brown, Garrett Haar and Matt Tennyson — all wound up in Kalamazoo with a different story to tell.
Chase Balisy, Rancho Santa Margarita, Calif.
With a Toronto-born father, hockey has been in Balisy's blood since birth.
Literally.
"My dad was the one who really got me started playing hockey," Balisy said. "He grew up in Toronto and played growing up, so he got me started. Hockey really wasn't that big back when I was playing in California. There wasn't even a AAA team and now I know there are a few AAA teams down there. My dad was probably my biggest hockey influence in California and my dad used to get season tickets to see the Ducks, so just going to those games and watching pro hockey really influenced me when I was younger."
Balisy, the second U.S. National Team Development Program alumnus to play for the Broncos (teammate Greg Squires is the other and North Dakota transfer Mike Cichy will be the third next season) and played for the Long Beach Junior Ice Dogs and Anaheim Junior Ducks as a youth, winning two state titles along the way.
Once he wound up in Ann Arbor donning the red, white and blue, getting a Division I scholarship wasn't as easy as it seemed to be for some of his teammates. He committed to WMU just a few months before last season and was drafted by the Nashville Predators last summer.
"After my two years at the NTDP, I really didn't have too many offers and wasn't sure where I was going for the next year," Balisy said. "[Former Western Michigan] coach [Jeff] Blashill got the job at Western and he offered me and I knew I would have a chance to play right away and that was something that I was looking for.
"I would definitely say that the California kids on the team all have that California pride. We all love being from California and stick up for Cali when the haters on the team start to take some shots at it."
Brett Beebe, Redondo Beach, Calif.
When Beebe first started playing at the Squirt level, he estimates there were probably two AAA teams at the Pee Wee, Bantam and Midget levels and one was usually a national contender and the other a doormat.
"As I grew older, the number of AAA teams grew to four or five in the state and each team was very competitive," said Beebe. "The amount of talented players seemed to get larger every year."
Like many Californians, Beebe started playing roller hockey and gradually evolved into an ice hockey player when he was 10 years old.
"I started playing roller hockey on a school parking lot next door to my house in a small league," Beebe said. "My next-door neighbors were older than me and played ice hockey and I wanted to fit in with them, so I took up the game. I started playing ice hockey when the Kings opened their new practice facility in El Segundo, just a few minutes from my house."
Beebe's biggest thrill as a youngster was winning a 16AAA national title with the California Wave. He also said that adversity shaped him into who he is today.
"You grow very close with your teammates in California because everyone usually comes from pretty far away and we face a lot of the same adversity," Beebe said. "We traveled so much and practiced at terrible times because there were only so many rinks in the area, so we missed out on a lot of the things normal kids get to do like high school proms, football games, parties and having strong friendships with kids at school. Your teammates become your best friends and those friendships are things that I consider highlights of my minor hockey experience.
"Everyone involved with the LA Selects and Wave hockey programs were extremely influential in my youth hockey journey. My family was the biggest with how much they sacrificed so that I could pursue my dream, especially my sister who didn't get to go on normal vacations, but instead tagged along to my hockey tournaments that were usually in cold locations."
Now in his junior season with the Broncos, Beebe said three years ago when he took his official visit to Kalamazoo while playing for the USHL's Chicago Steel, he "immediately knew it was the right fit."
"I visited a lot of other schools and none of them had the feel that WMU did," Beebe said. "Having other California kids on the team makes every day at the rink a lot easier, mostly because we get teased as being "beach bums" or whatever, so having six other guys have my back is always nice. I think everyone is just jealous. I spend a lot of time with a couple of the California guys when we're at home. We skate and work out together in the summers and definitely have grown closer at school."
To be able to play for Murray is just the typical icing on the cake.
"Coach Murray is the best coach I have ever played for," Beebe said. "He's so detail-orientated and such a great motivator. He just wants everyone to give it their best every day and that's something that I've always strived to attain. I loved watching the Kings when he coached them in LA and it's cool to see some of the systems he used in the NHL be implemented into our team.
"Coach Murray teaches us a lot about hockey, but even more about life and how to be a good person. He puts values as a person and player above wins and losses, which is something not seen very often in collegiate or professional sports these days."
Dennis Brown, Cypress, Calif.
Brown said he chose WMU after playing at the U.S. Select 17 Festival, where he was coached by former Broncos assistant coach Marc Fakler.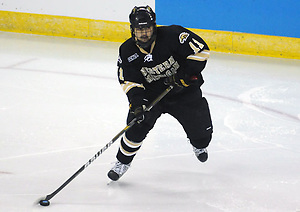 After playing two years in the USHL for the Omaha Lancers, Brown and Fakler got in touch with one another and the rest is history.
"As one of the older players on the team from California, I knew most of the older players growing up and met the younger players as they came in," said Brown, a sophomore. "We all have a special bond as we know how fortunate we are to be able to be exposed and chosen to have the opportunity to be a Bronco and to play for a national championship."
Playing under Murray this season has been a dream come true for Brown.
"Growing up watching my local home team, the LA Kings, play and seeing him behind the bench, I never would have thought that he would be standing behind me while I played NCAA Division I hockey," Brown said. "If I would put it another way, I would say I'm blessed. He is a great role model and the decisions I make every day on and off the ice are reflected on his approach to teaching us about hockey and life. He is a coach who puts his players before himself."
As a kid, Brown grew up in close proximity to four different rinks.
"The hockey landscape in California was quite small when I started the game," Brown said. "On a competitive level, there wasn't much. As I got older and reached the Pee Wee and Bantam levels, youth California teams made their mark at the national tournament. I started playing hockey because my parents took my sister and I to the local ice rink two minutes away from my house when I was 4. We laced up the skates and I just never stopped since then. My sister, Nicole, figure skated while I took up hockey."
When he was 10 years old, Brown made Team California for the BRICK tournament in Edmonton. He also finished third in two national championship tournaments (Pee Wee AAA California Wave and Midget AAA 18U LA Junior Kings).
Now a Broncos player, Brown wants the team accomplishments to continue.
J.J. Crew, Placentia, Calif.
Crew played roller hockey until he was 9 and then transitioned over to ice.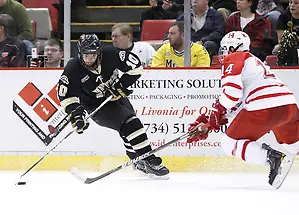 He said growing up in California and playing hockey was not something that was very popular and that it was tough finding ice time to practice because there were not many rinks around.
"I remember having to travel over an hour just to practice, which also limited the amount of practices your team had," Crew said. "You were lucky to practice twice a week. The quality of competition was also limited and most of the time, there were only one or two teams at each level that were good so in order to play the best teams you had to travel all the time. Not too many teams wanted to come to California to play hockey, so you had to go elsewhere."
The landscape has changed over time, Crew explained.
"More rinks are being built and kids are starting out at an earlier age," he said. "I think having three NHL teams in California and the Ducks winning a Stanley Cup helps attract young kids to want to play hockey. Most of the kids I grew up playing with also played roller hockey. Roller hockey was the first thing I started doing when I was 9."
And while he more times than not came out on the losing end of ice hockey tournaments and championships, Crew said some of his most memorable moments growing up in California mostly came during his roller hockey days.
"I was fortunate enough to play on some really good teams and win some big tournaments," Crew said. "It wasn't until I moved to Colorado to play Midget hockey where I won two state championships and a regional championship for my first ever trip to nationals."
It was in California, though, that Crew really saw his potential to one day be able to play college hockey.
"My biggest hockey influence growing up in California was my coach Chris Annunziato [California Stars]," Crew said. "Aside from one year, he was the only ice hockey coach I ever played for. He was like a second father to me. He always knew what to say at the right moments and he knew how to get the most out of all his players."
After playing for the USHL's Lincoln Stars, Crew wasn't even sure he was good enough to play D-I hockey. He said WMU was the only school to approach him during the 2007-08 season.
"They asked me to come on a visit to see their campus and what they had to offer and when I did, I fell in love and I felt right at home," Crew said. "The coaches and players were easy to talk to and the campus was second to none. When I watched my first game, the atmosphere was unbelievable. The student section was loud and it seemed like an exciting place to play. I just knew this was where I wanted to play hockey and get my education.
"Having six other California kids on my team just goes to show you how far hockey in California has come. Having those guys on my team makes me feel more at home. We like to talk about the same things and do a lot of the same things, which helps us bond a lot more and stick together, especially when other guys give us a hard time. We do miss the warm weather, though."
When asked to describe playing for Murray, Crew said it's been "exciting" and then some.
"I have already learned so much from him and we're not even halfway through our season," Crew said. "He is demanding, but never demeaning. He knows what it takes to get to the next level and he pushes us every day to get better. The lessons that he teaches us not only help benefit us as a hockey team, but also as human beings. We're very fortunate to have him as our coach."
Robert Francis, San Diego
All it took for Francis to get enamored with hockey was a simple gift.
"I remember there being a lot of kids that played street hockey with plastic sticks and rubber balls," the freshman said. "My parents bought me a pair of plastic roller blades and I loved them and then my grandma gave me a wooden hockey stick and I didn't put it down."
A USHL champion with the Green Bay Gamblers in 2010, Francis also said that Wayne Gretzky getting traded from Edmonton to Los Angeles in 1988 helped get him involved in hockey.
"Probably like a lot of kids in California, the Gretzky trade was huge for the development of hockey in Cali," Francis said.
Committing to the Broncos last spring was an easy process, according to Francis.
"I chose Western because I loved the campus, the atmosphere on campus, and the way the hockey program was developing and becoming a top school for hockey," he said. "I love playing for Andy Murray. It's awesome learning from a coach that has basically been through everything."
Garrett Haar, Huntington Beach, Calif.
Drafted by the Washington Capitals last summer, Haar originally committed to Northeastern, but decommitted after Greg Cronin left the Huskies' coaching post to take a position with the Toronto Maple Leafs.
Haar, who turned 18 in August, could have gone back to the USHL to play another season with the Fargo Force, but in the end chose to come to Kalamazoo and part of that was that he knew WMU assistant coach Pat Ferschweiler from his days playing under him with the Kansas City-based Russell Stover Midget program.
"Being comfortable with [Ferschweiler] definitely helped a lot," Haar told the Kalamazoo Gazette. "Right after I decommitted, I called him and told him what happened. [Ferschweiler] said, 'We'd love to get you up to Western.'"
And he's been loving it ever since.
Matt Tennyson, Pleasanton, Calif.
Tennyson grew up in Minnesota and Michigan, but moved out West when he was 14 and played two years for the San Jose Junior Sharks.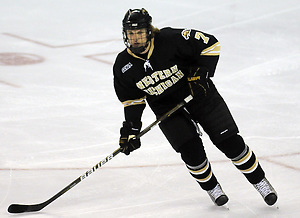 "When I moved to California, I was very surprised with the talent," said Tennyson, a junior with the Broncos. "We mostly played the Wave and the LA Selects. It has grown so fast in the last five years and there are many teams all over California that are national competitors."
In his two short years in California, Tennyson played on two good teams and individually, was named top defenseman at a showcase tournament in Chicago. He said his coaches in California, AJ Toews (now a scout for the Washington Capitals) and Derek Eisler, "were the two people who helped and influenced me the most."
Tennyson, a graduate of the USHL's Cedar Rapids RoughRiders, said he initially chose Western Michigan because he was born in the Midwest and lived in Michigan, but now has a close friend out of the deal.
"I played against Brett Beebe, who played for the Wave," Tennyson said. "We got to hang out in LA the summer before we came to school as freshmen and now we hang out every time we get a chance to go home."