The new National Collegiate Hockey Conference may have its first commissioner hired by Christmas, Colorado College athletic director Ken Ralph said Wednesday.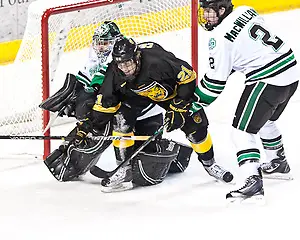 The top choice of the three finalists, a group that includes former United States Olympic Committee chief executive officer Jim Scherr of Colorado Springs, will get an offer letter from the league soon, said Ralph, who has led the search committee. He is confident that the contract will be negotiated and signed and the hire announced by Dec. 31.
"We're hoping to have it all done by the holidays," Ralph said. "There's no way of knowing how long the contract negotiations may last. We're in a win-win. All three finalists would be excellent choices."
The league announced its formation in July with charter members CC, Denver, Miami, Minnesota-Duluth, Nebraska-Omaha and North Dakota. St. Cloud State and Western Michigan joined on Sept. 22.
The NCHC likely will have a 24-game league schedule when it begins play in fall 2013, allowing for 10 nonconference games, Ralph said. That allows the teams to keep up traditional rivalries, play all its league foes and establish regular nonleague series with foes all over the country.
"That will be good for the sport," he said.
Once hired, the NCHC commissioner will hire a director of hockey operations, who will oversee officials, deal with coaches and the league scheduler along with all other on-ice concerns, as well as a public relations director who will heavily promote the league across all platforms, especially social media, and through the league website.
The conference realignments started with the announcement of Penn State's new Division I program, which prompted the other Big Ten schools to form a six-team conference that starts play in 2013.
That league will include PSU and current CCHA schools Michigan, Michigan State and Ohio State and WCHA members Minnesota and Wisconsin.
Those schools' departure and concern over losing ground in recruiting and prestige prompted the original six members to form the NCHC in Colorado Springs, where the league is based.
Later, Notre Dame announced it would move from the CCHA to Hockey East, while the WCHA absorbed the remainder of the teams from the depleted CCHA, which will cease operations after the 2012-13 season.