Emotions will be running high in Madison, Wis., on Friday night but it will have little to do with Wisconsin's return to the ice after a bye week to host No. 10 Denver. When the first puck drops, the game will be secondary in the minds of UW fans as they pay tribute to one of their heroes.
Former Badgers goaltender Kirk Daubenspeck will serve as honorary captain and do the honor of dropping the ceremonial first puck one year to the day after a horrific car accident that left him critically injured and in a six-day coma due to serious head trauma.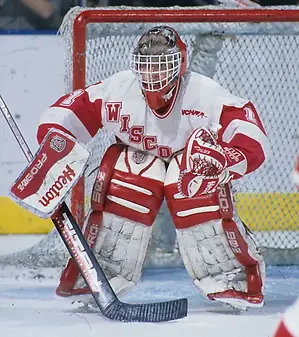 Daubenspeck's vehicle collided with a semi in heavy fog on a rural highway less than an hour west of Madison. At the time of the accident, he and his wife Peggy had an 18-month old son, Axel, and had recently learned a second child was on the way.
The Daubenspecks' daughter, Elsa, is now four months old.
The Madison community and Daubenspeck's fellow Badgers hockey alums, particularly close friends and former teammates Mark Strobel and Jamie Spencer, immediately rallied around the man affectionately known to his friends as Dauber.
Shortly after the accident, Strobel and Spencer turned their attention toward enlisting the support of former Badgers players and community members in fundraising efforts for the family to defer medical costs and prepare for potential home renovation Kirk's condition may have required.
"I've been with him the whole way through just like, you know, friends do," said Strobel who currently serves as a rink side reporter for the Big Ten Network's hockey telecasts. "We were blessed to have that relationship at Wisconsin and the community to rally behind us in a very difficult time."
Strobel said he and other friends of the Daubenspeck family cannot begin to thank Badgers fans, the Badgers hockey community, Badgers alumni and the Wisconsin athletic department for their financial support and their prayers of hope over the past year.
"We owe you so much for just thinking of him and his family," Strobel said.
When the Badgers wanted to wear stickers on their helmets last season in honor of Daubenspeck, Strobel and Spencer asked for and were granted an opportunity to speak with the team.
"I wanted the players and that staff to understand who Kirk Daubenspeck is and was and what the program meant to him and I wanted these kids to know that this is more than hockey, it's more than college hockey," said Strobel, a two-time Badgers captain (1994-95) during Daubenspeck's freshman and sophomore seasons.
"We all bled for the jersey. The Richters, the Mellanbys, the Chelioses — they all did the same thing and that's where, to me, the unification of being blessed to be in that 1 percent really has to come through now."
A Madison native, Daubenspeck went 55-55-8 at Wisconsin from 1993 to 1997 with a 3.79 career goals against average and was a second-team All-American as a senior. According to Strobel, there was never a shadow of a doubt where Daubenspeck was going to play his college hockey and he was prepared for any obstacle.
"Dauber came in when we were juniors and he was a freshman because he wanted to go to Wisconsin so bad he was willing to play juniors and didn't even care that [goaltender] Jim Carey was already committed," said Strobel. "He just said, 'It's been my dream and I'll fight for the job.'"
Challenges remain for Daubenspeck but, according to a story by the Wisconsin State Journal's Andy Baggot, the two-time Badgers MVP (1996, 1997) has made tremendous strides in his recovery, including walking without the aid of a cane.
Strobel has been there throughout the process and has proudly witnessed his friend's remarkable transformation.
"I just see a guy that's just full of his life, really blessed, he's got a beautiful wife and friends and kids," said Strobel. "Even in his faith, he's just reaching out, saying, 'Man, I have a second chance here.'
"I truly believe that character is revealed in the tough times and God doesn't waste pain. So if you don't believe and you don't have hope and you don't rally around people, you've got nothing."