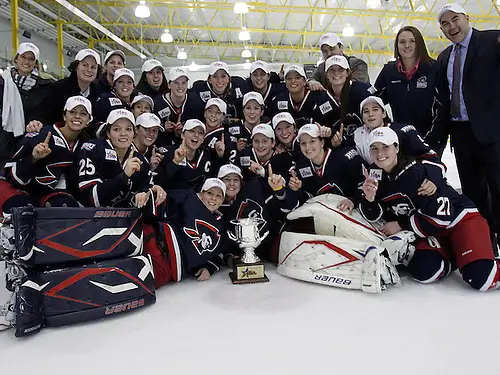 A more equal parity
Our sport has long been hungry for parity. Every time a team has knocked off an opponent ranked a few spots above them in a mid-January game, someone has been quick to herald its arrival.
This past weekend, however, was different. These were games that mattered greatly to both teams. In my memory, only the NCAA quarterfinals in 2007 rivaled this weekend for lack of success by the higher-seeded teams in the postseason.
Four conference tournaments were down to four teams, and the top seed didn't win even one. While that alone might suggest parity, analysis suggests that none of these upsets were entirely shocking, and that serves to reinforce to a greater extent that the base of power is expanding.
CHA tournament
There are three certainties in this world. Death. Taxes. Mercyhurst claiming every CHA title being contested. I guess we're now down to just death and taxes.
The semifinals unfolded true to form, with the top-seeded Lakers defeating Syracuse, 4-3, while Robert Morris edged Niagara, 3-2.
Mercyhurst has the country's most effective power play, converting 28.3 percent of the time. To have any chance in the championship, the Colonials figured to have to stay out of the box. In that regard, they failed miserably. RMU paraded to the box 15 times for 30 minutes, giving that potent power play a dozen opportunities. In fact, the Colonials committed as many penalties as they produced shots on goal, as they could only muster 15 of those as well. Somehow, that proved to be enough.
Katelyn Scott, Thea Imbrogno, and Brianna Delaney scored goals in the trenches, and by the time Bailey Bram converted the Lakers' second power-play goal of the game with seven seconds remaining, it was only changing the final score, not the fact that the Colonials would win, 3-2, and claim the first championship in program history. Junior Kristen DiCiocco turned away 45 shots and was named tournament MVP.
ECAC Hockey championship
St. Lawrence has accomplished a lot of things over the years, but until Saturday, winning the ECAC tournament had not been one of them. Entering the day, the Saints were 17-0-1 since Thanksgiving against everyone other than Cornell, and 0-2 versus the Big Red. Apparently, SLU has now figured out Cornell as well.
Regular season champion Cornell posted a 5-1 win over Quinnipiac in the semifinal, scoring twice in the last 100 seconds of the middle period to break a 1-1 tie. League Player of the Year Rebecca Johnston scored her team's first two goals and assisted on the next three.
Meanwhile, fifth-seeded St. Lawrence needed to go to overtime for the second weekend in a row to get by No. 2 seed Harvard, 2-1. Kelly Sabatine was the hero once more, scoring her second of the game at 3:14 of OT. Carmen MacDonald made 29 saves to record the 20th win of her rookie campaign.
In the final, the Saints tweaked the script only slightly. Sabatine scored her third game winner in four games, but struck with 1:50 remaining in regulation this time. Alley Bero scored into an empty net 29 seconds later for the final verdict, 3-1. MacDonald turned away another 33 shots and took the tournament's Most Outstanding Player designation.
WCHA Final Face-Off
One of the few times fans of the nation's No. 1 team, Wisconsin, had reason to cheer was when the scoreboard displayed a photo of reigning Patty Kazmaier Award winner Meghan Duggan. The Badgers spent much of their semifinal versus host Minnesota-Duluth looking like a team that suddenly missed its former captain. Newly-crowned conference Player of the Year Brianna Decker did her part, scoring a goal on an electric rush that drew oohs, but that proved insufficient, as the Bulldogs countered with three highlights-reel goals of their own. Jennifer Harss stopped 32 shots in bouncing UW from the bracket.
In North Dakota's first foray into the league semifinals a year ago, they were shut out, 3-0, by Wisconsin. Its second appearance didn't go any better. Minnesota's Sarah Davis celebrated a hat trick, linemate Emily West scored twice, and Noora Räty recorded a 6-0 shutout.
UMD needed one more win to claim the league's automatic bid and keep alive the dream of reaching the Frozen Four in Duluth. The dream faded as West scored on a power play, Räty completed a perfect weekend by earning tournament MVP recognition, and with a 2-0 win, Minnesota notched its first tournament title since the days when Natalie Darwitz and Krissy Wendell were college players, not high school coaches.
Hockey East Championship
Coming into its semifinal with Providence, top-seed Northeastern was likely haunted by the memory of a game two weeks earlier when the Huskies were unable to solve the Friars' Genevieve Lacasse in a scoreless tie. Northeastern had the same problem on Saturday, and when PC's Haley Frade scored 12 seconds into a power play at the end of the second period, the Huskies were in trouble. Not even nine minutes of penalties on the Friars in the third period, including a full two minutes with a five-on-three Northeastern advantage, were enough to best Lacasse and extend the career of Florence Schelling. Ashley Cottrell added an empty-net goal, and Lacasse negated all 41 shots in a 2-0 PC victory.
In semifinal two, Boston College fell victim to a pattern that has plagued it periodically throughout the season: outshoot the opponent, limit shots allowed, but lose handily. Marie-Philip Poulin had two goals and an assist as Boston University scored five times on 26 shots, Kerrin Sperry turned aside 33 of 35 shots on the other end, and the Eagles were sent to the sidelines with a 5-2 defeat.
The final proved that hockey can be a game of inches, a game of seconds, and even both. Midway through the first period, Laura Veharanta exploited a BU fumble into a 1-0 Providence lead that looked increasingly likely to hold up as the game progressed. Lacasse stopped the first 32 Terriers' shots and was poised to be the fourth goalie on the weekend to be named a tournament's premier player, but with each team having a player in the penalty box and Sperry pulled for an extra attacker, Poulin got the puck to the front of the net and Jenn Wakefield maneuvered it through Lacasse at 19:52 of the third period. In the second overtime session, Providence hit a crossbar, and as play transitioned to the other end, Wakefield's shot hit a Providence player's skate and went into the net at 2:15. Wakefield was awarded MVP, and BU wore the crown.
The NCAA Bracket
So what were the national implications of the weekend tournament action? Providence and Minnesota-Duluth, two teams that needed to win auto-bids to have any hope, fell just short. BU and St. Lawrence, tasked with the same mission, achieved it. Harvard and Northeastern, teams that were inside the field going into the weekend, couldn't survive the combination of semifinal losses and the wrong teams earning automatic bids. Boston College came out smelling like the proverbial rose when all the teams around it floundered. North Dakota fell short of the opportunity to host that it desired, but apparently would have been denied by NCAA sanctions in any case; UND was at least invited to its first dance. Mercyhurst went from potential host to the Madison blues, whether by merit or voodoo economics is difficult to surmise.
The combination of the PairWise rankings and selection-committee discretion produced a bracket of:
Mercyhurst at No. 1 Wisconsin
St. Lawrence at No. 4 Boston College
North Dakota at No. 2 Minnesota
Boston University at No. 3 Cornell
How much any team profited or was wronged is always open to debate. For comparison, here is how the bracket would have looked seeded strictly by auto-bids and KRACH:
Boston University at No. 1 Wisconsin
Minnesota-Duluth at No. 4 North Dakota
St. Lawrence at No. 2 Minnesota
Boston College at No. 3 Cornell
Those pairing may serve to put in perspective any indignation fans that Lakers' fans may be feeling. I have no such comforting thoughts to offer to the UMD faithful.