It's the year of the first-year coach in college hockey, and the East Regional of the 2012 NCAA tournament is proof.
Three of the four coaches are in their first season leading the school. Rick Bennett took over from Nate Leaman at Union and got the Dutchmen right back to the national tournament. Norm Bazin orchestrated an 18-game improvement over last season at Massachusetts-Lowell.
And Tom Anastos stepped out of the CCHA commissioner's office to take Michigan State to the field of 16. That leaves Miami's Enrico Blasi as the veteran in this regional, despite that, at 40, he's the youngest of the four coaches.
Here are the previews for the East Regional. Check to the right for game times and locations.
Union Dutchmen
Coach: Rick Bennett, first season
Record: 24-7-7 (14-4-4 ECAC Hockey, first)
How they got in: Automatic qualifier, ECAC Hockey playoff champion
Regional seed: First
Last NCAA tournament appearance: 2011
Best NCAA finish: First round, 2011
Why they'll get to the Frozen Four: The Dutchmen are among the best in the nation in every major statistical category thanks to remarkable depth and arguably the best goaltender in the country, sophomore Troy Grosenick.
Why they won't get to the Frozen Four: Union is an unimpressive 1-2-3 against the remaining field, and 2-3-2 against Hockey East, CCHA and WCHA opposition this year.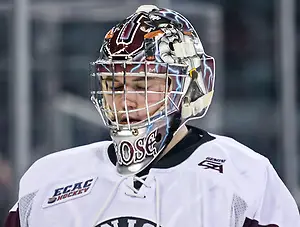 The Dutchmen had a banner year in 2010-11, winning their first Cleary Cup as ECAC Hockey's regular-season champs as well as securing the first-ever bid to the NCAA tournament at the Division I level.
Then the coach left. Superb team-builder Nate Leaman nabbed the vacancy at Providence. Then the goalie left. Sophomore standout Keith Kinkaid jumped for a professional contract with the New Jersey Devils.
And yet, here they are again, better than ever. First-time head coach Rick Bennett stepped into Leaman's sizeable shoes after six years as an assistant, and goalie Troy Grosenick picked up exactly where Kinkaid left off in guiding the Dutchmen to their first league tournament title and its associated NCAA automatic bid.
Senior forward Kelly Zajac leads the team with 33 assists and 41 points, and junior striker Jeremy Welsh's 25 goals place him fifth in the nation with 0.68 goals per game.
The team's efficacy has been off the charts all year: The third-best offense and top defense in the nation equal its best average scoring margin. The Dutchmen take the fourth-fewest penalty minutes per game in the country (10.3), have D-I's fourth-ranked power play (24 percent) and its 10th-best penalty kill (84.7 percent). It comes as no surprise that Union's winning percentage is second only to Boston College's.
"I like our goaltending, I like our depth," said Bennett. "Any time you have that, you have the ability to make a deep run."
The Schenectady squad was supremely consistent all year long, dropping consecutive contests only twice all season — once at home in mid-November, and at the end of December at Denver and Colorado College. It has strung together unbeaten runs of seven, six and five (three times) games, including its current five-game winning streak.
When Union is playing its game, the Dutchmen are fiercely aggressive on the forecheck and penalty kill, forcing foes to make quick decisions with exhausting frequency. The defense and goaltending work together well, with Grosenick benefiting from a block-happy defensive corps and stopping almost everything that makes it through.
The offense is dynamic, happy to strike on the transition or set up well-executed cycling and lateral crossing plays. Welsh, sophomore Jeremy Carr and junior Wayne Simpson have accounted for nearly half of Union's goals, but sophomores Josh Jooris and Mat Bodie can be lethal as well, given the opportunity.
"Kevin Sullivan, Kyle Bodie, Daniel Ciampini and even Trevor Mingoia sometimes have been a great third line for us. On any given night, they can be [like] our first or second line," Bennett said.
— Brian Sullivan
Miami RedHawks
Coach: Enrico Blasi, 13th season
Record: 24-14-2 (15-11-2-1 CCHA, fourth)
How they got in: At-large bid
Regional seed: Second
Last NCAA tournament appearance: 2011
Best NCAA finish: Runner-up, 2009
Why they'll get to the Frozen Four: In the second half of the season, this very talented team solidified around the play of senior goaltender Connor Knapp, whose second-half save percentage going into last weekend's CCHA championship tournament was .964.
Why they won't get to the Frozen Four: Last weekend's flat performance against Western Michigan in a CCHA semifinal game exposed Miami's occasional tendency to under-compete.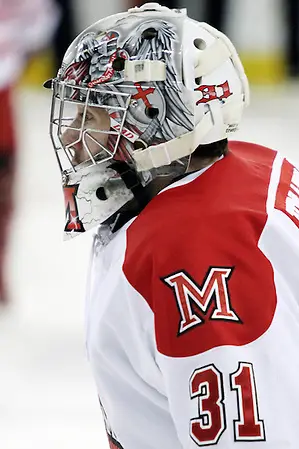 For a team making its seventh straight NCAA appearance, Miami hasn't taken a very direct route. Picked second in the CCHA preseason polls by both the media and the coaches, the RedHawks finished the first half of the season in ninth place in the league standings and propelled their way to the NCAA tournament with a 10-4 conference record since the start of calendar year.
"This is our seventh consecutive [NCAA appearance], so that's really important," said coach Enrico Blasi. "Our expectations in the recruiting process is exactly that; we put a lot of onus on making the national tournament and playing toward that, trying to compete for a national championship."
In seasons past, the RedHawks have been fueled by a nearly unstoppable offense; this season, it's Miami's defense that has solidified this team. The RedHawks have the second-best defense in the country (2.05 goals allowed per game) behind Union and their penalty kill is sixth in the nation (85.0 percent) — something that has come in handy, since Miami is one of the most penalized teams in the country, averaging 16.4 minutes per game.
In January, senior co-captain Will Weber said that lack of discipline hurt the RedHawks in the first half. In the second half, though, the team was motivated by a desire to redeem the 2009 national championship loss. "Being so close freshman year," said Alden Hirschfeld, Weber's classmate and co-captain, "that's kind of what's driven us to get back each year and hopefully we'll make something special happen this year."
Perhaps that memory is behind the second-half play of senior goaltender Connor Knapp. Knapp and his classmate, Cody Reichard, had been arguably the best one-two goaltending punch in Division I hockey for their first three seasons, but for the first half of 2011-12, neither had a save percentage above .880. Since January, though, Knapp's save percentage has been above .960 and he's registered five shutouts since the start of 2012.
The RedHawks are banking on their wealth of experience to help them in the regional. "I think the fact that we've been here and we know kind of the routine hopefully will pay some dividends," said Blasi. "But at the end of the day you've got to play the game, you've got to prepare well, just like you do any other week. You've got to be ready to go."
Last weekend, the RedHawks lost a CCHA semifinal game to Western Michigan before beating Bowling Green in the third-place game. Said Hirschfeld, "It's better to go into practice and get ready for the tournament coming off a win rather than two losses."
— Paula C. Weston
Massachusetts-Lowell River Hawks
Coach: Norm Bazin, first season
Record: 23-12-1 (17-9-1 Hockey East, tie-second)
How they got in: At-large bid
Regional seed: Third
Last NCAA tournament appearance: 1996
Best NCAA finish: Regional finals, 1994, 1996
Why they'll get to the Frozen Four: This team has the offensive depth and great goaltending.
Why they won't get to the Frozen Four: This team has zero experience playing in big-time games.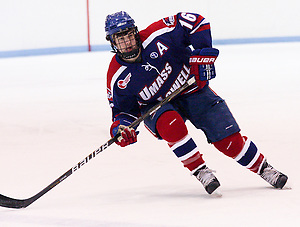 It's been 16 years since the Massachusetts-Lowell River Hawks have appeared in the NCAA tournament.
When they face Miami on Friday in the East Regional's second semifinal, though, it will be by far the closest tournament game played to Lowell's campus.
Even though the River Hawks will be three hours away from campus, that may feel very close to home compared to playing Wisconsin in Madison in 1988 (a total-goals loss) and first-round games at Michigan State in 1994 and 1996 (both wins).
"To play in the East, to have our fans experience this is a bonus," said Lowell coach Norm Bazin.
To be playing hockey itself, though, may be the biggest reward for the River Hawks. After losing to Providence in the Hockey East quarterfinals, everything was up in the air. It wasn't until that same Friars team lost to Boston College in the Hockey East semifinals that Lowell knew its tournament ticket was punched.
"It's been too long since the team has been a part of the NCAA championship," said Bazin. "This brings the school to life. It's an exciting time. This time of year, when the weather starts to break, if you're still playing hockey you know you're pretty good."
How good Lowell will be in Friday's regional semifinal game versus Miami may be dictated by whether Riley Wetmore, the team's captain and one of the most skilled offensive players in the lineup, can go full force.
Wetmore played in the final of three quarterfinal games for Lowell against Providence two weekends ago but did so with a reported broken hand. Moving to the fourth line, it was clear that the top line was missing its center and the entire lineup struggled to score in a 1-0 loss.
Bazin and the River Hawks have been vague on what Wetmore's role will be on Friday, but he's been clear that the talented pivot will be in the lineup.
"I plan for [Wetmore] to play," said Bazin. "It's our policy in the tournament time to not discuss injuries because there's no such thing during the tournament. We hope he can play and feel he will play."
Regardless of whether Wetmore is in the lineup, this River Hawks team knows it has been given a second life and will do everything to take advantage.
"We're just excited to play and get another chance at this," said Bazin. "We'll be dangerous. You are when you get another life. It's nice to get back and get another chance. You miss hockey for a whole week, not knowing if you're going to play again. Now we're going to play again."
— Jim Connelly
Michigan State Spartans
Coach: Tom Anastos, first season
Record: 19-15-4 (14-11-3-2 CCHA, fifth)
How they got in: At-large bid
Regional seed: Fourth
Last NCAA tournament appearance: 2008
Best NCAA finish: Champions, 1966, 1986, 2007
Why they'll get to the Frozen Four: This team is completely under the radar and yet plays like a finely tuned machine, and many players are capable of big-game performances.
Why they won't get to the Frozen Four: It's tough to win games when the goals don't come, and the Spartans were shut out twice in their last four games.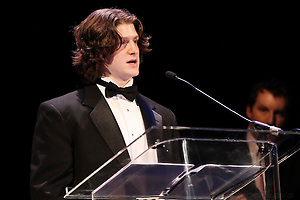 It's been a theme for Michigan State all season, and coach Tom Anastos repeated it the week leading into the NCAA tournament: "We just have to go have fun and play the game."
In his first year as the Spartans' coach, Anastos has revamped the style of hockey seen in East Lansing in recent years, introducing a more up-tempo game. There was an adjustment period, naturally, but the current Spartans players embraced the new systems that Anastos introduced and the team has become one of the most efficient in the league. Not remarkable, but efficient and capable of playing with anyone when they play their own game.
And that's exactly what Anastos wants.
"Let's just go play the game," said Anastos. "In the end, the worst thing that can come out of it is that you lose — and that's a bad thing — but in the end you give yourself a better chance to have success if you play the way you're most comfortable playing. I don't want to be tentative, I don't want to be out there fearful of making mistakes.
"When we played our best hockey this year, we played real hard, we made lots of good plays … and because we were playing hard, we were able to overcome the mistakes that we made. That's what it's going to take."
The Spartans are led in scoring by junior defenseman and captain Torey Krug (12-21–33), the CCHA player of the year, but the team really does score by committee. In fact, the team does everything by committee, right down to the goaltending. Sophomore Will Yanakeff (2.48 goals against average, .923 save percentage) and senior Drew Palmisano (2.69, .918) have split time in net.
MSU enters the NCAA tournament having had a week off following the Spartans' CCHA playoff series loss to Miami, a two-game set March 9-10 in which Miami outscored Michigan State 10-1. This is also the first trip to the NCAA tournament for this MSU senior class. Preparing for a new experience after not playing in two weeks will require focus, said Anastos.
"We're going to spend the majority of our time like we have all season — we're not going to deviate — trying to focus on how we play and how hard we can play," said Anastos, "because that's the formula that at least gives us the best chance of success.
"We're trying to address two issues at the same time: this particular team and the program in general. One of the program goals is to create a championship mentality, where there's an expectation, a belief and an understanding of what it takes to be a champion. There's nothing better than experience."
There's no better proof that Anastos is addressing both of those issues than the fact that he's taking the Spartans to the NCAA tournament in his first season as coach, except — maybe — for the way in which his players echo his comments.
"I think we just kind of stick to the same things we've been preaching all year, just doing what the coaches ask of us," said Krug. "I think we're pretty confident in the way that we play the college hockey game that if we do our job we can have a chance to win the game."
— Paula C. Weston