Michigan is a No. 1 regional seed for the first time since 2009, and that NCAA tournament didn't end too well for the Wolverines.
Air Force knocked off Michigan 2-0 in the first round that season. This is the Wolverines' 22nd straight NCAA appearance, with two national championships in that span but neither coming from the top regional seed.
This is the seventh time in the last 22 seasons that Michigan has been a regional No. 1 seed; of the first six, the Wolverines advanced to the Frozen Four four times, lost in the second round once and then fell to Air Force.
Cornell awaits to challenge the Wolverines this time around, with CCHA regular season champion Ferris State and Denver in the other semifinal.
Here are the previews for the Midwest Regional. Check to the right for game times and locations.
Michigan Wolverines
Coach: Red Berenson, 28th season
Record: 24-12-4 (15-9-4-1 CCHA, tie-second)
How they got in: At-large bid
Regional seed: First
Last NCAA tournament appearance: 2011
Best NCAA finish: Champions, 1948, 1951, 1952, 1953, 1955, 1956, 1964, 1996, 1998
Why they'll get to the Frozen Four: Gritty, talented, and veterans of this tournament, the 3-2 overtime loss in last year's title game makes them the most determined group in the field.
Why they won't get to the Frozen Four: In spite of being one of the best all-around teams in the country, the Wolverines can display inconsistency — especially when they overthink a game.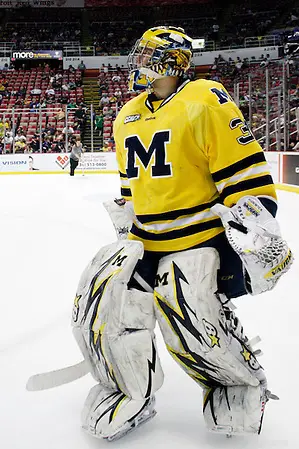 Given that the Wolverines are making their 22nd consecutive appearance in the NCAA tournament, this should be pretty routine, right?
"I think some teams have been happy to make the tournament once in a while and hope to make it every year but don't, but our guys have been found a way to do it," said coach Red Berenson. "I really credit our players, our coaches, the staff around the program. The expectations are high at Michigan, but we found a way to do it."
And what a way to do it. Picked to finish third in both the coaches and media preseason CCHA polls, the Wolverines were in eighth place when the first half of the season ended. They went on to capture the Great Lakes Invitational championship in late December and that boost, along with the return of sophomore defenseman Jon Merrill after his first-half suspension for violation of team rules, helped push the Wolverines all the way to last week's CCHA championship game.
"I like the chemistry of our team," said Berenson. "I like the fact that we've got this far by playing good defense and keeping the goals against down, and I like the fact that we're still improving."
Merrill seemed to be the last factor needed to shore up a defense that includes two good freshmen, Mike Chiasson and Brennan Serville, and solidify the team in front of fifth-year senior goaltender Shawn Hunwick.
"I like the fact that we've got a goalie who can keep us in games," said Berenson, "and I like the fact that our seniors are our key players and they're having their best seasons."
By now, most people know that Hunwick is a walk-on who never really expected to play. He's been the starter since the beginning of this season — a new role for him — and he's excelled; both his goals against average (1.98) and save percentage (.933) put him among the top netminders in the country.
The Wolverines have been uncharacteristically propelled by defense this season, but they do have five players with 10 or more goals and four lines that contribute.
Most importantly, though, the Wolverines have experience. "I think it's huge," said Berenson. "We've been a team that's had that experience — obviously, our seniors, juniors, sophomores, and our freshmen will figure it out pretty quick that this is a business trip.
"This is the best hockey competition of the year. We've had a good season this year in the CCHA, but you really have to jack it up a level in the NCAA tournament, somehow."
— Paula C. Weston
Ferris State Bulldogs
Coach: Bob Daniels, 20th season
Record: 23-11-5 (16-7-5-1 CCHA, first)
How they got in: At-large bid
Regional seed: Second
Last NCAA tournament appearance: 2003
Best NCAA finish: First round, 2003
Why they'll get to the Frozen Four: One of the best defensive units in the country led by Chad Billins and Brett Wysopal, plus a sneaky — if streaky — offense.
Why they won't get to the Frozen Four: They don't respond well to time off and they sat out last weekend's CCHA championship tournament.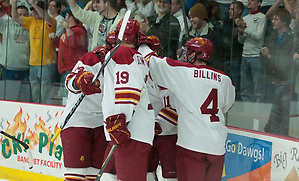 After capturing the regular-season championship, Ferris State ran into last-place Bowling Green, a team on a mission that ended the season of Northern Michigan in the first round of the CCHA playoffs and prevented the Bulldogs from seeking the Mason Cup in Detroit last weekend. FSU dropped its best-of-three series against BGSU in three games, both losses coming in overtime.
It was, said coach Bob Daniels, a blow for a team picked to finish ninth in preseason by the league's coaches and seventh by the media.
"We've accomplished an awful lot," said Daniels. "When the season started, I don't think anyone expected us to finish as regular season champions, and as difficult as this pill is to swallow … we're lucky that we're going to have another opportunity to move forward and maybe to do some other things that maybe people don't expect us to do now."
Points were hard to come by in the CCHA this season, and the Bulldogs captured the regular season crown with a 9-0-4 league run in the second half, spurred by a surprising offense and a defense that became more confident with every win. In that 13-game stretch, FSU outscored opponents 47-27, allowing a total of five goals in its last six games of the streak.
Senior Jordie Johnston (18-15–33) leads the Bulldogs in scoring; he scored 10 goals in 93 career games in his first three seasons. Juniors Kyle Bonis (18-11–29) and Matt Kirzinger (10-22–32) are the only other players with 10 or more goals for FSU, but like Johnston, they've surpassed their production of years past; Bonis has doubled his goal output of the 55 games he played in two previous seasons.
Senior goaltender Taylor Nelson (2.18 goals against average, .920 save percentage) has emerged as the starter in net, but he's pushed by freshman C.J. Motte (1.98, .925), who's played a dozen games.
The defensive corps is 10th in the country, allowing 2.23 goals per game with one of the nation's best penalty kills (85.0 percent). Seniors Chad Billins and Brett Wysopal may not be national names, but every team in the league knows what they've done to hone a young blue line this season.
"I think we've got a great chance of winning this region," said Daniels, "as good a chance as any of the other three teams that are there. I want players to enjoy the moment, but I also want them to take advantage of the opportunity that we have in front of us right now."
— Paula C. Weston
Denver Pioneers
Coach: George Gwozdecky, 18th season at Denver, 26th overall
Record: 25-13-4 (16-8-4 WCHA, third)
How they got in: At-large bid
Regional seed: Third
Last NCAA tournament appearance: 2011
Best NCAA finish: Champions, 1958, 1960, 1961, 1968, 1969, 2004, 2005
Why they'll get to the Frozen Four: If players like Drew Shore, Luke Salazar and Joey LaLeggia find ways to put up some points while they keep things simple defensively and get great goaltending, the Pioneers could punch a ticket to Tampa and earn themselves a much needed two-week break.
Why they won't get to the Frozen Four: Their lack of depth if some of the walking wounded cannot play and a short-circuited power play make things awfully tough.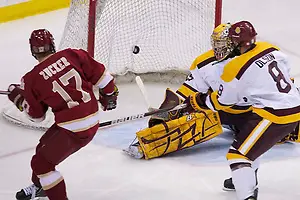 The Pioneers finished the season's first half well below expectations for a team picked by most to finish at the top of the WCHA standings in 2011-12. Denver's 8-7-3 start through its first 18 games wasn't much to celebrate during the holiday break.
"At Christmas time we weren't in a very good position," Denver coach George Gwozdecky said. "In fact, I think a lot of people had us written off based upon our record, based upon how we were playing."
But balanced scoring from both the front and back ends, combined with a greater defensive commitment and solid goaltending, led Denver to increase its average scoring margin by more than a goal (0.22 to 1.39) to finish 13-4-1 over its final 18 games.
The problem for the Pioneers as they head to Green Bay is they have already played a grueling six postseason games, three of which have headed to overtime. What's worse is those games have thinned out an already injury-riddled lineup which has now lost 115 man games to injury.
After forward Jason Zucker and defenseman Josiah Didier were lost to injury in last Saturday's WCHA title game and defenseman John Ryder was ejected, Gwozdecky was forced to play forwards Matt Tabrum and Nate Dewhurst at defense.
Expect more of the same, barring some game-day or even game-time decisions according to Gwozdecky, who is preaching defense to his club this week and expects Friday's meeting with Ferris State to be of the low-scoring variety.
That's wise considering the Bulldogs' well-known defensive prowess and that his hobbling team is 1-for-20 (5 percent) on the power play in six postseason games while his penalty killers are 26-for-29 (90 percent).
While he said that he hasn't decided on a starting goaltender for Friday, Gwozdecky indicated the odds that sophomore Sam Brittain would be in the crease on Friday were better than 50 percent.
Strong goaltending and timely goal-scoring from players like Drew Shore and Luke Salazar (who seems to have a knack for making his tallies count) will be key for the Pioneers this weekend, especially if reinforcements don't materialize.
"I think it's one of those brackets [where] any of the four teams could win it," Gwozdecky said of the Green Bay regional featuring Michigan and Cornell in addition to Ferris State. "I don't know if there's a better team that we will play from the sense of being able to defend [than Ferris State]."
— Brian Halverson
Cornell Big Red
Coach: Mike Schafer, 17th season
Record: 18-8-7 (12-4-6 ECAC Hockey, second)
How they got in: At-large bid
Regional seed: Fourth
Last NCAA tournament appearance: 2010
Best NCAA finish: Champions, 1967, 1970
Why they'll get to the Frozen Four: Defense wins championships, and Cornell's is as good as any other in the Midwest Regional.
Why they won't get to the Frozen Four: The Big Red are young, inexperienced and playing without ECAC Hockey rookie of the year Brian Ferlin (injury).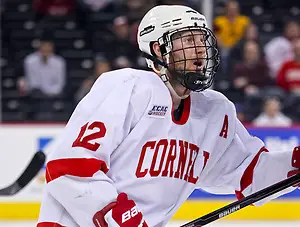 If you're surprised to see Cornell in the NCAA tournament, you're probably new here. The Big Red return to the field for the seventh time in the last 11 years — more than any other ECAC Hockey representative — and hope to repeat a feat not accomplished by a league member in nine years: earn a trip to the Frozen Four.
The last ECAC team to do it, in Buffalo back in 2003? Cornell, of course.
The Red are younger and a little less experienced than some of the other remaining teams, and have certainly had their hiccups this year. But no matter how bumpy the road, Cornell has managed to pull out the necessary result as often as not: The Red have lost consecutive games only once all year (a home-and-home against Colgate), took a win and tie out of Colorado College on the road in early January, and ultimately stumped Colgate when it mattered to secure an at-large bid in the ECAC Hockey third-place game.
"There's a lot of pressure to play hockey at Cornell," coach Mike Schafer said last weekend. "We've been in the ECAC Hockey championship game three years in a row, we've been [to the league's final four] five years in a row, there's a lot of pressure and that's why I give these guys a lot of credit."
The Red boast an opportunistic offense that can really turn the tables on you in transition, led by junior Greg Miller (14-16–30) and senior Sean Collins (13-11–24). But Cornell's bread and butter is stalwart team defense. The D is again among the best in the nation (12th, at 2.27 goals against per game) and it would be even better were it not for a disappointing penalty kill (ranked 48th, at 78.9 percent).
Goalie Andy Iles has played every minute for the Red, holding a respectable (if not extraordinary) .918 save percentage and 2.13 goals against average overall. Those numbers mark a slight improvement over last year's results, but he has also never played this many games in a season before. (His shutout against half-hearted Colgate last Saturday proceeded a rough 6-1 loss to archrival Harvard the night before.)
"The guys really responded," Schafer said of the requisite consolation victory to secure the NCAA bid. "I'm very happy to move on to next weekend and represent the ECAC in the NCAAs."
When Cornell is playing well, it fields a suffocating defense that will beat opponents to loose pucks, or beat them up trying. The offense isn't likely to set the world on fire, but three goals is generally enough to win a well-played game, and rarely too much to ask of some very skilled but defensively responsible forwards. (Cornell boasts three of the league's top plus/minus forwards; the other six are either from Union, or named Chris Wagner or Austin Smith from Colgate.) Iles came into the program as a blue-chip prospect, and he has done little to dispel that assessment.
— Brian Sullivan