Quick quiz: Over the last six seasons, which of the four teams in this year's Northeast Regional has been in the NCAA tournament the most?
If you said regional top seed Boston College, you'd be correct. But if you seed fourth seed Air Force, you'd also be correct.
Both the Eagles and the Falcons have been in the field of 16 five times in the last six seasons, and they meet in the first round of this year's Northeast Regional. Air Force has been close in the past with one big first-round upset in its pocket, but Boston College puts a 15-game winning streak on the line against it in the first round.
Minnesota-Duluth has been in the NCAA field three times in the last six years and Maine twice. The Bulldogs are defending their 2011 national championship, while the Black Bears are looking to find their way to the Frozen Four as a No. 3 seed, just like they did in 2006 and 2007.
Here are the previews for the Northeast Regional. Check to the right for game times and locations.
Boston College Eagles
Coach: Jerry York, 40th season, 18th at Boston College
Record: 29-10-1 (19-7-1 Hockey East, first)
How they got in: Automatic qualifier, Hockey East playoff champion
Regional seed: First
Last NCAA tournament appearance: 2011
Best NCAA finish: Champion, 2010, 2008, 2001, 1949
Why they'll get to the Frozen Four: They're easily the nation's hottest team, and everything from offense to goaltending is strong.
Why they won't get to the Frozen Four: It's hard to find a reason, but that was the case a year ago and the Eagles lost their first-round game. They need to come to play in a one-game scenario.
When Boston College skated around the ice at the TD Garden last Saturday night holding the Lamoriello Trophy, it became the first team in the tournament's 28-year history to capture the title three straight years.
The Eagles happily celebrated that trophy that evening, but by the time Sunday morning came the team's focus was hardly on the past. By 12:05 p.m., BC had confirmed its first-round NCAA opponent, Atlantic Hockey champion Air Force, and focus turned to what it will take to beat the Falcons.
That focus has made the Eagles a success in the postseason under coach Jerry York, including 12 NCAA tournament appearances and three national titles at the Heights.
But as focused as the Eagles are on capturing another NCAA crown, last year's tournament is a reminder that this team needs to be ready from the get-go or an early exit could loom.
It was a year ago that the Eagles, a No. 1 seed similar to this year, fell to Colorado College in their tournament opener, the first time a Jerry York-coached BC team lost its first-round game.
"I thought we were ready to go last year and Colorado had a strong team," said York. "It's one and done and the team that plays the best on that night is going to advance."
York is well aware that there is no looking past the first-round opponent, Air Force, even if many of the BC faithful might not know much about this entry from Atlantic Hockey.
"When we look at Air Force and do some research, [coach] Frank [Serratore] has had some really tremendous efforts in recent NCAA games," said York. "If you look back at their win against Michigan, 2-0, or their loss against Vermont in double OT, a loss to Miami in OT, it's remarkable how close they've been to Frozen Fours. So they have our attention."
The Eagles enter the NCAA regional on a 15-game winning streak. The common thread to all of those wins has been BC's goaltender, Parker Milner. Benched midway through the year as he struggled, Milner took back the starting role on Jan. 27 and hasn't lost a game since.
"It's been confidence," York said about what is different about Milner between his mid-season slump and now. "It's the ability to give up that soft goal and come back and refocus and play well. I think early in the season, he struggled with that."
Rookie forward Johnny Gaudreau also has been strong down the stretch. A late commit to BC after withdrawing his commitment to Northeastern last summer, Gaudreau has been a force of late, scoring 22 points during the 15-game streak.
He is just a piece of the potent BC offense that has given it the No. 1 overall seed in the tournament. That's music to York's ears.
"This is a great time of year to still play hockey," said York.
— Jim Connelly
Minnesota-Duluth Bulldogs
Coach: Scott Sandelin, 12th season
Record: 24-9-6 (16-11-1 WCHA, fourth)
How they got in: At-large bid
Regional seed: Second
Last NCAA tournament appearance: 2011
Best NCAA finish: Champions, 2011
Why they'll get to the Frozen Four: The Bulldogs have two talented, well-balanced forward lines and Spencer Abbott's possible absence for Maine will help UMD get past the first game, at least.
Why they won't get to the Frozen Four: The tournament's No. 1 overall seed, Boston College, is waiting on Sunday in an arena located an hour from the BC campus.
Some said Minnesota-Duluth got a weak draw, rode a hot goalie or just got plain lucky on its way to a national title last season. But maybe the Bulldogs were just that good.
UMD was picked to finish fifth in the WCHA this season. Many thought the Bulldogs wouldn't be able to keep up in 2011-12 without two-thirds of the best line in the nation.
Winger Justin Fontaine's eligibility expired and opposite winger Mike Connolly left for the AHL. Defenseman Justin Faulk is playing with the NHL's Carolina Panthers.
But here they are, with a No. 2 seed in the Northeast Region.
"We're just excited to play," said Bulldogs coach Scott Sandelin. "We're thankful to be one of the 16 teams that have this opportunity and we're going to have an opportunity to defend our national championship."
UMD spent more weeks at No. 1 in the USCHO.com Division I Men's Poll than any other team, it was in the thick of the WCHA race all season and the Bulldogs were the top team in the PairWise Rankings for a good chunk of the season.
Jack Connolly, who centered the top line that racked up 172 points and scored 68 out of the team's 143 goals last season, is putting up the numbers without his star wingers this season. Connolly led UMD in points last season and finished with 18 goals and 41 assists. He has 19 goals and 39 assists in 2011-12.
UMD's doubters forgot about J.T. Brown, too. The 2011 Frozen Four most outstanding player leads the team in goals (23) and has 23 assists. Travis Oleksuk (21-30–51) also stepped up for the Bulldogs.
Kenny Reiter (2.40 goals against average, .912 save percentage) has been good in goal, too, although his numbers are down a little bit this season.
— Tyler Buckentine
Maine Black Bears
Coach: Tim Whitehead, 16th season, 11th at Maine
Record: 23-13-3 (15-10-2 Hockey East, fourth)
How they got in: At-large bid
Regional seed: Third
Last NCAA tournament appearance: 2007
Best NCAA finish: Champions, 1993, 1999
Why they'll get to the Frozen Four: A stellar offense is led by a dominant first line of Spencer Abbott (if he plays), Brian Flynn and Joey Diamond and an equally dominant power play.
Why they won't get to the Frozen Four: Abbott, one of the top three or four players in the country, might not play.
Maine got out of the gate slowly this year but finished on a 17-6-1 run. A major factor in that turnaround was sophomore goaltender Dan Sullivan.
"Dan's done a tremendous job," Maine coach Tim Whitehead said. "It's no secret that's been our Achilles' heel for the last couple of years. His improvement has been very dramatic, and it's not an accident. He's worked extremely hard, not so much technically but dealing with being our go-to guy, handling that responsibility, and bouncing back from a loss or a tough goal. I can't speak enough of his mental toughness."
Up front, the top line of Spencer Abbott, Brian Flynn and Joey Diamond ranked 1-2-3 in Hockey East scoring. However, Abbott, the nation's top scorer, missed the Hockey East championship game after a head injury suffered in the semifinals. His status for the regional is very much in question.
"It'll be a bonus if he comes back," Whitehead said, "but we're going to assume that he's not."
If Abbott does return, it'll be a matchup of strength against strength: two teams with three dominant forwards and a dominant power play. Minnesota-Duluth, of course, is the defending national champion.
"We thought we'd start with a layup," Whitehead said with a rueful laugh. "Obviously, we have great respect for what Duluth has accomplished not just last year but this year. They're a great hockey team. They've been No. 1 for a large part of the season. I'm mystified at how they're the seven [seed overall].
"They're a great opponent, very well-coached with strength at all three positions. But we've been playing great teams down the stretch, teams that all have elite players, so we've been battle-tested."
Whitehead said he feels that success down the stretch counteracts his team's lack of NCAA experience.
"Certainly, it always helps to have experience," he said. "But we've been in a lot of big games this year and performed well, so that should give us confidence.
"The Frozen Fenway matchup with our archrivals UNH was a great experience for us and we were fortunate to get that last bounce [in overtime]. [We were] able to win two from BC at home and two from BU on the road, beat UNH to earn home ice and then Merrimack to earn a chance to keep the season going, and then BU to guarantee a NCAA spot.
"So our guys have been in a lot of big games this season and had some success. So we think that should take care of most of those big-game jitters. Our guys will be fine."
— Dave Hendrickson
Air Force Falcons
Coach: Frank Serratore, 19th season, 15th at Air Force
Record: 21-10-7, (16-6-6 Atlantic Hockey, first)
How they got in: Automatic qualifier, Atlantic Hockey playoff champion
Regional seed: Fourth
Last NCAA tournament appearance: 2011
Best NCAA finish: Second round, 2009
Why they'll get to the Frozen Four: The Falcons are making their third trip to the tournament in four years, and they play solid defense with the experience to back it up.
Why they won't get to the Frozen Four: Playing the top seed means the Falcons have the toughest path.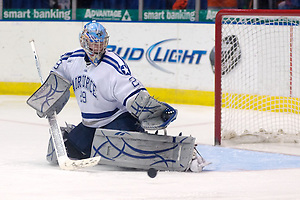 The Air Force Falcons have been to the NCAAs five times in six years, including a win over Michigan in 2009. And they've put a scare into whomever draws them. None of the games they've lost in the tournament have been settled until the third period or overtime, like last year's 2-1 loss to top-seeded Yale.
"We're a better team this year than we were last season," said coach Frank Serratore. "We're deeper and we're older. We don't have a lot of seniors but we have a lot of kids who were 20-year-old freshman. Our goalie [Jason Torf] isn't a freshman like he was last year."
Air Force lacks the snipers it has had in the past but has won this season with defense, led by seniors Scott Mathis and Tim Kirby, who log a ton of minutes. Both were first-team league all-stars and Kirby is a Hobey Baker Award finalist.
"There's no easy bracket, but we're in the one with the No. 1 team and the defending national champs," said Serratore. "But we're the top non-BCS team in the tournament. We're the Boise State or TCU of the tournament.
"Of the teams we have brought to the tournament, I really like this team. That 2009 team was pretty darn good and was a goal away from the Frozen Four. But this team might not have reached its potential yet."
— Chris Lerch