Two years ago, defenseman Tommy Cross stood in the middle of the rink at Detroit's Ford Field, surrounded by his teammates, hoisting the national championship trophy.
"The thing I'm most proud of is winning the national championship in 2010. That's something special; only four teams here have ever done that," said Cross, the Boston College captain. "But I think two more wins would change the answer to that question."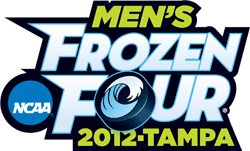 For complete Frozen Four coverage, visit USCHO's Frozen Four Central.
Two more wins means Cross will accept the 2012 national championship trophy on behalf of his team. He will be the first one to hoist it over his head. He will have led the Eagles to a five-trophy season, having already won championships in the Ice Breaker Tournament, Beanpot, Hockey East regular season and Hockey East tournament.
That would be a new top moment for the Simsbury, Conn., native who grew up a fan of the Eagles. It would be the perfect cap to his best individual season of 23 points — five goals and 18 assists.
Those two more wins are not a given. True, BC is currently on a 17-game winning streak and is the favorite as the No. 1 overall seed in the tournament. But the Eagles know all too well what can happen if they get too confident and look too far ahead. They may have gotten a little ahead of themselves last year and lost in the first round.
Being the top seed doesn't mean anything anymore. As the entire BC team is fond of saying, there are no bad teams in the tournament.
"We know we have to get better before Thursday," Cross said.
After a decisive win over defending national champion Minnesota-Duluth last Sunday, the Eagles need to get better? That has been the mentality the whole season. No matter if it's a win or loss, BC looks to improve on every game.
"I always talk about not confusing performance with results," Cross said. "We've gotten wins when we didn't play great, but we'd regroup on Monday and look back, or even Saturday night after the game, and say, 'We got a win but this is what needs to get better.'"
They did not even need the coaches to point out the issues in a given game. They can almost police themselves and often know what the coaches are going to say in the film sessions before going in.
Cross said that makes his role as captain easier.
Cross, like his 26 teammates, is always quick to give credit to those around him. Ask him about the strong defensive effort and he will say that the defense has been playing really good but the best defense is a good offense and BC has a very good offense. He's not shortchanging his fellow defensemen, just making sure everyone gets the credit deserved.
His coach, however, has no problem laying on the praise, bringing up his captain's leadership frequently.
"I probably short sight his play because his leadership is so strong for us," York said. "He's been an outstanding leader for us and I appreciate that in players. But his play is right there. He's a very, very good defenseman."
Leadership is something that comes natural to Cross. He was an assistant captain last year as a junior. Even in high school, Cross was class president at Westminster School.
Cross' people skills are part of what makes him a good leader. As he walks through a room scattered with a few of his teammates, Cross greets each one individually with a big smile. He nods to Chris Kreider, who is on the phone, shares a laugh with Pat Mullane and says, "What's up Milsy" to Parker Milner. He makes small talk as he sits down, leaning back in the chair, clearly at ease.
"He's been an outstanding leader for us and I appreciate that in players. But his play is right there. He's a very, very good defenseman."
— Boston College coach Jerry York, on Tommy Cross
If he wasn't heading to the pro ranks — the Boston Bruins hold his rights, having drafted him 35th overall in 2007 — Cross isn't sure what he would do. But he knows he would want to work with people.
"I like to be around people and I like to think I'm OK with people," he said.
This is coming from the guy who charmed the media corps at the NCAA Northeast Regional last Sunday when he took a moment at the end of his news conference to talk them all for their work.
Yeah, he's OK with people.
As may be expected from a team-first people person like Cross, his favorite part of hockey has nothing to do with scoring or winning. It's the moment before the game starts, in the locker room with his teammates. They all stand in front of their lockers and go through their routines, their specific handshakes with each player, getting ready to take the ice.
"It's just the group of guys that we have, the bonds that we have," he said. "Looking each teammate in the eye before you go out on the ice is the most special to me."
As much as his team means to him and as much as he loves hockey, the sport is not his only focus at BC. Somewhere between the 110 practices and 40 games, the communications major and international studies minor finds time for classes and homework.
Cross was named to the 2009-10 Hockey East All-Academic Team and was named the BC Junior Male Outstanding Scholar Athlete last year.
"The student part is just as important as the athlete part, if not more important," Cross said. "I've always been a fan of the classroom part, for some reason. I like learning. I've enjoyed it, in a different way, but just as much as the hockey."
But when he's done with the schoolwork, Cross' attention turns back to hockey. If he isn't playing, he's watching. While some of his teammates can often be found around a card table, Cross prefers to be in front of the TV, watching hockey.
Hockey is just part of who Cross is and what he does, like being captain.
"2:05, Patty," Cross calls over to Mullane as he leaves the room, reminding his teammate of their next meeting. Ever the captain.