At the end of the first period of its national semifinal against Boston College, Minnesota coach Don Lucia liked what he saw, despite being down 1-0.
"I thought we came out and played a really good first period," said Lucia. "I think they scored on the only real chance they had."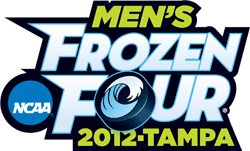 For complete Frozen Four coverage, visit USCHO's Frozen Four Central.
The Gophers outshot the Eagles 10-5 in the first, and were playing most of the start of the second period in the BC zone. But again, it was the Eagles who capitalized with an odd-man rush that made it 2-0.
"We had some great chances but couldn't get things going on our side," said senior Jake Hansen, who scored the lone Gophers goal. "We felt at times we were putting the pressure on and outhitting them, but it seemed like they took advantage of their opportunities."
Minnesota kept the pressure on, but the tide turned for good when the Eagles scored twice within a 1:58 span in the final minutes of the second period.
"The game got away in a two-minute span when we tried to do a few too many things and it went from 2-0 to 4-0," said Lucia.
"I thought we were in the game until that point when they scored those two goals and made it 4-0, and that makes it tough. But I thought we deserved better.
"When it went from two to four in a couple minutes, that was the game," Lucia said.
Hansen got a goal just 1:26 into the final period, but any idea of a comeback was crushed just 22 seconds later when the Eagles made it 5-1, and then tacked on a power-play goal four minutes later.
Minnesota outshot Boston College 31-25 for the game.
"You've got to give [BC goalie Parker Milner] credit, he's a good goalie," said sophomore Zach Budish. "When you only give up one goal [so far] in the NCAA tournament, that's saying something."
"It just got away from us," said Hansen. "To win the MacNaughton Cup and get to the Frozen Four against BC you couldn't have asked for a better stage. We were playing so well and then to play so sloppy, it's just embarrassing. More than anything it just hurts. So bad."