The NHL may be locked out — again — but the 2012-13 NCAA campaign is about to get under way. Paramount to any team's chances of hoisting the Division I championship trophy in Pittsburgh in April will be the play it gets between the pipes between now and then.
Gone are the likes of Aaron Dell, Connor Knapp, Shawn Hunwick, Shane Madolora, Taylor Nelson, Kent Patterson, and Kenny Reiter. So here's a look at some of the top returning goaltenders in college hockey this winter, as viewed by a number of college coaches and professional scouts.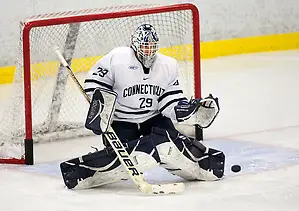 Bartus went 16-19-4 with a 2.55 goals against average and a .923 save percentage in 39 games a year ago as a junior, but was also among the national leaders with a career-high 1,179 saves.
A four-time choice as Atlantic Hockey goalie of the week, he also posted five shutouts last season and made 40 or more saves on a half-dozen occasions for the Huskies.
In conference play, the Illinois native finished 15-14-2 in 32 contests and had 46 stops in UConn's playoff win at eventual conference champion and NCAA tournament participant Air Force.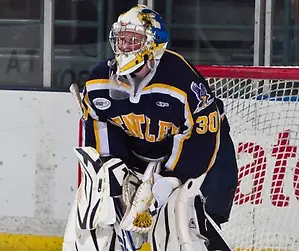 Komm finished among the top 25 in the nation in goals against average (2.41) as a sophomore and posted a 16-14-7 mark in 38 games as the Falcons' workhorse. He also was one of the national leaders in minutes played (2,237), and posted six outings where he stopped 40 or more shots.
His best performance may have come in an Atlantic Hockey playoff matchup with perennial frontrunner Rochester Institute of Technology, where he turned aside 58 shots despite taking the loss.
The Williamsville, N.Y., native also earned third-team all-conference honors behind a pair of upperclassmen in Madolora (RIT) and Chris Noonan (Niagara).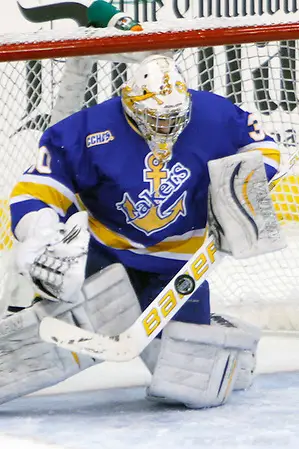 The junior from Mississauga, Ontario, went 17-14-5 a year ago (2.67, .916) and again got the Lakers to the second round of the CCHA playoffs, where they fell to eventual champion Western Michigan.
He made 30 or more saves in a game 16 times, including a shutout against Alaska in the first round of the CCHAs, and recorded 40 or more stops on three occasions. He also won three of four contests against conference semifinalist and regular NCAA tournament participant Miami.
In two years in Sault Ste. Marie he has gone 29-26-13 and will be one of the top returning goaltenders in the CCHA for its final campaign.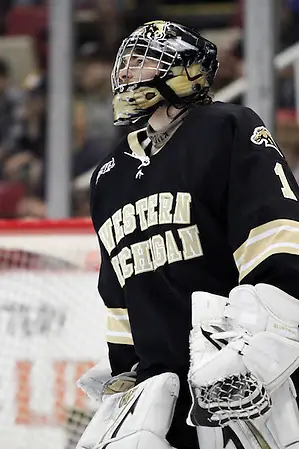 The British Columbia native burst onto the college scene as a freshman by recording three wins and a tie in his first four outings, including a shutout. He ended his rookie session by winning five of his last six games, including a 27-save effort in the CCHA championship game that earned him MVP honors as the Broncos topped Michigan.
Western Michigan was edged by North Dakota in its NCAA West Regional opener despite Slubowski's 25 stops. He still finished 17-11-4 overall (2.03, .911) with three shutouts in 32 appearances, and also garnered both CCHA all-rookie team and CCHA all-tournament team recognition.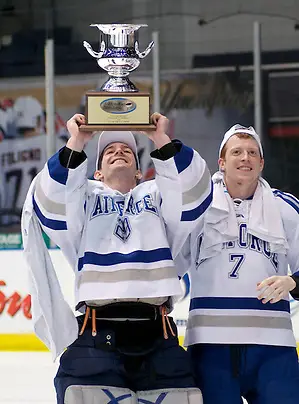 Like Denver's Sam Brittain, Torf didn't play as much last year as he did in 2010-11, thanks to a groin injury, and went 8-5-2 with a 1.73 goals against average and five shutouts in 19 outings.
He guided the Falcons to a shutout win over RIT in the Atlantic Hockey championship game for the second straight spring, making 34 saves, before holding eventual national champion Boston College to two goals in the NCAA Northeast Regional.
"Torf is a little unorthodox, but he's come up big in big games," an opposing coach said.
In two seasons, the California native has gone 24-14-5 with seven shutouts.
Limited by a preseason knee injury last fall, the Calgary, Alberta, native and 2010 Florida Panthers draft choice played in just 12 games, going 8-4 (2.36, .932) as Denver fell in the first round of the NCAA tournament to eventual national finalist Ferris State.
His comeback came on the heels of a dynamic rookie season where he finished 19-9-5 in 33 outings with a 2.28 GAA and led the Pioneers to an NCAA tournament victory over Western Michigan.
Despite the injury, he's still considered a solid pro prospect and is 27-13-5 for the Pioneers in his career.
The River Hawks made it to the NCAAs last year for the first time in 16 seasons and nearly got into their first Frozen Four. A big reason for that was sophomore netminder Carr, who went 22-10-1 in 33 contests (2.13, .928) with four shutouts.
"The most important stat for any goalie is wins, and [BC's Parker] Milner and Carr both put up some gaudy numbers," an opposing coach said.
A 2012 Hockey East all-star, Carr made 65 saves at the NCAA East Regional, topping Miami before falling to Union in a game that kept Lowell from punching its ticket to Tampa.
Iles went 19-9-7 as a second-year man (2.12, .919), helping Cornell to the ECAC Hockey semifinals and then into the national tournament with a shutout over Colgate in the consolation game, his sixth whitewash of the winter.
Ithaca's hometown hero, a second-team all-ECAC Hockey choice, then backstopped the Big Red past Michigan at the NCAA Midwest Regional, making 31 saves, before a loss to Ferris State ended Cornell's campaign one game short of its first Frozen Four since 2003. A three-time ECAC goalie of the week last season, Iles has gone 27-16-9 in his career to date.
Grosenick stepped into a tough situation in Schenectady as a sophomore, with just three games of college experience to his credit, and then did predecessor Keith Kinkaid one step better.
The Wisconsin native not only led the Dutchmen back to the ECAC Hockey championship and the NCAA tournament, but their first-ever Frozen Four, where they fell to Ferris State in the semifinals.
"He inherited a tough job," an NHL scout said. "He had a lot of pressure and responded well."
The ECAC goaltender of the year went 22-6-3 overall in 34 outings, and was second in the nation with a 1.65 goals against average.
Banished to the bench in January last season, the Pittsburgh native rebounded quite nicely.
"[Milner] won the national championship," an opposing coach said.
Indeed. Milner actually won his last 19 games for the Eagles, had five shutouts in his last dozen outings, gave up just two goals in the NCAA tournament and backstopped BC to its third national title in five years while also earning Frozen Four MVP accolades.
Not bad for his first year as a No. 1 starter. The undrafted Milner ultimately finished 29-5 (1.66, .937) and led all Division I goaltenders in victories and winning percentage (.853).