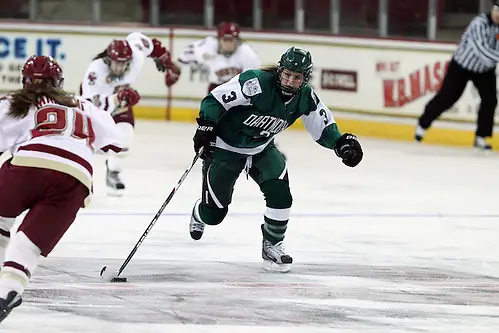 Candace: Well Arlan. I feel like the college hockey landscape is currently like the old "Who's on first, what's on second, I don't know is on third" sketch. Aside from Minnesota, which keeps rolling like a Golden tide over whoever is in the team's way, almost everyone split last weekend, and even the teams that didn't barely squeaked out a sweep. Is it time to raise the dreaded "P" word?
Arlan: The coaches have been claiming that there is parity for a few seasons now, and this season, it shows up in the standings. I do think that by the end of the year, things won't be nearly as close as they appear now. Some teams will improve more than others, while a few that aren't very healthy today will start to get some bodies back.
One thing that can cause unpredictable outcomes is close games. When games are very low scoring, they will invariably be close, where a bounce or two can flip a result. That seems to be especially true in the WCHA this year, where offense is down. Last season in conference play, WCHA teams combined to score 647 goals, or 2.89 goals per team per game. Through the first 22 games this year, that average is down to 2.14, as there have been only 94 goals scored. When one considers that Minnesota has tallied 26 times in four league games, that means that the other seven offenses are producing only 1.7 goals each game. In the four WCHA series last weekend, the Gophers were the only team to average more than two goals a game. So we get close games, and results hinge on a handful of plays. I think we've seen that in Hockey East in past years as goaltenders dominated, and that league has typically had more than its share of upsets.
A couple results that really surprised me came from the East. Sacred Heart perhaps caught Penn State by surprise a bit in game one of their series, building a two-goal lead and hanging on through a third period that saw the Nittany Lions build a 17-5 edge in shots for a 2-1 win. Saturday brought a more predictable 6-1 triumph for Penn State. I'm not sure if there are two different squads for Sacred Heart or if the Pioneers occasionally duck into a phone booth and change into a different persona, but they seem capable of coming up with rare performances that far exceed their norm. In this case, I'm sure it can partly be attributed to the inconsistency that one will see with a young team like Penn State.
The other series that I did not foresee at all was Quinnipiac at Syracuse. The Orange probably deserved better in Friday's game, losing to a power-play goal with just seconds remaining in overtime. Perhaps we can chalk that result up to parity, but Syracuse was able to come back Saturday with a 4-0 win. Could that be a sign that the Orange have their ship headed in the right direction once more, or did Kelly Babstock and company just have an off day?
Candace: That one caught me off guard too. It's hard to know what to think about Syracuse. We both figured they would end up third in the league this year. The team has certainly had its share of turmoil over the last few seasons, and only has one senior on its roster. After last season, they lost Jordyn Burns to Minnesota and Casey Hirsch to Minnesota State, and of course Isabel Menard transferred to Boston University a few seasons ago. There have been several others in recent years too. Despite this, the squad has had some decent wins the last two seasons. Until the Orange demonstrate more consistency however, I'm inclined to view this through the lens of past seasons, where Syracuse would get a big win and seem to be establishing itself before falling back into the same old pattern.
Another CHA result that surprised me was Robert Morris' 6-3 loss to Princeton, a team that has never been an offensive juggernaut. What's your take on the Colonials' disappointing opener, and also the Orange?
Arlan: Paul Flanagan proved at St. Lawrence that he can recruit. It may take some time to figure out which student athletes will be a better fit for a bigger city like Syracuse as opposed to a quieter environment like Canton, and he joined the Orange very late in the cycle for that first season, so it probably takes some time to get the roster the way that Flanagan wants it. I noticed that his leading scorer this year is redshirt freshman Laurie Kingsbury. I don't know if she is any relation to fellow Quebec product Gina Kingsbury, who had a great career for Flanagan at St. Lawrence a decade ago, but perhaps the name can bring some magic. I predicted Syracuse would move up to third in the CHA now that Niagara is defunct, but the win over Quinnipiac offers a glimmer of hope for more.
With Robert Morris, I'm likely guilty of expecting too much too soon. I need to remind myself that here is a team that despite its breakout season last year only won a half a dozen games two years ago. I was unimpressed by the Colonials' 2-0 game over Yale as well, but then I looked back and saw that they only defeated the Bulldogs 1-0 last year. They didn't score a lot in 2011-12, so if we're expecting them to put on an offensive show, we probably have the wrong team. When one speaks to Paul Colontino, he is very sincere about not wanting to get too concerned with results, records, or statistics, but just trying to help his team and players improve as hockey players on a day-by-day basis. The RMU schedule to start the season was far from ideal, as the Colonials have just been practicing and playing exhibitions since September. That would make any team a bit stale, but to yield six goals to Princeton, including five over the final two periods, has to be a concern. RMU didn't allow more than four goals in a game a year ago, and only Mercyhurst scored that many. So maybe we just blame the strange schedule and move on.
Or I could say that's just Princeton. The Tigers had a similarly unexpected 5-3 win over Northeastern in their opening weekend a year ago, despite being badly outshot, as they were on Saturday. They went on to score as many as four goals only four additional times, all in games versus Yale or Colgate. I'm not sure why Princeton's players are able to finish right out of the gate and then lose that ability as the season unfolds.
The other surprise out of those games this weekend was that RIT had the same outcomes as RMU — defeating Yale while losing to Princeton — but by better margins. If the Tigers from Rochester continue to demonstrate a quick learning curve, it could really open up the CHA race.
One can't speak of the CHA race without talking about Mercyhurst. You predicted a Lakers' sweep, but that was likely to avoid the reversed split problem that I had. What did you take away from the Clarkson split at Mercyhurst?
Candace: I did make that pick to avoid the reverse sweep problem. I should have done the same with Cornell; oh well. I think we can take two things away from that series. The first is that for all intents and purposes, until someone steps up and knocks Mercyhurst down from its perch, they are still the class of the CHA, and a legitimate threat to any team in the country, barring Minnesota. The Lakers have made eight straight NCAA tournament appearances, and early-season results have them poised to make a ninth, if they can maintain their consistency. Ironically, what looked to be a gimme series at the start of the year now has HUGE PairWise potential with the Lakers hosting Minnesota State, especially with the Mavericks early-season results.
The second is that Clarkson may be even better than I thought. They have looked very strong in sweeping St. Lawrence and splitting with Mercyhurst, and with the losses to graduation at Dartmouth and Harvard possibly losing Josephine Pucci and Marissa Gedman, Clarkson is poised to be the most serious threat to Cornell in the ECAC.
Speaking of the Big Red, getting blown out 5-1 by Boston University has to be at least a little bit of a concern for a team that has prided itself on defense. After last year's 8-7 triple OT tournament game, you would have thought both the Terriers and Big Red would have clamped down on defense, but both games were high-scoring. What's your take on the Big Red, Clarkson, and BU?
Arlan: I think that the skill level on the ice when BU and Cornell meet is high enough that players are able to make plays that result in a better offensive show than the average game. In their NCAA quarterfinal last season, it wasn't until the overtimes that fatigue likely took a little bit of that extra jump away and nobody wanted to make a mistake that would end her season, so the defenses were able to control the firepower. I don't think the Big Red can be too upset with a split. Cornell features a lot of new faces, and that was their first weekend of college hockey. The Terriers had already played a number of games, including seeing both Boston College and Northeastern, so they had advantages beyond being the home team. Both were one-goal games in the third period before the victor pulled away, so I just look at those teams as being even. Some will see Cornell as slightly better, others BU, and I'm okay with either, as long as it is agreed that the margin between them at this point is very small.
Clarkson is another team that has upgraded its skill. Whether we see much improvement over the first half is hard to say, as some rookies can step right in and others need a few months, but they have the makings of a team that nobody will want to face come March. Erica Howe is on the short list of the best goalies in the country, Jamie Lee Rattray is fifth in scoring, and Erin Ambrose is already making her presence felt from the blue line. I see the Golden Knights making the NCAA tournament, and I think they'll be a factor once there.
Don't be too quick to discount Dartmouth. The Big Green have yet to commence play, but I expect them in the mix as well. Despite being listed as seniors last season, Reagan Fischer and Jenna Hobeika are back for their fourth campaigns, and a team can never have too many veteran producers up front. People familiar with the recruits out of Canada point to Laura Stacey as one to watch. We saw last season that if Dartmouth could just get a key goal here or there, it could have won a number of those low-scoring games. And once St. Lawrence clears its season-opening gauntlet and gets a chance to get back on its toes, Chris Wells has an aggressive team that can play. It's a bit much to expect any team to open with five games against opponents that as of today are all ranked in the top four. I know that I picked Harvard, but I didn't know that Pucci and Gedman were out at the time. Beyond the loss on the ice, that type of blow can damage the psyche of a team and yield the sense that, "It's just not our year." If I was picking based on recent developments, I'd probably go Cornell, Clarkson, and Dartmouth as the top three, but in this wacky world, I'll probably want to change that every week. Do you see a different set of ECAC Hockey contenders?
Candace: No, I think we are in complete agreement. Whether St. Lawrence can insert itself into the mix is the question. It's possible. The Saints didn't exactly start on fire last year, and ended up winning the ECAC tournament, but they did beat Clarkson early season last year to get some momentum. I wonder if the loss to Boston College in the tournament after being up in the second period hurt the Saints' psyche more than I anticipated. Still, there's a lot of talent in Canton, and I expect them to be near the top. Whether Clarkson or Dartmouth can unseat Cornell is a big question mark. At the start of the year, I would have said no, but now, especially looking out west, I say maybe.
Speaking of, the WCHA, which has historically been three squads and everyone else, has been reduced to one squad and a whole bunch of teams jockeying for position. Minnesota-Duluth sweeps Wisconsin and then gets only one point against Minnesota State, and Wisconsin gets only one point plus the shootout win against Bemidji State in the grand opener of its new home arena. North Dakota squeaks by St. Cloud. Before we get to the Gophers, let's first examine Wisconsin. Yes, the Badgers are without Stefanie McKeough, and Brittany Ammerman has been hurt, but some other players need to step up. I can't remember a time when Wisconsin was shut out in three straight games, as they were before scoring three on Sunday to eke out a tie with Bemidji. It's starting to feel like 2010, when Johnson and a few of his players were at the Olympics and Wisconsin missed the NCAA tournament. Thoughts?
Arlan: I believe we all looked at what Wisconsin was losing and anticipated some drop, especially early. Not this severe of a drop, though. Usually, the Badgers have had players poised to step up when holes have been created. I'm sure Brianna Decker has to fight the temptation to try to do too much on her own. Wisconsin really emphasizes a team approach, and that's fine, when everyone is carrying their weight. Johnson's public comments have been of the nature that he thinks his team is playing pretty well and just not getting bounces. That may be true, but in the past, they created the bounces if they didn't come. I was following the blog of the game on Sunday, and one just got the sense that if Decker didn't score, then nobody would, and she eventually came through to end a team scoring slump that had stretched to 10 periods. Maybe the Badgers now have that monkey off their backs and can go back to being the team that we expected they'd be this season. But right now, they have the look of more of a fringe tournament team than a championship contender. Minnesota-Duluth is in roughly the same predicament. North Dakota is in slightly better shape in that while they haven't set the world on fire, they've managed to win more than they've lost and share the conference lead.
If WCHA teams continue to beat each other up at the current rate, then they will have a hard time getting more than one at large team into the NCAA field, unless they get some impressive national results. The coming weekend figures to be very important in that regard, as Wisconsin hosts New Hampshire, Minnesota-Duluth heads to Boston College, St. Cloud State is at Providence, and Minnesota State visits Mercyhurst. North Dakota has a couple of key home weekends in a row, as Clarkson will follow Minnesota into Grand Forks the first weekend of November. That adds up to 10 key games, and every one will be important in building strength in the RPI, because the WCHA teams play so few out of league. Before the season, I'd have said that UMD and BC would be the marque matchup out of that set, now I might lean toward Clarkson and UND. However, the Mavericks and Lakers played a couple of nail-biters last season, so it would not be wise to look past that pairing. Do any of those games pique your interest?
Candace: Actually, all of them do. New Hampshire split with Boston College last weekend when BC had another defensive collapse and gave up three goals after holding a two-goal lead over halfway through the game. With Wisconsin struggling mightily to score goals, a split in Madison wouldn't surprise me at all. The Eagles against the Bulldogs is probably a split as well, and should have some tight defensive hockey, but to this point in the season, Boston College has had a better offense. If the defense, particularly Corinne Boyles, can step up, I could see the Eagles sweeping, but it should be a barn-burner. Minnesota State is off to its best start in years, and after taking three of four points from Minnesota-Duluth last weekend, I'll be very intrigued to see how they stack up against Mercyhurst. The two split last season in Mankato when the Mavericks were a weaker team, so this could be a thriller. North Dakota against Clarkson shapes up as a pretty major test for the Sioux; if defense trumps offense, and we both agree Howe is one of the best goalies in the country, a split, or even a Clarkson sweep, is not out of the question. I think that could be the most exciting series of the lot, but all of them are interesting.
Of course, before playing Clarkson, North Dakota gets its first look at the defending champs. I'd have thought that Ohio State would put up more of a struggle against Minnesota, especially after splitting two tight games with the Sioux the weekend before. Yet the Gophers outscored the Buckeyes, 15-2, in two absolute shellackings. I asked you this question last week, and you said someone could stop Minnesota, and it will eventually happen, but honestly, at this point of the year, and I know it's early, but Minnesota looks like a team that is playing the game at a completely different level, almost reducing its opponents to the level of high school squads playing a college team. What are your thoughts on the out-of-conference series, and what is your thought on Minnesota after seeing what they did to Ohio State?
Arlan: Just looked at collectively, I think that the WCHA needs to find six wins out of that group of 10 or the league is in trouble in the PairWise down the road. They've done okay with the computer in years gone by because teams like Bemidji State and Minnesota State have managed to surprise a few people, and they'll need to outperform expectations on the whole once more.
Some of the most insightful comments one gets in covering hockey are what a coach has to say about the opponent once a series is over. After Saturday's game, Ohio State coach Nate Handrahan said of the Gophers, "They're as good an NCAA women's hockey team as I've seen in a number of years. From top to bottom, they don't have a whole lot of holes. They're going to be a force to be reckoned with, and if we want to do anything in our league, we better figure out how to have some answers."
Minnesota has not only won its first eight games, they won each of the 24 periods. People will say that they haven't been tested, and that's true on the scoreboard, but the reaction from the team was that Ohio State, and especially St. Lawrence, came at them very hard. Right now, everything is going the Gophers' way. As it did last season, the Sarah Davis line has started somewhat slowly, but it hasn't mattered, because people like Becky Kortum and Rachel Bona on the third line and several defensemen have scored. Other than Amanda Kessel, Minnesota has been healthy, and she's still managed to put up 25 points in eight games as she recovers. But adversity is going to come, likely over the next two weekends in North Dakota and Duluth, and it will be interesting to see how they respond.
It's funny how after playing just three games, BC has gone from being the Hockey East favorite to a second choice after BU. You mentioned Boyles, and I still think she is the key to their season, although she wasn't in net for the loss to UNH. That series with the Bulldogs will be vital for the Eagles as well, as they have two games with the Terriers coming up the following week. Another key tilt on Friday night matches two teams that have had light workloads to date as Robert Morris visits Northeastern; the Colonials get BU on the back end of that game. That seems to be a vital contest for the Huskies, as they will have had 10 days to reflect on their own loss to the Terriers, Northeastern's first of the year. I'll be trying to watch that game, the one at Conte Forum, and still follow games like Harvard at Quinnipiac and others that we mentioned. Will you be doing the same? It's just a great weekend of action, including RIT's series at Penn State, that should give us an indication of how far along each is relative to the other.
Candace: I'll be watching the stream of BC-Minnesota-Duluth on Thursday and Friday, keeping tabs on Harvard-Quinnipiac and Dartmouth-Quinnipiac for sure, and following the stream of the Robert Morris-Northeastern game on Friday. I'm also intrigued by Syracuse facing Connecticut, and St. Cloud against Providence. It might be one of the best weekends of the year.