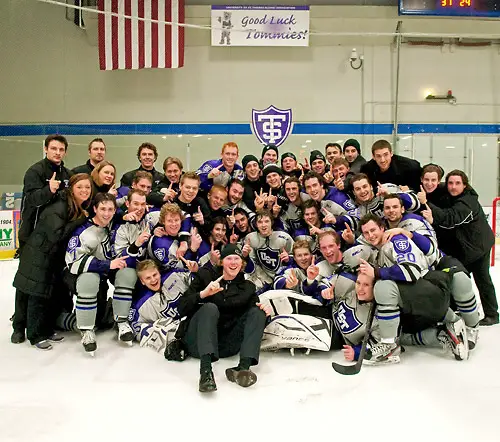 It was a tale of two seasons in the Minnesota Intercollegiate Athletic Conference last year.
St. Thomas was the most dominant team in the league during the regular season, winning the title, but it fell short in its bid to win the conference tournament.
The Tommies lost, 4-3, to St. Olaf in the semifinal round, but did manage to nail down a berth in the NCAA tournament. Their run ended with a 3-1 loss to eventual national champion St. Norbert.
The postseason belonged to Gustavus Adolphus, which defeated St. Olaf, 4-2, in the championship game of the conference tourney.
The Golden Gusties advanced to the NCAA tourney and beat the Milwaukee School of Engineering before falling to St. Norbert as well.
The Tommies have a lot  of experience back and are no doubt the favorite to win the league title, but teams such as Gustavus, St. Olaf, and St. John's all appear to have enough talent to compete for the MIAC title as well.
The conference as a whole should be tight, much the way it was a year ago when seven of the nine teams won at least six games. The competitive nature of the league will no doubt make things interesting, especially late in the year when the pressure to secure a league playoff berth cranks up.
A quote from St. Mary's coach Bill Moore sums up the feeling of every team as it heads into another season.
"Optimism fills the locker room this season, and expectations are very high for a successful season," Moore said.
St. Thomas Tommies
Coach: Jeff Boeser, third season, 32-16-4.
2011-12 Overall Record:18-6-2
2011-12 MIAC Record: 13-2-1
2011-12 Finish: First
2012-13 Predicted Finish: First
Key Departures: Robby Phillip (13 goals, 14 assists)
Arrivals: Nick Nielsen, Tyler Richter, Connor McBride, Derek Jacobson, Jordan Lovick, Steve Sorensen, Cory Kapeller, John Kirtland, Joe Morris, Charlie Aus
Key Players: Riley Horgan (5 goals, 27 assists), Chris Cass (7 goals, 15 assists), Travis Baker (10 goals, 11 assists), Rob Vannelli (6 goals, 9 assists), Drew Fielding (2.08 goals-against average, .917 save percentage).
The Tommies no doubt have a lot of experience back, with 19 players returning from a team that won the league's regular season championship.
St. Thomas did fall short of a championship in the conference tourney though, and was bounced from the NCAA tournament by St. Norbert, falling 3-1 to the eventual champion.
Scoring goals shouldn't be an issue for St. Thomas this season, despite losing Robby Phillip. Players such as Riley Horgan, Chris Cass, Travis Baker, and Rob Vannelli will be leading the way. Horgan will anchor the attack, as he is a two-time All-MIAC selection and is coming off of a season in which he led the MIAC in scoring with 32 points.
Vannelli was an all-conference defenseman a year ago and will play a key role in the defensive success of the Tommies again this season. Michael Krieg and Anthony Moser appear poised to play more prominent roles on the defense as well.
Drew Fielding should have a strong year in goal after giving up just 2.08 goals per game last season. He went 9-3.
If everything comes together as expected, St. Thomas will be set up for another MIAC championship run in the regular season and in the tournament.
Gustavus Golden Gusties
Coach: Brett Petersen, 13th season, 165-133-25
2011-12 Overall Record: 17-7-5
2011-12 MIAC Record: 8-5-3
2011-12 Finish: Second
2012-13 Predicted Finish: Second
Key Departures: Ross Ring-Jarvi (11 goals, 22 assists)
Arrivals: Brendan Baker (transfer from Holy Cross), Tyler Lapic (transfer from Wisconsin), Darren Lapic
Key Players: Zach May (10 goals, 13 assists), Andy Pearson (5 goals, 14 assists), Ryan Johnson (10 goals, 10 assists), John McLean (2.16 GAA, .923 save percentage)
Losing Ross Ring-Jarvi is a big blow to a Gustavus team that finished third in the league but prevailed in the conference tournament title game with a 4-2 win over St. Olaf. He was an All-American last season and a four-time all-conference player.
However, the good news for the Golden Gusties is they have a lot of experienced players coming back to help the team overcome the loss of one of its best players.
"Ring-Jarvi is irreplaceable on so many levels, but this team returns nine seniors and 22 letterwinners," coach Brett Petersen said. "The expectations for this group have never been higher."
The offense should still be in good shape, especially with Zach May and Ryan Johnson in the fold, and Andy Pearson is likely to build on what he accomplished as a freshman when he earned a spot on the All-MIAC Rookie team.
John McLean will anchor the defense after a sensational freshman season that earned him a spot on the conference's all-rookie team as well.
One of the biggest keys to the success of the Golden Gusties is how well they do in power-play situations. If that gets situated as expected, Gustavus could certainly make another run at the title.
"Our power play had its ups and downs last season but will improve due to a stronger presence on the point," Petersen said. "We can't make excuses. Our team just has to play our game and we'll be fine."
St.Olaf Oles
Coach: Sean Goldsworthy, 16th season, 159-180-49
2011-12 Overall Record: 13-9-6
2011-12 MIAC Record: 7-6-3
2011-12 Finish: Fourth
2012-13 Predicted Finish: Third
Key Departures: Peter Rohn (11 goals, 13 assists), Charlie Raskob (7 goals, 17 assists), Derek Grogan (7 goals, 14 assists), Britton Smith (5 goals, 10 assists), Ben Leis (2.30 GAA, .925 save percentage)
Arrivals: Rodney LaLonde, Connor Quinn, Marc Richards, Brad Mueller, Ben Gislasson, Peter Lindblad, Nick Marsh, Andrew Anderson, Ole Setsaas, Mark Rath, David Rath, Hans Drawbert, Connor Tedstrom
Key Players: Ross Trousdale (10 goals, 11 assists), Kevin Harris (11 goals, 7 assists), Jeff Harris (9 goals, 9 assists), John Avino (1 goal, 4 assists), Brian Hickey (1 goal  5 assists)
The Oles lost five all-conference players from last season, including Peter Rohn, who was tied for most goals on the team last season, and Ben Leis, who was one of the top goalies in the league, allowing just 2.30 goals per game.
Finding players who have the ability to get other players involved in the offense will be key for St. Olaf if it is to contend for a conference title and a return to the conference tourney title game.
The Oles graduated four players who combined for 44 assists, and that isn't easy to replace on any team.
Ross Trousdale will need to have a big year to keep the Oles on track for success, while John Avino and Brian Hickey will need to lead the way defensively as St. Olaf breaks in a new starting goalie.
The Oles fell 4-2 to Gustavus last season in the championship match of the MIAC tournament. If the Oles can overcome the big losses to their lineup, a return to the title game isn't out of the question.
St. John's Johnnies
Coach: Doug Schueller, fifth season, 36-56-9
2011-12 Overall Record: 11-13-12
2011-12 MIAC Record: 9-7
2011-12 Finish: Third
2012-13 Predicted Finish: Fourth
Key Departures: Conor Rooney (7 goals, 3 assists), Tony Civello (3.18 GAA, .886 save percentage)
Arrivals: Mitch Thompson (transfer from Wisconsin), Alex Ach, Shane Wolden, Joe Freemark
Key Players: John Haeg (7 goals, 20 assists), Trent Johnson (2 goals, 13 assists), Jascha Petit (14 goals, 6 assists)
It looks like defense is going to be a key to the success of the Johnnies this season. St. John's returns several of its key defensemen, including Wally Cossette and Trent Johnson, and coach Doug Schueller is counting on them to have productive seasons.
"One of our strengths is that we return our top six defensemen," Schueller said. "We feel that all six will be very good players this season."
The only question mark on the defensive side of the ice is who will play in goal.
"The biggest challenge is defining who our No. 1 goalie will be," Schueller said. "We have four goalies fighting for time, and we are looking for one of them to stand out and take the No. 1 spot and create momentum throughout the season."
The Johnnies should be fine offensively, especially with the return of John Haeg, who earned a spot on the All-MIAC rookie team last season. St. John's scored 211 more goals last season than it did the year before, and most of those players who fueled that success are back.
If the Johnnies find a goalie to step up, and there is a good chance Mitch Thompson will fill that role after coming over from the Badgers, they will be in the mix for a title.
Concordia-Moorhead Cobbers
Coach: Chris Howe, 5th season, 31-56-15
2011-12 Overall Record: 10-11-4
2011-12 MIAC Record: 6-7-3
2011-12 Finish: T-Fifth
2012-13 Predicted Finish: Fifth
Key Departures: Erick Galt (4 goals, 11 assists), Nick Thielen (3 goals, 9 assists)
Arrivals: Tucker Coborn, Derek Whitehill, Brock Stahlke, Danil Kalashnikov, Adam Sundqvist, Jordie Bancroft, Brett Wur
Key Players: Caleb Suderman (2 goals, 10 assists), Aaron Wheeler (7 goals, 3 assists), Ben Payne (3 goals, 10 assists), Chris Neamonitis (2.10 GAA, .934 save percentage), Kelly Andrew, ( 2.74 GAA, .908 save percentage)
The loss of Erick Galt hurts because of what he brought to the defense of the Cobbers a year ago. Galt was a four-time all-conference selection and an All-American last year.
Caleb Suderman should be able to step up and fill the void. He was one of the top-scoring defensemen in the league last year, and an All-MIAC selection.
The Cobbers also return two experienced goalies in Chris Neamontis and Kelly Andrew. Neamontis had the top save percentage in the MIAC last season.
"The defense should still be pretty strong," coach Chris Howe said. "It's nice to have two goalies back who have started two straight seasons, too."
Aaron Wheeler will play a key role offensively for Concordia after punching in seven goals last season. If he can improve on his goal total and get some help around him, the Cobbers should be in good shape.
"The offense should be improved," Howe said. "I have already seen us generate more goal-scoring chances in practice."
Hamline Pipers
Coach: Doc DelCastillo, 2nd season, 9-21-5
2011-12 Overall Record: 10-14-2
2011-12 MIAC Record: 7-8-1
2011-12 Finish: T-Fifth
2012-13 Predicted Finish: Sixth
Key Departures: Brian Arrigoni (14 goals, 14 assists), Jordan VanGilder (11 goals, 17 assists), Tim Olson (1 goal, 7 assists), Beau Christian (2.84 GAA, .913 save percentage)
Arrivals: Patrick Kinkopf, Jordan Johnson, Cody Mason, Kevin Novakovich, Chris Hoffman, Anthony Wolfe, Brandon Zurn, Lane Mahoney, Sheldon Taylor, Troy Bubanic. Nick Heimer
Key Players: Joe Rubbelke (3 goals, 14 assists), Sam Leslie (5 goals, 10 assists), Nick Widing (9 goals, 5 assists), Matt Hemingway (3.69 GAA, .875 save percentage)
Hamline has dealt with a lot of transition over the last couple of seasons and will be welcoming in their third coach in as many years. Doc DelCastillo spent one season coaching at Alaska.
The Pipers lost two of their top scoring threats to graduation in Brian Arrigoni and Jordan VanGilder, and if the Pipers are going to be successful on that end of the ice, Joe Rubbelke, Sam Leslie, and Nick Widing need to come through with big seasons. Widing scored the most goals among the group last year, finishing with nine.
With the offense likely needing time to get situated, the defense will need to be at its best, starting with Matt Hemingway in goal. He gave up 3.69 goals per game last year and will need to raise his save percentage if the Pipers are going to be one of the more competitive teams in the MIAC.
The potential for Hamline to make a run at a conference tournament berth exists if it can get past the instability of the past two seasons by working hard and playing with good team chemistry.
Augsburg Auggies
Coach: Chris Brown, 12th season, 136-132-20
2011-12 Overall Record: 10-14-1
2011-12 MIAC Record: 6-9-1
2011-12 Finish: Eighth
2012-13 Predicted Finish: Seventh
Key Departures: Trevor Doden (14 goals, 8 assists), David Hines (3 goals, 12 assists), John Lennartson (7 goals, 3 assists)
Arrivals: Chris Student (transfer from Minnesota), Mack Ohnsted, Tom Kuhn, Andrew Allen
Key Players: Justin Lochner (3.24 GAA, .906 save percentage), Ben McClellan (7 goals, 11 assists), Landon Olson (3 goals, 4 assists)
Augsburg will be looking to compete for a spot in the MIAC tournament this season, and the Auggies are going to make it happen, Justin Lochner needs to continue the success he has had over the course of his career. Lochner has 30 career wins, the fifth-best total in program history, and he will have to play well early as the offense gets on track.
"We should be strong in the net, and we are good on the back end this year," coach Chris Brown said. "Those will be two areas where we will have a lot of confidence. The unknown is whether several returners will be able to get more for us on the offensive side of the puck."
Brown believes his team will get that production as he expects the defensemen to become more involved in scoring goals.
Ben McClellan and Landon Olson will need to help lead the way offensively for the Auggies, who lost three players that combined for 24 goals.
Brown said the team will also need to improve on special teams and lower its penalty total to be successful.
"We were at or near the bottom of the league last year in those categories, and you are most likely not going to be a playoff team if that is the case," Brown said. "Hopefully, an increased focus on that will pay off for us."
Bethel Royals
Coach: Charlie Burggraf, 3rd season, 12-32-6
2011-12 Overall Record: 8-15-2
2011-12 MIAC Record: 6-9-2
2011-12 Finish: Seventh
2012-13 Predicted Finish: Eighth
Key Departures: Chris Fiala (7 goals, 18 assists), Jake Kogler (14 goals, 9 assists), Austin Hatch (11 goals, 7 assists)
Arrivals: Mitch Hughes, Tony Larson, Steven Bolton, Matt Rowe
Key Players: Jon Crouse (3 goals, 13 assists), Jack Paul (11 goals, 7 assists), Tyler Sorensen (4 goals, 8 assists), Tyler Swanson (3 goals, 9 assists), Dan Harper, (3.74 GAA, .883 save percentage), Robby Brown ( 3.56 GAA, .893 save percentage)
Bethel won seven games at home last season, and if it is going to move up in the standings this year, it needs to find a way to play better on the road. It will also need to finish strong. A year ago, the Royals started 5-3 in MIAC play, but stumbled down the stretch.
Offensively, the Royals will lean heavily on Jack Paul, who was an all-conference selection last season. Paul scored 11 goals, and will likely need to raise his production level if Bethel is going to thrive.
Bethel did lose one of its best playmakers in Chris Fiala, and that means Jon Crouse will need to raise his game when it comes to getting other players involved. Crouse tallied 13 assists last year.
Both Paul and Crouse will be counted on for leadership as they enter their senior seasons.
It appears Bethel could get a lot of help from its newcomers as well. Mitch Hughes played in 126 games in the USHL over the last three years and Tony Larson was one of the top players in the USHL for Dubuque last year. Steven Bolton and Matt Rowe give the Royals depth at the goalie position.
The style the Royals play will be the key to their success, but  coach Charlie Burgraff knows it will take time for his young team to hit its stride.
"We are a puck-possession team and want to play with high energy and transition," Burgraff said. "I think our blue line can be strong. It will be a challenge to get our systems down with all of the new guys we have in the program."
St. Mary's Cardinals
Coach: Bill Moore, 6th season, 31-88-7
2011-12 Overall Record: 5-18-2
2011-12 MIAC Record: 2-12-2
2011-12 Finish: Ninth
2012-13 Predicted Finish: Ninth
Key Departures: Tom Healy (0 goals, 9 assists), Nate Peterson (2 goals, 5 assists), Vincent Unklesbay (0 goals, 4 assists)
Arrivals:  Adam Robson, Navarone Copley, Justin Videen, Joe Van Antwerp, Matt Sanford, Dylan Dock, Mitch Fernsler, Taylor Crawford, Jordan Gnatowsky
Key Players: Austin Balko (8 goals, 12 assists), Kevin Wentland (10 goals, 7 assists), Nick Nagel (8 goals, 6 assists), A.J. Mueller (4 goals, 6 assists), Jason Horstman (3.42 GAA, .866 save percentage), Andy Scheib,(3.44 GAA, .893 save percentage)
Of the 25 games the Cardinals played last season, 20 were decided by two goals or less. So to say the Cardinals were competitive last year would be accurate.
The Cardinals need to be able to maintain that competitive edge and win the close games to improve on last year. They will also need to find leadership as Tom Healy and Vincent Unklesbay were two-year captains, while Nate Peterson was a two-year assistant captain.
"We have to learn how to win those one-goal games," Moore said. "Having the poise, patience, and belief to win tight games will be the difference in a playoff appearance or early exit."
Kevin Wentland could be that guy to step up and lead for the Cardinals. He finished strong last year, scoring a goal in six of his team's final eight games and will look to carry that momentum into his senior year.
Balko and Nagel should provide help offensively while Jason Horstman and Andy Scheib will battle for time in goal after both taking turns between the pipes last year.
Making the climb back to respectability won't be easy for a team that has only four seniors on the roster, but Moore is confident his team can take a big step forward this year.
"With 19 returning players, the expectations for a playoff appearance are high," Moore said. "We return both goalies, six of our eight defensemen and 11 forwards. We are very optimistic."