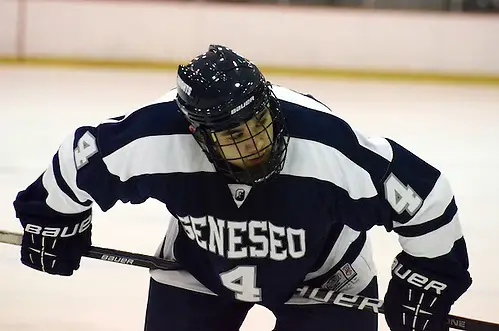 Competion. That's the SUNYAC calling card. Or at least that is the feeling held throughout the league at dawning of the new season.
While it's true that Oswego and Plattsburgh — who between them have won every SUNYAC regular season title since 1998 — remain the teams to be in the nine-team loop, there are at least a handful of squads bubbling under them who feel they're ready to force their way into the league title conversation.
Geneseo, Buffalo State, Fredonia, Potsdam. Each one reckons capable of toppling the established order.
The upshot? Hotly-contested tilts will likely be staged every Friday and Saturday night all around the league.
"You have your Oswegos and your Plattsburghs, but the crazy thing about college hockey is that any team can win on any night," said longtime Fredonia coach Jeff Meredith. "That's what those of us who are not in the top two are hanging our hats on."
In any event, it should be a whole lot of fun to watch.
Oswego
Coach: Ed Gosek, 10th season overall and at Oswego (181-51-16)
2011-12 overall record: 24-4-2
2011-12 SUNYAC record: 14-0-2 (first)
2012-13 predicted finish: first
Key losses: F Ian Boots (13-15-28)
Players to watch: Jon Whitelaw, Sr., F (19-22-41); Paul Rodrigues, Sr., F (14-23-37); Luke Moodie, Sr., F (14-20-34); Tyler Leimbrock, Sr., F (12-13-25); Chris Muise, Sr., F (7-17-24); Zach Josepher, Sr., D (4-18-22); Jesse McConney, Sr., D (6-15-21); Andrew Hare, Sr., G (1.75 goals-against average, .931 save percentage).
Impact rookie: None.
National runner-up last season, the Lakers have legitimate hopes of tacking down that final win and a D-III national championship (which they last won in 2007).
The cast that got Oswego to the title game returns virtually intact, including the SUNYAC's top scorer (Jon Whitelaw) and stingiest netminder (Andrew Hare), which means that the Lakers have all the talent, experience, and motivation they need to make another run at the championship.
"We're basically the same team," said Gosek, whose teams have captured six SUNYAC regular season titles (including the last three) in his nine years at the helm. "So what are the things that can unravel it? Complacency, maybe. The attitude, egos, or lack of discipline. These are things that we work on all the time."
That said, Gosek feels that last year's successes have little bearing on this year's quest.
"I don't think you want to dwell on last year's accomplishments," said Gosek. "But I think what we dwell on are the experiences of the last three years, and use that to make a better program. We don't (so much) pick up where we left off as much as learn from our shortcomings."
Plattsburgh
Coach: Bob Emery, 24th season (504-159-53)
2011-12 overall record: 19-5-4
2011-12 SUNYAC record: 12-3-1 (second)
2012-13 predicted finish: second
Key losses: C Kyle Kudroch (9-14-23), F Ryan Craig (8-9-17),
Players to watch: Nick Jensen, Jr., So. (10-10-20); Jared Docking, Sr., F (6-14-20); Jake Mooney, So., F (6-11-17); Alex Jensen, So., F (6-10-16); Mike Grace, Sr., D (1-12-13), Matthew Cadieux, Jr., G (1.85, .928).
Impact rookie: F Michael Radisa
With four SUNYAC tourney titles in the past five years, and five consecutive NCAA berths as well, expectations in Plattsburgh are always high.
Even so, Emery, the architect of more than two decades of Cardinals success — and the resultant pair of national titles — prefers to keep a lid on any lofty talk.
"I'm cautiously optimistic that we'll have a decent season," he said. "Our program is based on hard work and discipline, and we're trying to instill that in our players. Each game is a season. We're looking at 25 individual seasons. The goal of the program is always to challenge for a national championship. But the objective is to really focus on each game. "
The Plattsburgh MO has historically been to squeeze the life out of the opposing offense — the Cardinals allowed just 2.00 goals-per-game last year and gave up fewer power-play chances (and goals) than anyone else in the league.
One shouldn't expect anything different from them this year.
"We've got to be prepared to win everything 1-0," said Emery. "It's defense first for us. We'd obviously like to put up more offense up than last year (the Cards ranked fifth (3.38 goals-per-game) in the league), but that's secondary to keeping the puck out."
Brockport
Coach: Brian Dickinson, 19th season overall (131-282-43) and at 16th at Brockport (117-236-37)
2011-12 overall record: 9-13-3
2011-12 SUNYAC record: 5-9-2 (T-sixth)
2012-13 predicted finish (by SUNYAC coaches): seventh
Key losses: C Ian Finnerty (11-25-36), RW James Cody (19-15-34), C Adam Shoff (5-19-24), G Oliver Wren (3.58 goals-against average, .898 save percentage); F Nick Panepinto (9-8-17).
Players to watch: Steve Sachman, Jr., F (7-9-16); Mike Hayward, Sr., D (6-8-14)
Impact rookies: D Chad Cummings, F Chase Nieuwendyk, D Chris Luker, D Jonathan Demme.
Having lost its top four scorers from last season — including James Cody, the SUNYAC Player of the Year — Brockport will be challenged to find enough offense to steal enough quality wins to make the conference tournament.
"It's going to have to be scoring by committee," said Eagles coach Brian Dickinson. "We're working hard to find combinations that will jell and hopefully create offense. The first weeks of practice have not only been a lot of teaching, but a lot of mix and match. Getting our guys to focus on what our systems are, and be hungry for the net. We don't have that natural goal scorer that we had last year."
The Golden Eagles have a large incoming freshman class — 14 strong — which will provide plenty of rookie playing time, and the rookie growing pains that go with it.
One of the more interesting names among the newbies is that of forward Chase Nieuwndyk, nephew of Hall of Famer and Dallas Stars GM Joe Nieuwndyk.
"Our vets have been pushed by the new guys, because they are like sponges," said Dickinson. "They've taken everything that the coaches have talked about and have been quick to implement it. We have new guys in all the (important) roles, and we're excited about that. Hopefully, that will be enough to keep our older guys energized."
Brockport's playoff hopes were dashed with seven seconds remaining last season, when it was beaten by Morrisville on a late goal by Daniel Morello.
Not only is Dickinson hoping to avoid such calamity this time around, he said that the Golden Eagles have set their sights on more than just making the six-team tourney.
"We want to compete for a SUNYAC championship," said Dickinson. "Oswego and Plattsburgh have cornered the market on that the past 15 or 20 years, with a Fredonia or Geneseo sneaking in from time to time. We want to get there. Even though we're young, our goal is to make the playoffs and compete for that championship. We feel that with the players that we have, we're not that far off."
Buffalo State
Coach: Nick Carriere, eighth season overall and at Buffalo State (74-91-17)
2011-12 overall record: 13-12-2
2011-12 SUNYAC record: 8-7-1 (third)
2012-13 predicted finish: fourth
Key losses: F James Durham (9-9-18); F Justin Knee (10-14-24)
Players to watch: Trevor McKinney, Sr., F (16-14-30); Drew Klin, Sr., F (13-12-25); Matt Bessing, Sr., F (6-11-17); Kevin Carr, Jr., G (2.95 goals-against average, .910 save percentage)
Impact rookies: D Todd Graham, D Ben Kramer, F Ryan Salkeld, F Brett Hope, F Cory Gurski.
Picked for fourth in the SUNYAC preseason poll, Carriere feels that the Bengals are well capable of busting out of the middle of the pack.
"Absolutely," said Carriere, whose team sports 22 returners and just seven newbies. "We've got some go-to guys at forward, and some young guys who have stepped right in. We've got a serious group of leaders in the locker room. We're down to earth and realize how hard we're going to work each game out."
Carriere said that with such an experienced group, steadiness for a full 60 minutes will have to be the Bengals' calling card.
"Consistency is the answer for us," he said. "We've hung in there with some of the best teams in the country (last year). The guys understand how important every single game is. How we operate and bring our compete level."
Kevin Carr, a former All-SUNYAC First Teamer, remains one of the top netminders in the league.
"He's a very high end goaltender," said Carriere. "As long as he keeps playing as he (can) operating the way he operates, he's our guy."
Cortland
Coach: Joe Baldarotta, 22nd season overall (303-251-46), sixth at Cortland (38-80-8))
2011-12 overall record: 6-18-1
2011-12 SUNYAC record: 4-11-1 (T-eighth)
2012-13 predicted finish: eighth
Key losses: F Joey Christiano (11-9-20); D Peter Lompado (4-6-10); D Jake Saville (3-6-9), G Mike Reilly (4.64 goals-against average, .873 save percentage)
Players to watch: Adam Bevilacqua, Sr., F (7-15-22); Nick Zappia, So., F (11-5-16); Michael Lysyj, Sr., F (6-6-12); Chris Kaleta, Sr., F (5-2-7); Tyler Virgoe, So., D (0-8-8).
Impact rookies: D Ryan Wagner, F Sam Pinsler.
The Red Dragons were tied for last in the league (with Morrisville) last year, and conventional wisdom says that improvement on their lot will be hard to come by.
Baldarotta, however, believes that his cast is capable of turning convention on its ear.
"I've got some real hockey players that want to be a real hockey player, instead of just guys who play hockey," said Baldarotta. "It's going to be an exciting and fun thing for me. I've been able to teach and do things I haven't been able to do for quite a while."
Cortland will be hard pressed to outscore opponents, but Baldarotta feels that if the Dragons can outsmart them, success — and perhaps even a playoff spot — will be the reward.
"We don't have a real superstar," he said. "(But) our ability to play as a family, play as a team and weather storms is going to be a big plus for us. When we talk about teams we should be able to beat, I'm still trying to figure out who that isn't."
Fredonia
Coach: Jeff Meredith, 25th season overall and at Fredonia (345-252-61)
2011-12 overall record: 12-11-3
2011-12 SUNYAC record: 6-7-3 (T-fourth)
2012-13 predicted finish: fifth
Key losses: F Bryan Ross (11-28-39), F Mike Muhs (8-13-21)
Players to watch: Mat Hehr, Sr., F (8-13-21); Brett Mueller, Sr., F (5-5-10); Steve Castriota, So., F (10-7-17), Jared Wynia, So., F (9-6-15); Brad Nunn, Sr., D (2-11-13); Mark Friesen, Jr., G (2.84 goals-against average, .913 save percentage).
Impact rookie: F Taylor Bourne
The rally cry in Fredonia is "Details Deliver." Sweating the small stuff is what Meredith is hoping will provide a big payoff for the Blue Devils.
"In college hockey, it's more about working hard than it is about skill and ability," said Meredith. "You just can't throw any kind of game together. To beat anybody, you have to take care of your details. There are a lot of 2-1 and 3-2 hockey games in our league. The difference may be somebody's inability to get a puck in deep when they should."
With top scorers Ross and Muhs having graduated, Fredonia could be hard pressed to make up the 60 points the two took with them.
"Where is our scoring going to come from?," said Meredith. "I'm not really sure. I honestly think it's more likely that we'll have (more balance)."
Two returners likely to bear a larger load will be Jared Wynia, last year's SUNYAC Rookie of the Year, and Steve Castriota.
"We've got some guys who can do some things," said Meredity. "It's just a matter of putting it all together."
Geneseo
Coach: Chris Schultz, seventh season overall and at Geneseo (80-70-6)
2011-12 overall record: 13-12-1
2011-12 SUNYAC record: 7-8-1 (T-fourth)
2012-13 predicted finish: third
Key losses: G Cory Gershon, F David Arduin, F Clint Olson, D Jake Yard, D Jimmy Powers, D Danny Scagnelli
Players to watch: Zachary Vit, Jr., F (12-29-31); Corbin Rosmarin, Sr., F (9-9-18); Carson Schell, Jr., F (8-7-15); Colin de Jersey, Sr., D (3-7-10); Jack Caradonna, So., D (0-4-4); Adrian Rubeniuk, Sr., G (2.64 goals-against average, 9.08 save percentage), Bryan Haude, So., G (2.11, .896).
Impact rookies: D Tyler Brickler (transfer from Mass.-Lowell), D Alex Lubczak
Picked for third by the SUNYAC coaches, the Knights have one eye on the powers above them and the other on the potential logjam forming behind them.
"Getting in the championship mix will always be our challenge," said Schultz. "We have to win that one important game when it counts."
The key to any Geneseo success will be staying out of the training room. The Knights lost over 100 man games to injury last year, and the depleted depth eventually caught up to them.
"We will need to be healthier," said Schultz. "We lost consistency last year due to a constant influx of players into the lineup. I really like the personalities on this team. We have 11 new faces, so there is a new look to our team and all of our players are genuine and great representatives of the culture we like to create."
Excelling on special teams and in net will be paramount to the Knights' hopes.
"We have to have the best goaltender playing his best hockey at the right time," said Schultz, who has three capable netminders to choose from, including Adrian Rubeniuk. "He will be given the chance to make this his team."
Morrisville
Coach: Kevin Krogol, first season overall and at Morrisville (NR)
2011-12 overall record: 5-19-1
2011-12 SUNYAC record: 4-11-1 (T-eighth)
2012-13 predicted finish: ninth
Key losses: F Todd Hosmer (17-12-29), D Tom Longland (3-8-11); Curtis Renaud, Jr., F (10-7-17); Colin Breen, Jr., G (4.76 goals-against average, .891 save percentage).
Players to watch: Jamie Nelson, Jr., F (5-14-19); James Jarvis, Jr., D (1-14-15); Christopher Azzanno, Jr., G (4.96, .873);
Impact rookie: G Jakob Rasmussen
Krogol, who was previously an assistant, was named interim head coach when Brian Grady left a month before the season.
He takes over a club that was picked for the SUNYAC cellar and racked up just five league wins last year. However, Krogol said that the Mustangs shouldn't be sold short.
"As a team, it has always been a goal of ours to improve from season to season," said Krogol. "We had a bit of a down year, so we are working hard to improve on that. As it goes for all the SUNYAC coaching staffs, we expect to have a playoff-caliber team each and every year. Our boys know that every SUNYAC game is a playoff game and every single point matters."
Potsdam
Coach: Chris Bernard, seventh season overall (40-99-9) and fourth season at Potsdam (23-47-5)
2011-12 overall record: 8-16-2
2011-12 SUNYAC record: 6-10-0 (T-sixth)
2012-13 predicted finish: sixth
Key losses: F Sy Nutkevitch (9-31-40), F Mike Foy (6-7-13);
Players to watch: Trevor Cope, So., F (8-19-27); Adam Place, Jr., F (11-13-23); Erick Ware, So., D (4-13-17), Mike Arnold, Jr., F (10-3-13), Nick Avgerinos, Jr., D (5-7-12).
Impact rookies: F Zach Blake (transfer from Plattsburgh), F Billy Pascalli
Although the Bears attack will surely miss the presence of All-SUNYAC forward Sy Nutkevitch, they do return their next four top scorers, including Trevor Cope, whose six assists against Morrisville last Saturday set a new single game league record.
"I think we have a real gritty, speedy group of forwards that should enable us to forecheck with some real tenacity," said coach Chris Bernard. "I hope fans that watch us will say 'That team plays a fast, north-south kind of game.'"
That up-tempo play will take place on a different sheet of ice than usual, as the Bears on-campus home, Maxey Ice Arena is undergoing extensive renovations. Instead, Potsdam will play its home games at the lyrically-named Massena Arena, which sits half an hour to the north.
," said longtime Fredonia coach Jeff Meredith