In terms of national perception for Atlantic Hockey, it used to be that there were the haves, the have-nots and teams that fall in the middle.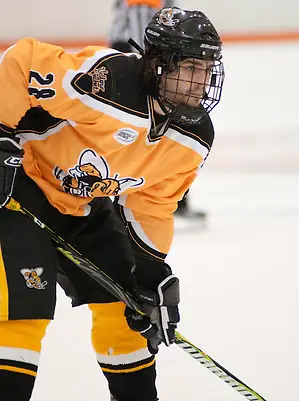 That doesn't matter to Jon Puskar.
For the American International junior forward, it's not about who has the money, the glittery arena or the television contract. It's only, as he puts it, "an opportunity to do something not many are given, and we appreciate every moment of it."
That opportunity is the chance to play Division I hockey.
Despite a resource chasm separating some of the teams in the AHA, the gap for on-ice competition narrowed over the past couple of years.
For AIC, that means no longer looking at a schedule and seeing guaranteed losses. It instead means a chance to beat any opponent on any given night, sometimes shocking the college hockey world but never shocking themselves.
Last year, for the first time in his tenure and the first time since the AHA formed after a split with the Metro Atlantic Athletic Conference after the 2002-03 season, the Jackets finished out of the basement, winning eight games and finishing 10th in the 12-team league.
It might not seem like much, but it's something for a team that hasn't won 10 games since that final season of the MAAC.
"Our team has had a great group of guys the last couple of years," Puskar said. "They show up to the rink every day looking to improve individually and as a team. We have the ability to win every time we touch the ice; it just comes down to game-day execution."
Game-day execution is something the Yellow Jackets have sorely lacked in the past. They gave up 137 goals a year ago and they were swept by six league opponents. They gave up 15 goals in a two-game series against Air Force and went 0-3 against both eastern scheduling opponents Holy Cross and Bentley.
But it's hard to ignore that three players scored 10 goals last year, and AIC recorded season series wins against both Sacred Heart and Army, with the latter record at 2-0-1. In the playoffs, the team showed off its unknown scoring prowess, tipping the six-goal mark and beating Robert Morris 7-5 in Game 2 before losing the deciding third game.
It's that type of marquee win that has exemplified AIC each season. It beat Robert Morris twice last year and it beat Mercyhurst, a team that had a first-round bye.
Two years ago, the Yellow Jackets beat Air Force and swept Mercyhurst. This year, they've already beaten ECAC foe Quinnipiac and they spoiled the debut of Penn State with a 3-2 overtime victory.
They're tied for 10th again early this season and have a 3-5-2 overall record.
Still, there's work to be done.
"It all boils down to consistency," Puskar said. "We've had a good start to the year but we can't get complacent. We need to show up and play 60 minutes in every game."
Still, that won't silence the critics of the AIC program, regardless of wins and losses. With the ever-changing landscape of college hockey, arguments about which programs should live and die inevitably center on the ones perceived as have-nots.
The Yellow Jackets ranked last in attendance every season since 2000, occasionally dipping their average attendance below 200 fans per game. They play at the Olympia Ice Center in Springfield, Mass., far different from places like Conte Forum, Agganis Arena or Yost Ice Arena. That inevitably leads to the opinion by some that AIC should cease its hockey existence.
But what most people leave out is that AIC has a 984 APR ranking tracking academic progress — better than Boston College, Minnesota and Miami, among others.
"[The perception of the program] is something that we don't really think about, to be honest," Puskar said. "We just show up every day to compete at a high level, and we can't worry about things outside of our locker room.
"It's all about appreciating your four years to take full advantage of all your resources, whether it's on the ice with coaches, in the locker room with teammates or in the classroom with professors. We have the chance to use all of these tools so we can help ourselves to be better athletes, students, and people."