To be an Alabama-Huntsville hockey fan these days, it helps to believe in karma.
With the Chargers potentially only two months away from being offered a conference affiliation that would secure the future of their program, that belief is more important now than it's ever been.
In January, the WCHA will get an application from UAH, which has been playing as a Division I independent since the end of the 2009-10 season.
Admission would bring the WCHA to 10 schools for next season. There are currently 12 member schools, but many are leaving for pastures new as the conference realignment craze in American college sports finally hits the ice.
That's the good news for UAH. Here's the bad: Until that invitation arrives — or if it doesn't — the Chargers are being made to take more than their fair share of lumps on the ice.
"[Y]ou'll bump into people at the NCAA convention, and they'll say, 'Oh, we're behind you,' and 'We hope you do well, we hope it works out.' But then you say, 'Well, why don't you come to Huntsville to play us in a weekend series?' 'Oh, no, we can't do that, but you can come to our place.'"
— UAH athletic director Dr. E.J. Brophy
One-third of the way through its 2012-13 season, UAH's record against Division I teams is 1-12-1 and it's not expected to get a whole lot better. What's worse, the Chargers' only remaining home dates are for exhibition games. Everything else that counts in terms of official results is on the road.
UAH had only one home series against a Division I opponent this season in what, in 1987, then-Alabama governor George Wallace deemed the "Hockey Capital of the South," and those home dates were long ago. The Chargers picked up a loss and a tie in that two-game set at the city-owned Von Braun Center against Minnesota State in mid-October.
The Mavericks, who play in the WCHA, are a potential future league rival for UAH. Such possible future league games against teams like MSU — guaranteed tilts that would go a long way toward securing UAH hockey's long-term future — are something first-year Chargers coach Kurt Kleinendorst spends a lot of time pondering.
"Kids want to play first in a conference," Kleinendorst says. "They want to play in the WCHA or in Hockey East or somewhere where they have the ability to get into the playoffs, and we don't really have that opportunity right now.
"But I think, once we get in, I really do believe that the playing field gets just a little more level, and we'll be able to recruit differently."
His team plays plenty of games against WCHA teams this season. The Chargers are 0-5-1 through their first six such games, though, and they will travel to face Wisconsin later this month and will cap off the regular season in March at Minnesota-Duluth.
There are no league points on the line for now, though. Instead, it's all about winning hearts and minds while UAH tries to convince the WCHA to take a chance on Division I hockey's southernmost program.
Opportunities for UAH to further ingratiate itself to potential suitors, however, are starting to run out. The Chargers have only four games against D-I opponents in the 2013 section of their schedule: At Penn State in early February before traveling to Duluth a month later.
PSU, Division I's only other independent team, is joining the new Big Ten league next fall. Also joining that new league are Minnesota and Wisconsin from the WCHA and Michigan, Michigan State and Ohio State from the CCHA, which will cease operations at the end of this season.
Most other CCHA members are leaving for the WCHA to put the WCHA's number at nine, apart from Notre Dame, which is heading to Hockey East next season.
The WCHA is interested in picking up a 10th school, largely to make scheduling easier. As things stand, UAH is the clearest candidate to act as that missing piece of the puzzle.
Unfortunately for UAH, however, this isn't the school's first rodeo in terms of trying to gain conference affiliation, and setbacks the first time nearly saw the program go to the wall.
The program was denied entrance to the CCHA in 2009. What's worse, early on last season, the University of Alabama System's interim president, Malcolm Portera, announced that UAH's hockey program would be dialed back to club status.
UAH had club hockey once before, starting from the program's inception in 1979 until the team entered the NAIA in 1985 and then into the NCAA in 1986. The Chargers hockey team has won five national championships: Three in the 1980s at club level and two in the 1990s as an NCAA Division II program.
Portera's decision was later overturned thanks in large part to grassroots community support as well as a renewed fundraising commitment on the university's part. Damage had been done, though, and much of this season's schedule had to be regenerated on short notice.
UAH previous coach, Chris Luongo, resigned in September in a move on which UAH athletic director Dr. E.J. Brophy even now declines to comment. Luongo's replacement, Kleinendorst, was named to the post just a week-and-a-half before this season was set to begin.
The Chargers were 6-54-3 in two turbulent seasons under Luongo, who had been an assistant coach at UAH for two years before that.
Kleinendorst is a proven winner, having thrived as a bench boss in the NHL, AHL and with the USA Hockey National Team Development Program. He won a Stanley Cup in 2000 as an assistant coach with the New Jersey Devils, and he led the Binghamton Senators to the AHL championship in 2011 in his first of two seasons there.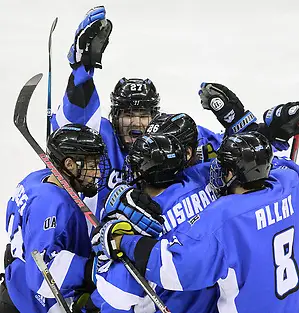 UAH's new coach was unquestionably a quality get for Brophy, but little else has come easy for the Chargers hockey program as it looks to secure its future. Brophy said plenty of people in power in college hockey have wished his hockey program well, but that the Chargers haven't had as much real help as they'd like.
"We've hung in there like a rusty fishhook, and we continue to do that," Brophy said.
"The thing that's been the most difficult is that you bump into people at the coaching convention and you'll bump into people at the NCAA convention, and they'll say, 'Oh, we're behind you,' and 'We hope you do well, we hope it works out.' But then you say, 'Well, why don't you come to Huntsville to play us in a weekend series?' 'Oh, no, we can't do that, but you can come to our place.'
"You have a lot of people saying they want to help you, but then when the rubber meets the road and we say, 'Hey, OK, great, why don't we do a home-and-home where you come to Huntsville one year and we'll go to your place the next,' they sort of get amnesia."
Kleinendorst said that things look good for the Chargers' 2013-14 schedule because of deals he's made with other schools. Having to regenerate this season's slate, however, proved to be much tougher sledding.
"These games got put together after [UAH's decision to go club status was overturned], and then I was able to reschedule for next year, so we're in pretty good shape for next year," Kleinendorst said. "This year's schedule is way heavy on the road, and we basically, from my understanding, took what we could get."
Kleinendorst's team also has had to overcome three players defecting to programs with firmer footing. Most notable among the players that transferred away from UAH was goaltender Clarke Saunders, who switched to North Dakota of the WCHA and is already thriving between the pipes in Grand Forks.
The Chargers coach has kept a stiff upper lip, though, refusing to blame the program's past for any shortcomings from which its present might suffer.
"When you take a look at where we are right now with regard to our program," Kleinendorst said, "it's unfortunate that it got dropped, and dropped long enough that we lost all of our games for the most part that were in place for this year, so those games had to be rescheduled, and it's unfortunate that we lost three players, including a very good goaltender.
"Really, we took a program that probably couldn't afford to absorb the players that we lost and probably made it much more difficult with regard to our schedule by losing the games that we had scheduled. It just kind of piled on, but we never once used that as an excuse. We're not going to look back and say [anything other than that] this is what it is."
On the ice, although the Chargers haven't been racking up wins, they've generally served as superb ambassadors for their cause. Nobody that watches this season's UAH team will be tricked into thinking it's the most talent-laden club in the country but it does have the benefit of hard work.
Two weeks ago at Nebraska-Omaha, Mavericks coach Dean Blais gave UAH all the credit in the world following the Chargers' 3-2 loss there on Nov. 23.
The team's win-loss record aside, Kleinendorst is generally happy with how his team has performed this season.
"This is where we're at," Kleinendorst said. "We're not looking back, we're looking forward, and if you haven't been watching us, you really couldn't appreciate how far this group has come.
"I know it doesn't look like it: We've won one game, we've lost (12), we've tied one. But honestly, I just don't know how much more this group could give. They've done everything asked of them and we've just got to get through the year, recruit well and look ahead."
The hope in the UAH camp is that the team's work on the ice as well as Huntsville's work off it — including a recent $15 million renovation of the Von Braun Center — will make Chargers hockey irresistible to the WCHA.
"We're pushing hard, and that is why the WCHA is something that's so important for us," Brophy said. "Because for us to be able to procure up to 14 guaranteed home games, which would be seven guaranteed home weekends a year, that would be wonderful for us.
"It'd be like opening the gates of Heaven."