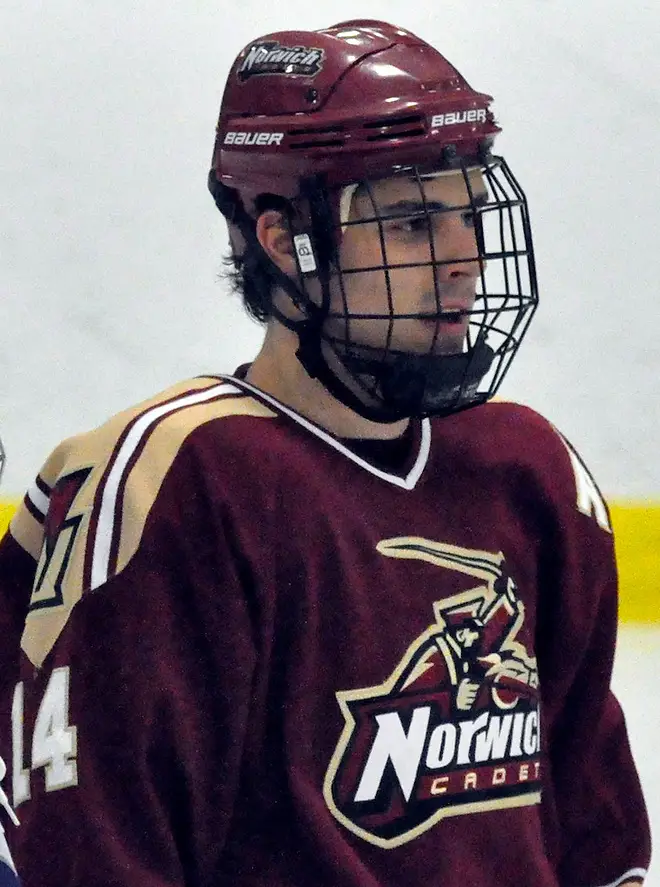 There are goal scorers, and then there are guys — though not many of them — such as Norwich marksman Pier-Olivier Cotnoir who always seem to fill the net with well placed pucks.
For most players, getting one biscuit past the goalie represents a good night's work. For Cotnoir, the leading goal-getter for No. 1 Norwich, scoring once is not the end all. Often, it's merely the beginning.
"One goal is not going to do it," said Cotnoir, a senior from Rouyn-Noranda, Que. "Not many teams are going to win by 1-0. You've got to keep going, keep building on that. Work toward getting more."
That means getting goals by the gobs. Indeed, multi-goal games have become something of a specialty Cotnoir, who can play either wing or center. He has 15 of them as a Cadet so far – including three this year – and as a sophomore, potted four in a game against St. Michael's.
Not that he can explain why the puck seems to go in for him. Truth be told, it just does.
"I don't know," Cotnoir said. "Sometimes I think it's momentum. Hockey is a lot about confidence and how you feel about the game. Sometimes you have a good game and score one or two goals and you just build on that. Sometimes you've got to have lucky bounces as well. But to be honest, I don't know why I've got multi goal games. I just think it's got a lot to do with confidence."
Confidence, which is as important to Cotnoir's success as his shot or his knack for threading the puck through traffic, is something that kicked in for him during his junior days with Peterborough (OPJHL).
"It was during a tryout and I could barely speak English at the time," he said. "A 20-year-old (overager) came to me and said, 'Look, you've got to be more selfish. You've got good skill. Be more selfish.' That flipped a little switch in my head. I said, 'I can do this, I've got just got to be more confident in myself.'"
The payoff has come in the form of 64 goals and 113 points during his stay at Norwich while he pursues his business degree.
In fact his 3.77 GPA may be the most impressive stat racked up by Cotnoir, whose cousin, Benoit Cotnoir, played for Notre Dame in the '90s.
"He's the main reason," said Cotnoir, "why I chose to go to college instead of playing major junior."
Some of Cotnoir's biggest goal hauls have come in important situations. In last year's ECAC championship game against Castleton State, Cotnoir scored twice and dished off three assists.
Two years back, Cotnoir tallied twice against Plattsburgh in a 3-2 overtime win that lifted the Cadets to their most recent Frozen Four appearance.
Cotnoir said that wild night at Stafford Arena was one he will long remember.
"That was an unbelievable game," he said. "I got them both on the power play. One of them, I just shot from inside the blue line. I saw one of my teammates screen the goalie. (Leis) reached to the right to see where the puck was, and I just let it go really quick and it went in the opposite side. But I remember that the atmosphere in Plattsburgh was unbelievable. Even our (school) president was cheering in the crowd. In overtime, he was challenging the fans and banging on the glass."
When Cotnoir took to the ice recently in a big game against Plattsburgh, he saw an old friend, Plattsburgh goalie Mathieu Cadieux, who has emerged as one of the top netminders in all of D-III. The two have a history that reaches back to their days as junior teammates with the now-defunct Liftlocks.
"We were really good friends back in Peterborough," Cotnoir said. "I remember my last year, he got traded and I was very upset. I told (management) 'You guys are making a mistake. This kid is really good under pressure. He's a really good goalie.' It ended up that we did pretty good without him, but I do think we could have done better if we had had him in net."
In fact, Cotnoir, who scored many of his goals from close range, has been working up a plan to put one (or more) past Cadieux.
"He's really square to the net," Cotnoir said. "So to beat him, you have to screen him and be aggressive around the net."
Like many great college scorers, Cotnoir's touch around the net gets finer and finer. This year, he's scoring at an impressive goal-per-game clip — nine in 10 — and will likely challenge for the national scoring title, just as the Cadets will be prime contenders for the NCAA championship.
He cites the confidence shown him by longtime Norwich coach Mike McShane — who handed Cotnoir the "C" — as the major reason for this year's improvement .
"Just by being named captain," he said, "you realize different things. Try to take a more important role as a leader. Last year, as an assistant captain, I tried to do this. But being named (sole) captain of the team, I work (harder) on doing everything right. When things aren't going that well, you need a big shift, or a big defensive play. Maybe a big hit. Something to rally the guys."
Then again, nothing says rally like an important goal or two. Or maybe even three. And Cotnoir is as good as there is at sparking one.