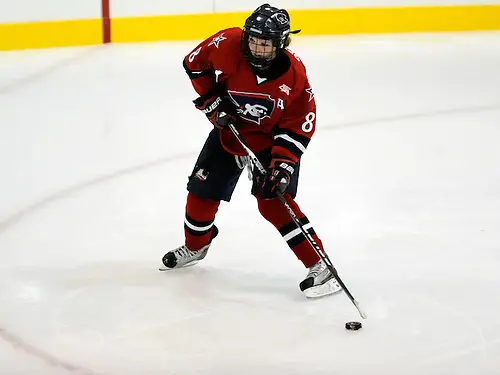 Candace: It would appear that Mercyhurst ran into a rioting Robert Morris buzz saw over the weekend. I've been following the women's game for a decade, and I can't remember the Lakers ever getting swept by a CHA team. It's all the more surprising because the Colonials had appeared to be a team that was struggling heading into the weekend, especially defensively, yet the Colonials shut the Lakers down almost completely, limiting them to a goal a game. When we emailed Friday night after the first win, you suggested that it might not hurt Mercyhurst too badly in the PairWise. The Lakers now sit at seven, and it would appear they have very little wiggle room, particularly with a pair against Boston College and a game against Cornell in the second half. What's your take on that result?
Arlan: I think that we saw last season the first signs that the CHA as a whole had closed the gap a bit on Mercyhurst. Yes, there was the season when Wayne State was able to tie for the regular season title, but last year each team had at least one game where it didn't lose to the Lakers. Obviously, the league dynamic is a bit different this year with three new teams and Niagara gone. However, RMU looks to be buoyed by the success it had versus MU last year, and perhaps brings more confidence into the games than teams have in the past. A week ago, we were focusing on Syracuse getting a split with Robert Morris at home, so the competitive aspect of the league doesn't just begin and end with the Colonials and Lakers.
To the credit of Mike Sisti and his team, despite the deep losses to graduation that they've had over the past couple seasons, they just keep plugging along. But they don't possess the same firepower that was in Erie a couple of seasons ago when the Lakers had the potential to just blow many teams away, so more games will be tightly-contested.
The Colonials were able to keep the score low both days, and find just enough goals of their own to win. RMU's goals weren't pretty, just basic, fundamental hockey — get the puck to the net, get down low, and battle. Four of them came on the power play, from four different sources. Plus, they got goaltending from Kristen DiCiocco at a level that I'm not sure it has always reached this year, such as in the loss to Princeton. Every team is going to have those games that get away, and it is important to limit those down efforts. As far as the PWR, losing twice had to really put Mercyhurst's shot at hosting a quarterfinal in jeopardy, because it won't be easy to climb back to the top four. And as we saw last year, those final couple at-large spots can prove to be very slippery ground.
Speaking of Syracuse, the Orange had another very competitive weekend, losing a pair of one-goal games to No. 2 Clarkson. Have they impressed us more over the last couple of weeks when they've lost three of four than they did while winning the majority of their games?
Candace: I'm going to answer that with a qualified yes. About a month ago, I said that every time I expected Syracuse to step up, they fell flat. That was right after they lost in OT to Quinnipiac and then shut them out the next night. The following two weekends, they split with Connecticut and Union, hardly powerhouse teams. But since that loss to Union, the Orange have played well. They swept Rensselaer pretty convincingly, split with Robert Morris in two close ones, and then there was the Clarkson series. What's really interesting to me about Syracuse right now is the potential upside. They've been having good results without star redshirt forward Laurie Kingsbury, who was leading the team in scoring and averaging 1.5 points a game before she got injured against Quinnipiac. She hasn't played since. Holly Carrie-Mattimoe has stepped up her game, as has sophomore Nicole Ferrara. Kallie Billadeau has anchored a strong defense with a .941 save percentage. If Kingsbury gets healthy and returns to her prolific pace, the Orange could conceivably challenge both Mercyhurst and Robert Morris in the CHA. What do you think of Syracuse?
Arlan: I think that those first two months of 2013 will be important for Syracuse, and maybe not specifically for the current season. I'm sure the Orange want to win every game in which they compete, the future is now, and everything that goes with that line of thinking. But the program was either treading water or slipping a bit, depending on how one views the last couple of years. They've established some positive momentum thus far, and it would be a major boost should Syracuse be able to put together a solid or better second half.
Billadeau didn't play in the Saturday game that got away a bit in terms of goals allowed after she made 42 stops while allowing three goals on the road on Friday. She may be the star of their season to date, because while the Orange have a number of people chipping in points, they don't have anybody piling up numbers. I see Syracuse having the potential to produce another result or two in the second half that we don't see coming.
Candace: I agree with that assessment. I think if anybody takes Syracuse lightly, the Orange will capitalize.
Another eyebrow-raising result from my perspective happened Saturday in Durham, where New Hampshire battled Harvard to a draw. The Wildcats may have a losing record, but they have proven dangerous for several top squads, and have wins over three of the Beanpot squads as well as the Harvard tie. Their first three games in January look very winnable, heading into games against Northeastern and Boston University. In fact, the entire second half looks good for New Hampshire to be able to possibly finish in the top four in Hockey East. What's your take on the Wildcats?
Arlan: There is no better symbol of parity in Hockey East than UNH, and it goes beyond its dead-even 4-4-1 league mark. It has defeated both of the top teams in the conference, BC and BU. However, the Wildcats haven't been able to separate from that next layer of teams, because they can also mix in bad losses to teams like Vermont and Northeastern. Losing to Northeastern isn't that bad on its own, but a seven-goal loss is disappointing. It appears that the HEA battle for the top spot will come down to the Eagles and Terriers, as you predicted. UNH, Providence, Northeastern, and Vermont all figure to be in the mix for third and fourth and home ice in the opening round. The teams that can best avoid losses to Connecticut and Maine, steal points from BC and BU, and come out on top in those head-to-head battles will get to stay home for that first weekend of the postseason.
For UNH, goaltending will continue to be the key determining factor. It held opponents to seven goals combined in the four wins, but yielded a total of 21 in the four losses. Brian McCloskey seems to have settled on sophomore Jenn Gilligan as his primary goaltender, and if she can remain steady, it sets up well for the Wildcats. If Jonna Curtis comes back healthy, that may provide an offensive spark. Although as in the case of Laurie Kingsbury of Syracuse whom you mentioned earlier, any freshman that has missed a lot of games early in her college career lost some valuable development time, so it's hard to put too many expectations on her. A huge stretch will come at the end of January into February when they are on the road for four straight, with games at BU sandwiched around a series at Vermont.
Northeastern, Providence, and Vermont are all a game over .500 in league play. The Huskies have been the most explosive team outside of BC, while the Catamounts have been the most effective defensively. In your eyes, which of these teams looks poised to make a move and claim third place?
Candace: I'm going to go with the Huskies. Northeastern is 5-4-1 in the league right now. The losses have come to Boston College, Boston University, and New Hampshire. They crushed Connecticut, blanked Maine, and had a win and tie against Vermont. And they had the big win over New Hampshire before they lost last week. Kendall Coyne is sixth in the country in scoring, averaging 2.07 points a game, and Casey Pickett is in the top 20. I think things are shaping up nicely for the Huskies to have a good second half. They have three games against Providence, with a game in hand, and trail the Friars by a point for third. However, if you look at the games the Friars and Huskies have played against BC and BU, Northeastern was right there, while Providence got blown out. I know you can't always go off of that, but I think Northeastern is a dangerous team.
The big question is who gets fourth? Providence? New Hampshire? Even Vermont is in position to possibly make a run. What are your thoughts on Hockey East right now?
Arlan: Providence did have a one-sided loss to both BC and BU, that is true, but the Friars played the Terriers tough in the two most recent meetings. That could be a sign that PC's young team is improving; the other explanation would be that BU was in a bit of a doldrums over the last few weeks. Harvard's blowout of Providence last weekend would suggest the latter. I expect that the team that gets the better of the two head-to-head meetings between Providence and New Hampshire in February will place in the top four, and the other squad won't.
I agree with you that Northeastern is still the best bet out of that pack of teams hovering around .500, but the Huskies have underperformed a tad in my estimation. Even as I say that, I suspect I'm being too hard on a team that is dealing with life after Florence Schelling. It just seems that the Huskies are too reliant on Coyne, although she does get the job done for them most of the time, as she did in OT to defeat Dartmouth.
As for Vermont, three quarters of its league wins have come over Connecticut, and those two have completed the season series. All of the Maine games remain, but the Catamounts will also need to be able to beat some better teams, such as their upset win in Durham, if they are to have a shot at a top-half finish. Given they only have a 1-6 record when playing out of conference, I'm not expecting a big upward push in the standings. However, I'd say that Vermont is much better positioned for the future than it was a year ago. Connecticut has been more competitive than I expected; Maine has been worse. In any case, it looks like both are left to try to scramble out of the cellar, and then hopefully take advantage of the fact that all eight teams are now eligible for the postseason.
Let's look at another race that is shaping up to provide a lot of intrigue. Quinnipiac has taken over the points lead in the ECAC, in part due to the fact that it has played the most games of the top teams. What jumps out at you in that league?
Candace: A few things actually. For one, all of the top five squads are bunched pretty close together, and any of them could conceivably win the conference. That includes a St. Lawrence team that I thought was doing worse than it actually is, although the Saints' overall record is barely above .500. It's interesting to me that Harvard is currently undefeated; Clarkson has virtually the same record as the Crimson, with the same number of wins and one loss. Clarkson and Harvard are scheduled to meet twice in the second half, once at the end of January in New York, and then the two play their final game of the year at Harvard, one that might end up deciding the regular-season winner.
Personally, no disrespect to Quinnipiac or St. Lawrence, but I think Cornell, Clarkson, and Harvard are going to be battling the entire second half for the ECAC crown. The Big Red don't have quite the same scoring strength that they did a season ago. We all wondered what the loss of Amanda Mazzotta meant, but Lauren Slebodnick has played well. Cornell's two losses in conference were more due to a lack of scoring then a problem defensively.
What strikes you about the ECAC?
Arlan: Those three teams that you identified — Cornell, Clarkson, and Harvard — are the second through fourth teams in the USCHO Poll, the PairWise, KRACH, and nearly so in Rutter's ranking, with BU in ahead of Clarkson. It would follow that each will have something to say about the ECAC race. Like you, I'm surprised that St. Lawrence is still very much in the picture, but part of the reason why our perception doesn't match reality is that three of the Saints' losses to Clarkson and Cornell were in nonleague games. They still have five ECAC games remaining versus Cornell, Clarkson, and Harvard, but this year's SLU team hasn't really indicated that they'll be capable of winning those. Quinnipiac already has lost at home to both Harvard and Clarkson, in addition to falling at Cornell, so the schedule does not favor the Bobcats remaining on top. I could see Dartmouth getting back in the hunt for home ice in the first round, but with three losses in its first seven league games, it'll be tough for DC to challenge for the top spot.
If I had to focus on one team to be the indicator of what will happen in the ECAC, it would be Harvard. Being undefeated, they obviously have full control of their destiny, but then so does Clarkson, despite its loss to Colgate. The Crimson's tie with UNH and loss to BU hint that they may be more vulnerable than they've shown thus far in conference.
The bottom half of the league should also be fun to follow. If the season ended today, Rensselaer and Princeton would be the last two teams into the ECAC tournament. However, the teams below Princeton all have games in hand on the Tigers. Colgate has two; Brown, Union, and Yale all have four. Games in hand only have value if you're able to gain points in them, and the Raiders win at Clarkson stamps them as the team at the bottom with the greatest potential upside. It's definitely an improvement over the seasons where there would be two or three teams near the bottom that were just overmatched against everyone else. If I was going to pick two teams to emerge from the bottom six and make the playoffs, I'd probably go with RPI and Colgate. Do you favor some other team's chances?
Candace: Yes, I'd have to go with Princeton and Brown. The Tigers have shown some signs of life of late, including beating Ohio State and taking Clarkson to OT, and then losing by one to Quinnipiac. Aside from the loss to Rensselaer, Princeton has generally done well against the teams underneath them, and aside from the shellacking by Harvard, the Tigers have played the other teams strong. I think there is a lot of upside for Brown too, if the Bears can ever find an offense. They don't give up many goals, and if they can start scoring, they'll be a threat.
Let's turn west now. The big stories from my point of view from last weekend are the Gophers finishing the first half undefeated and untied, Minnesota-Duluth getting two ties against Boston University, and Wisconsin showing some life by sweeping North Dakota. I think the latter is probably the most surprising. Are the Badgers poised for a second half run? Are the Bulldogs a threat for top four over a suddenly vulnerable-looking North Dakota squad?
Arlan: Regarding the Badgers, I'd say yes, I expect a better second half for them. They've lost six with two ties, but now they'll play teams like Ohio State, Minnesota, and Minnesota-Duluth at home instead of away. If LaBahn Arena is starting to seem more like home, that could make a huge difference. North Dakota is the only top team that will be hosting Wisconsin. I wasn't that surprised by the Badgers' sweep, but when UND had a 2-0 lead at one point on Saturday, that was unexpected. I'd had the advantage of watching UW the previous week, and it was playing very well defensively. It kept Minnesota's offense off of the scoreboard for four of the six periods that the they played. Plus, every team seems to have an opponent that always gives them problems, and for North Dakota, that is Wisconsin. UND has only won twice over the Badgers, and both of those wins came three years ago when Mark Johnson was away. Madison Packer was able to get on the score sheet both days to complement Brianna Decker, and UW will be tough to beat if it can get three goals in any given game.
From a North Dakota perspective, I'm not sure that this weekend made it that much more vulnerable. Brian Idalski knew back in October that his team was in a somewhat precarious position because the losses were adding up and the lower teams from the WCHA weren't having quite as good results against other conferences. Thus, the second WCHA team is usually down around seventh or eighth in both the poll and the PWR, even though the league's fifth-place team, UMD, has shown that it can hang with the top two teams from Hockey East. North Dakota lost in Madison to a very tough opponent. Prior to that, it had won seven straight and was one of the country's hottest teams. Things like that happen all of the time in the WCHA.
As for whether UMD gets into the top four and which team would then be squeezed out, there are still several chapters to be written in that saga. Of those top five teams, Wisconsin has played two more games than the others, so while it looks like it is breathing down Ohio State's neck for second place, the Buckeyes have a bit more of a lead. Wisconsin and Minnesota State have completed their season series, while all of the other teams have two games in hand with the Mavericks. While UND is four points behind Wisconsin, it can make up that ground and more if it can sweep in Mankato.
UMD is similar to Wisconsin in that it is a good defensive team, even though it has sputtered at times offensively. History says that the Bulldogs will always be a factor. They've competed in 13 previous seasons, and in all but one of them, they've either won a national championship or had a victory over the eventual champ. The exception was 2008-09, when the UMD still managed a pair of ties versus title-bound Wisconsin and reached the Frozen Four. Brian Durocher on Sunday recalled NFL coach Bum Phillips saying a number of years ago that the road to the Super Bowl went through Pittsburgh. Durocher said that a similar situation exists in the NCAA, where if a team wants to win the title, it will have to beat someone like UMD, Wisconsin, or Minnesota along the way. That analogy likely works better for people that are my age and can remember the Houston Oilers. In any case, it is fair to say that in 2013, the road to the Frozen Four title will go through the state of Minnesota, if not the team.