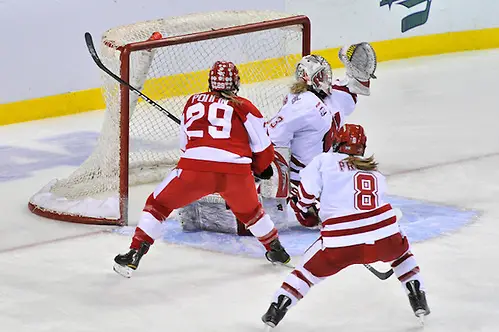 Twelve months ago, Boston University went into the break with a record of 10-9-1. When the Terriers started slowly in January, losing three of the first four, they were a game under .500, and with 12 losses, in poor position to capture an at-large bid to the national tournament. Even after winning nine of 10 games to close the regular season, BU knew it would have to win the Hockey East tournament in order to advance to the NCAAs.
"Three years ago and last season, we had to win the postseason, which we did to get in," Terriers coach Brian Durocher said.
BU trounced New Hampshire, 9-1, and handled Boston College by a 5-2 score to advance to the league's championship game. There it faced Providence, a team that was also playing for its postseason life.
The Terriers needed an extra-attacker goal with eight seconds remaining to force overtime, where they won on a second goal by Jenn Wakefield 2:15 into the second extra session.
The silver lining for BU is that they return a large number of players who have faced three straight must-win games and met the challenge.
"We have a bunch of kids that have been through that experience, and we're real lucky about that," junior center Marie-Philip Poulin said.
Luck was something that was in short supply around Boston University for much of last season. Due to multiple injuries, Poulin missed 22 games, while an injury ended Jenelle Kohanchuk's season in October. That contributed heavily to the Terriers struggles.
"Last year with Kohanchuk and Poulin out, we had other injuries," Durocher said. "Tara Watchorn and Caroline Campbell missed the first seven games of the year each and were rusty for a few more after that; we really were a whisker decimated."
Now Kohanchuk is back as a redshirt senior and has played in every game.
"Last year was definitely something that no one wants happening to them, but this first half of the season was definitely a thrill for me, and it's exciting that I'm back into the game," she said.
Poulin has been available for all but the two games she missed due to the Four Nations Cup. She's appreciating just being able to play the game and not be stuck on the sidelines.
"Just to be here and play the first half of the year, it's pretty fun," Poulin said.
Kohanchuk is one of Poulin's wings on the Terriers' top line.
"With Sarah Lefort and Jenelle Kohanchuk, I think I'm pretty lucky to play with them," Poulin said. "There are a bunch of great kids here, so we're really working hard every day. I think we're working toward our goal at the end of the year, and it starts here for sure."
Durocher doesn't want to have to repeat last year's Hockey East heroics.
"That's my biggest goal was to earn our way into the NCAA tournament through your body of work," he said. "I think that speaks volumes for your season, versus trying to get the bid by winning the postseason."
BU is on pace to do so, as it enters the holiday break with a much-improved 11-3-3 record.
"We've got ourselves in pretty good shape, and the schedule favors us the back half of the year," Durocher said. "With the two [completed games versus Minnesota-Duluth] and two against Cornell, all three with BC, and all three with Providence, a game with Harvard — we've got ourselves in pretty good shape.
The second half schedule consists to a large extent of lower-standing teams from Hockey East, including three games with Connecticut, a series at Maine, three meetings with Northeastern, three versus Vermont, two games hosting UNH, and a Beanpot game against either Harvard or BC.
"Now we've just got to not get too carried away and take anybody lightly," Durocher said. "Know that we've got to respect the teams that we've got in the second half, and a few of them are on the road, to get the job done."
It'll be easier to accomplish that task if Durocher can include Poulin and Kohanchuk on his line chart every time out, allowing him to put together a first line where each member ranks among the national leaders in points. Each brings a diverse skill set to the Terriers.
"Speed is one aspect of my game that does help with our team's tenacity and causing turnovers in the game," Kohanchuk said. "I just feel like our team in general has a lot of speed."
Kohanchuk's speed stands out however, even against an opponent as fast as the UMD team that BU played to close out 2012. Having such a threat on her wing complements Poulin well, as she currently ranks fourth in the country with 1.27 assists per game. The team as a whole is doing well on the attack, ranking seventh offensively, scoring more than three and a half times on average.
"We made an adjustment after probably about 10 games where we had three lines a little more balanced out," Durocher said. "Now we've got the two lines a little top heavy."
The defensive game has been more of a work in progress; the Terriers are middle of the pack in scoring defense after graduating three senior defensemen.
"There were three great players that are gone now, but I think as a team, we've got some great recruits," Poulin said. "We've been working on it, but I think for us offensively, we always want to come back to help out defensively to work toward the offensive zone."
Durocher doesn't think that his blue line has struggled as one might think.
"Our sort of silver lining or our hidden part of our defense is that Caroline Campbell had an injury year, she redshirted, she played forward last year, but she's really a junior age wise," he said. "She's in her third year, so she's been physically trained and in the weight room. Shannon Doyle is a lucky and great addition from Colgate. So we've got a couple of experienced kids, rather than when the Watchorns and the [Kasey] Bouchers and the [Carly] Warrens left last year and you're sticking two freshmen in, sticking what looks like two juniors in there."
The Terriers go into the break on a positive note defensively after holding UMD to two goals through 65 minutes on Saturday, and improving on that with a 65-minute shutout on Sunday.
"We hadn't really paid attention to detail defensively," Durocher said. "We were getting pucks up. We were keeping it pretty simple, but I think this weekend when people were coming to the net, we did a pretty good job of fending them off, pushing them to the side and letting our goalie get a look at things. Most of it was within our control, just that little more compete. Get the kid's stick up. Step over and take a step and defend her. So it will be good to get a little bit of that confidence going forward."
It's easier for any team to move forward when it knows what is coming down the road, as the Terriers do after three straight NCAA tournaments. Last March, the run ended with a historic 8-7 loss to the Big Red near the end of the third overtime.
"I think that Cornell game was quite something," Poulin said. "I'm always going to remember that game. But it's a great preparation for all the teams that go through overtime to get further in the playoffs."
Kohanchuk wasn't able to compete in that marathon, but she skated in both of the previous forays into the national tourney.
"Once you get into the NCAA Tournament a few times, you know how you need to play to get there," she said. "You know what you need to do, so you get the rest of the team on board by motivating them to get them on the same page. Just remembering the last years that we've been there, we just want to strive to get that and continue to get the program further to win a national championship."
The team that is able to realize that goal is often the one that improves the most in the final months leading up to the playoffs.
"We're very good at staying together and working as a unit," Kohanchuk said. "That's definitely the key to our success in the second half, and just pushing each other in practice as well."
The Terriers are concentrating on each step that they need to take, while always cognizant of that last step, one that they reached two years ago.
"So our focus is every day, but our future goal is to the final game — national championship game," Kohanchuk said.