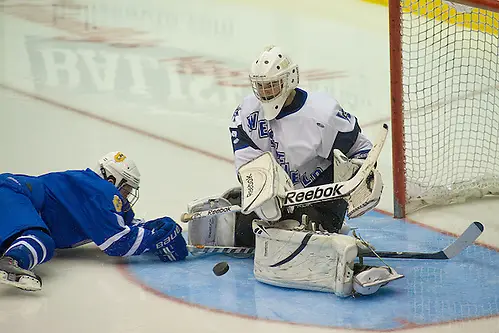 The ECAC Northeast has hit its holiday break, and as we look forward to the second half of the season, the league is one big jumbled holiday stew. As coaches prepare for Christmas parties, the primary theme is likely to be conference parity, and will there be any separation anytime soon? That's all still to be determined, of course. Maybe Santa can help us, in the interim, with these wish lists.
Western New England
Coach Greg Heffernan will take more of the same for the Golden Bears, thank you very much. If Santa wants to drop off some energy packs to fend off the rest of the league, that would be fine. Otherwise, the holidays are a time for the Golden Bears (6-5, 4-1) to rest up and give thanks for their superb start in the conference, as well as their first-place tag.
However, Curry is just a point behind them, and Nichols and Wentworth are just two out. Clearly, nothing will be easy for Heffernan and Co., but they have the depth, the drive, and the determination to snag the No. 1 seed and keep everyone else at bay. From here on in, it's just a matter of making it so, whether Santa wants to help or not.
Curry
Coach T.J. Manastersky is too team-first, and far too modest to ask for it, but Santa might want to think about dropping the coach of the year award under his tree. He is, after all, in his first season, and he has undoubtedly carried on the Colonels tradition while, at the same time, leaving his handprint on the program.
Curry (5-4-1, 3-1-1) is right where it belongs, in the mix for the top seed and playing .700 hockey in conference. Though there is talent on the roster, and this clearly is not a reclamation project, it's not easy to step into your first season as coach and push the right buttons right from the drop. Manastersky has, and Santa might notice.
Nichols
Coach Kevin Swallow would be fine to see Santa deliver some of the Bison's early-season magic back in time for the second half. Though Southern New Hampshire was the kind of get-back-on-your-feet game this team needed on Wednesday, Nichols entered it with just one win in its last three tries, and the Bison needed overtime to notch that lone victory.
The run is a far cry from the opening of the year, when Nichols threw four wins together in a span of 13 days. What's more, the Bison (6-4, 3-2) scored 23 goals in that run, including 14 in the first two games of the year. That's the kind of offensive push that will keep the pressure on Curry and New England. Let's see if that's on Santa's radar.
Wentworth
Coach R.J. Tolan might want to see Santa take rather than give. Maybe he can bring the preseason poll back with him to the North Pole, so the Leopards (5-4-1, 3-2) can get back to business and not play among a hovering cloud of expectations. Obviously, there is plenty of time left, and plenty of skill on a roster that was picked to win the league this season.
It's just a matter of things falling together, and putting a little streak together. Because if this team gains second-half confidence, order may well soon be restored in the league. The Leopards limped into the break having lost three of four, but all told, they were just two points out of first place. With the talent and the experience in this program, that gap can be closed in a hurry.
Suffolk
Coach Chris Glionna is very realistic about his team, about this season, and about the future of the program. So, clearly, he'll be realistic about Christmas, as well. The Rams are building, and improving, and taking the steps needed to establish a new culture after a rough season last year.
He and the Rams (4-5-2, 2-2-1) are on their way. Suffolk plays an exciting style, they throw some goals on the board — posting 11 in their last three — and they already have more wins than most would have thought. Santa can certainly bring them some more, of course. The schedule will get difficult in the new year, and as the playoff picture materializes some more, the games will get tighter. So, there are challenges ahead. With some poise and precision under the tree though, Suffolk could go a long way toward having a say in who does and doesn't make the postseason.
Johnson and Wales
The Wildcats (4-5-2, 2-2-1) would like to be better than a .500 team in the league, if Santa's truly taking orders. Coach Eric Noack's team has been up and down this season, and if you're looking for a present that'll help the cause, it's team defense.
Johnson and Wales is seventh in the eight-team league in team defense, allowing 4.20 goals per game. That's not going to get it done in this league in the second half.
Salve Regina
The Seahawks (4-7-1, 2-3) are not out of it yet, either, but Santa can certainly help them in the discipline area. If Salve Regina truly plans on taking its swings at a playoff berth, it's going to have to stay out of the penalty box.
The Seahawks have already racked up 53 penalties, totaling 130 minutes. That is a 26 minute-per-game clip, which is second-worst in the league. Perhaps coach Andrew Boschetto and Santa can tell them to keep their sticks down and their eyes on the prize.
Becker
The Hawks' list for Santa is simple: They need a conference win. Period.
Becker is 4-6 overall, but 0-5 in the league and is the only team that really needs a lengthy run just to get back in the race. A 3-1 win over Westfield State in nonconference play on Saturday may well help. And coach Steve Hoar will certainly use that as motivation. But when you have insufficient numbers — Becker is fifth in the league on the power play (21.74 percent) and last on the penalty kill (65.5) — you might need some holiday cheer as well.