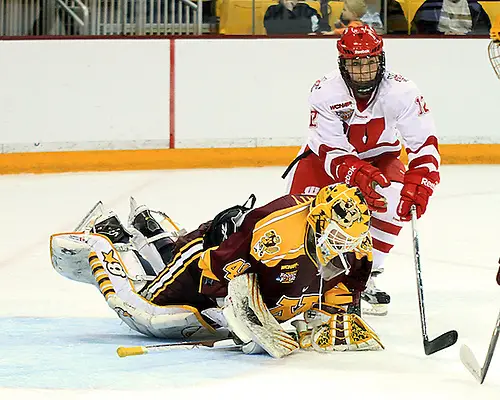 Why hasn't Minnesota lost yet this season? Pick a reason.
It has the highest scoring duo in the country in Amanda Kessel and Hannah Brandt. Its blue-line contingent is also the most productive, having accounted for 26 goals and 81 points, more than some entire teams. Its power play is the nation's best. The penalty kill? That's the statistical leader as well, having scored more than twice as many goals as the four it has allowed.
Perhaps the biggest reason the Gophers have won their first 20 times out of the tunnel is one of the smallest players on the team. In large part due to the presence of goaltender Noora Räty, Minnesota has allowed just 12 goals, and never more than two in a game. The Gophers' goals-against average is a paltry 0.60, less than half of what it was last season, when they had the nation's stingiest defense.
"It's been a really surreal season, to be honest, now that we've set the [consecutive wins] record and those types of things," said Minnesota coach Brad Frost. "I don't even know how to feel. It sounds like it's a great thing, but it's the same thing if you look at our numbers. They're very gaudy with our power play and our PK and how many goals we've given up and how many we've scored, but as a coach, all we're thinking about is the next game and the next week, and I think our players are taking that mentality on as well. There's been a couple games where we've been really flat in the first period, and without Noora in net, it could have been a different story."
The senior from Espoo, Finland has recorded eight shutouts, upping her career total to 34, second only to the 39 of former Wisconsin great Jessie Vetter. Should Räty add the six shutouts needed to break that mark, she'd match Vetter's single-season record of 14.
Fittingly enough, Räty moved ahead of Vetter into second place for career wins by earning two victories over the Badgers.
Senior defenseman Megan Bozek is a teammate of both, playing in front of Räty at Minnesota and Vetter while with Team USA, most recently at the Four Nations Cup, and she sees similarities between the two goalies.
"They'll do anything to win and anything for the betterment of either team, no matter if it's practice or in a game," Bozek said. "They're both very relaxed off the ice, I think is a big key. The only difference I can think of is Noora does homework on trips and Jessie is very much graduated."
When Räty and Finnish defenseman Mira Jalosuo joined the Gophers in the fall of 2009, they were breaking new ground for a program whose roster had consisted exclusively of North Americans up to that time.
"I've never played with a foreign player, let alone two of them that spoke a different language 24/7," said Bozek, who shared on-campus housing with the pair as freshmen. "But we got along great. I think a lot has changed. They speak English more to each other when they're in front of us, but it was definitely a different experience meeting her."
There are two different sides to the Räty that Bozek has come to know.
"You can notice how motivated she is on the ice," Bozek said. "When she has nothing going on, just likes to kick back, put her feet up on the couch, and relax for a little bit. Just a normal person like everyone else."
Jalosuo, who is from Lieksa, Finland, several hours north and east from the Helsinki area that is Räty's home, has known the goaltender longer than the rest of her teammates. She says that the biggest change she has seen in her countrywoman has been outside of the game.
"Definitely, she has grown up a lot. When she came here, she didn't know how to cook or do laundry because her mom did all that for her back in Finland."
Many a college freshman has to learn how to survive on her own, but it isn't the biggest adjustment that Räty and Jalosuo have had to make.
"I would say that it's the language, because you know that Finnish and English are like two different languages; there is nothing similar," Jalosuo said. "The culture is like pretty [much the] same; the Finns and people in Minnesota overall are like really similar."
One thing Räty had in common with girls from Minnesota is being exposed to the game of hockey at a early age.
"I started playing at four, and I think a year after my brother's team was missing a goalie, and so they practiced and then my dad coached my brother's team," she said. "So my dad was like, 'Okay, you'll go to [your brother's] practice.' I was like five years old and my brother is three years older than I am. It was huge for me to practice with boys, and they were three years older."
Growing up, she could practice twice as much as other children, because she would attend the practices of her own club team, and take part in the practices for her brother's team as well. Her father, Jarmo Räty, had already observed the talent his daughter possessed.
"I saw it clearly when I was playing with her outdoors at the age of five," he said. "We lived in a block house that time and all the kids were playing outdoors. Noora started goalie stuff by playing street hockey with other kids in an outdoor yard. I noticed her concentration ability and how quickly she learned all the moves. As well she has always been very quick. At the age of 12, she was technically so good and showed mentally things in a right way, I knew that in time there will be no limits in order to break through internationally."
In addition to organized practices, her dad would work with her individually.
"I do not know how many pucks and tennis balls I have been shooting to her during her 5-12 years," he said. "Thousands after thousands. One of our favorite things was me practicing short game — chipping, pitching — golf to Noora's glove."
Her father thought it was important for her to take part in other sports.
"I knew that concentrating only on hockey would not prepare her well enough to the highest possible level," he said. "That is why she played soccer and golfed. She actually won National Champions Title at age group 12, and was one of the most promising strikers in soccer. She could have easily made an international career in soccer as well."
Her ability as a golfer could have robbed hockey of one of its best goaltenders.
"When I was younger, my golf coach told me that I should quit playing hockey and start playing golf because I could be a pro golfer, but I thought when I was younger that I had way too much energy to play golf, and I thought golf was boring, so I decided to go with hockey," Räty said. "But now since I'm older, it's a great sport. I spend most of my time at the golf course in the summer. That could be one option, to start playing golf after I'm done with hockey."
It didn't take long for her to achieve the international success in hockey that her dad had envisioned. She competed in the 2006 Olympic Games at age 16. Two years later, she posted a shutout win over the United States at the 2008 World Championships.
Performing on such a big stage can bring pressure to a young person's life. Growing up, Räty owned a horse named Pete that provided an escape.
"It kind of helped me to have that little pony there and to go there each day and take care of that little thing, and just get my thoughts away from hockey," she said.
She sold the horse when she moved to the United States to study, but rather than look for a new horse in America, she found other diversions.
"Now, I just watch TV and take a nap; that's my way to do it," Räty said.
She could easily be studying and tending goal — as well as napping and watching television — somewhere other than Minneapolis. The Gophers had not had any previous European players, so schools under consideration included Minnesota-Duluth and Ohio State, two programs that had players from Finland on their rosters over the years.
However, Jalosuo had years earlier met Bobbi Ross, a member of Minnesota's 2008 senior class, at an international hockey camp. For that reason, the Gophers were more than just another team with a funny name, and wound up on the short list of programs under consideration for the Finnish duo.
"When we initially heard that she was interested, we weren't even planning on taking a goalie, and Jamie Wood, our assistant coach at the time, had seen Noora play many times and said, 'Brad, she's unbelievable, so let's make sure that we take a good look at this kid,'" Frost said. "And it was great, because it was at the time that I was working with the national team, so I had some opportunities to see her at the national level in the Four Nations and those types of things. Obviously, some great excitement about the possibility, but you never know if it's going to pan out."
After making their visits to the three WCHA schools, both Jalosuo and Räty selected Minnesota. Do they ever discuss whether they made the right decision or how events may have unfolded in Duluth or Columbus?
"No, absolutely not," Jalosuo said. "We haven't ever talked about that, because we both think that this was the right decision."
Räty's impact on the college game was immediate. She quickly established herself as the Gophers' best player, and lifted them to the top of the WCHA standings. But in January of 2010, she left Minnesota for a month to compete with Team Finland at the Vancouver Olympics. She returned with a bronze medal in time for the WCHA quarterfinals, but she was no longer the same player.
"My freshman year, when we started postseason, I was absolutely exhausted," Räty said. "I had no energy. I couldn't play my best. Last year, I decided that I won't go to any camps; I'm just going to rest that time and take advantage of that time to practice and get better."
That decision paid dividends for Räty and the Gophers. She played her best hockey of the year in the postseason, posting back-to-back shutouts in the semis and final of the WCHA Final Face-Off, and was named that event's Most Outstanding Player. In the NCAA Tournament, she held North Dakota, Cornell, and Wisconsin — the country's fifth, first, and second-highest scoring offenses respectively — to a total of four goals over three games, and added another Most Outstanding Player award as her team claimed its second tournament championship in a month after a six-season drought.
The only thing Minnesota didn't do well in the 2012 postseason was celebrate.
"When we won our league's final, 'Frosty' told our players not to do a pile and take it really easy so nothing will happen," Räty said.
Apparently, he neglected to pass on a similar message as the seconds ticked down in the NCAA final, and a wave of jubilant teammates overran their goaltender and left her the worse for wear.
"I think we 'celed' so hard after we beat Wisconsin in the national champions game that our emotions were so high that I really didn't care if I hit my head on the ice or if I got stuck under a pile," Räty said. "I didn't care. We won; I achieved what I wanted to achieve that year."
Despite all that she has accomplished, there is still more in the game to do.
"Of course, I want to repeat this year," Räty said.
She may also make leave her mark on the NCAA record book. With 94 wins, Räty is closing in on the record of 100 set by Mercyhurst's Hillary Pattenden on March 2. Räty's save percentage  of .965 so far this season has her career percentage up to .946, exceeding former Minnesota-Duluth goaltender Kim Martin's NCAA career record of .943.
Plus, the 2014 Olympics in Sochi, Russia, are fast approaching.
"I would like to play one more Olympics, but I don't know if that's going to happen," Räty said. "Things are quite complicated now. But if not, this might be my last year. Right now, I have no idea. I need to get in touch with the international team coach and see how he feels, if he wants me there. But if not, I might just hang my skates and start playing golf or some other sport."
After playing her first game versus Wisconsin as a Minnesota rookie, she told Frost after the game, "It felt like it was me against all of them."
These days, Räty gets a little more support. Since its last loss 28 wins back, Minnesota has trailed once for a total of 39 seconds.
"Now I just stand there most of the time and watch my girls play well. And if the other team happens to have a chance, I'm ready to make a save."