'Twas the week before Christmas and all through the league … wait a minute. What rhymes with "league," anyway? Intrigue? Fatigue?
Well, that's not very jolly.
As the calendar year 2012 comes to a close, it's impossible to ignore that only one half of one season of CCHA hockey remains. Given that sobering realization and the impending annual midseason break, it seems a fitting time to take a look back at a few things from the first half of 2012-13.
Breakout team of the first half
Hands down, the team of the first half is Notre Dame. Sure, the Fighting Irish were expected to do well and topped the 2012 CCHA coaches preseason poll, but it's how they're in first place that truly impresses.
One conference loss. Best offense in the league (scoring 3.82 goals per game). Best defense in the league (allowing 1.45 goals per game). A career season in the making for junior goaltender Steven Summerhays (1.38 goals against average in conference play, .942 save percentage).
And this is a team that finished in eighth place a year ago. At the start of 2012-13, Irish coach Jeff Jackson said that he hoped his team would "rebound from an off season" for a number of players.
Rebound accomplished.
Breakout player of the first half
It's easy to look to goaltenders for a category like this because their progress is easy to quantify. At this point in the 2012-13 season, it's also impossible to avoid looking at goaltenders for the player to fit this category because it's impossible to ignore Ohio State senior Brady Hjelle.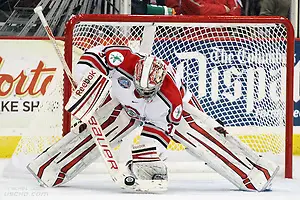 What a story. Hjelle, a native of International Falls, Minn., played his first two seasons with Minnesota-Duluth (2008-10) before transferring to OSU. In 2011-12, Hjelle played in eight games with a record of 2-4, an overall goals against average of 2.53 and save percentage of .922.
In conference play this season, Hjelle — pronounced "jelly" — is 5-2-2 with a 0.79 GAA and .972 save percentage. Three of those five conference wins were shutouts.
Who needs a break?
Northern Michigan, that's who. The Wildcats — picked ninth in the CCHA preseason coaches poll and eighth in the media poll — sit alongside Bowling Green in last place as the first half of the season ends.
How they got there isn't pretty. Three goals in their last four games and shut out twice in that span. Three one-goal losses and three ties this season. The 50th-best offense in the country (2.05 goals per game) after averaging 2.86 goals per game in 2011-12.
Additionally, the Wildcats are the most penalized team in the CCHA (15.3 minutes per game) with the next-to-worst penalty kill in the nation at 74.7 percent.
This team needs a break. Junior goaltender Jared Coreau could use a little help.
Team poised for a second-half surge
I've contended all season that Ferris State is better than its record. Right now the Bulldogs are in sixth place (7-7-3, 6-6-1-0 CCHA) with 19 points. FSU is a team that can potentially improve its collective fortunes before the end of the season.
The Bulldogs ended the first half with a bit of a swoon, going 1-3-1-0 in their last five CCHA contests, those three losses the last three games FSU played. Still, the Bulldogs are second in conference-only stats for goals per game (2.69) with a goaltender, sophomore C.J. Motte (2.23 GAA in conference play, .924 save percentage), who can carry the team far.
When the Bulldogs shore up their defense and remember how to score goals — they were kept to four goals total in those three straight losses — Ferris State will make the top half of the CCHA much more interesting.
Roughest road ahead
Looking purely at strength of remaining opponents, Bowling Green has the toughest remaining CCHA schedule.
The Falcons have three games remaining with Notre Dame — two on the road to end the regular season — two road games against Miami and a home-and-home series versus Western Michigan. Those are the top three teams in the league.
Michigan is a close runner-up for toughest second-half schedule. Six of the Wolverines' 15 remaining CCHA games are at home and Michigan travels back-to-back weekends in January to take on Lake Superior State and Western Michigan, then faces back-to-back travel weekends in February to play Notre Dame and Ohio State.
Given where each of these teams is sitting in the standings — Bowling Green tied for last, Michigan tied for seventh — each faces many opponents with better records while playing those tough second-half schedules.
And one more thing …
It looks to me like the final season of CCHA hockey may be a return to the old two-tier — or even three-tier — league. The Irish and RedHawks aren't just 20 points ahead of last-place Bowling Green and Northern Michigan; no, Notre Dame and Miami are nine points ahead of fifth-place Lake Superior State.
I expected much more of the parity — the really excellent, nail-biting, up-to-the-last-moment parity — that we've seen in the last two seasons, but I am beginning to wonder if we aren't seeing the making of two teams battling it out for the top spot and pulling far ahead of the rest of the league.
And finally …
Here's wishing you a very happy holiday season, no matter what you celebrate. And please do celebrate. Events of recent weeks remind us that nothing is definite, nothing is permanent — and that we must take every opportunity to embrace what and who we love.
Hey, if we all survive the Mayan Apocalypse, we'll have one more thing to celebrate. I'll have another opportunity to get my picks wrong, and you'll have another opportunity to mock me for it.
See? Embrace what you love. Merry Everything.