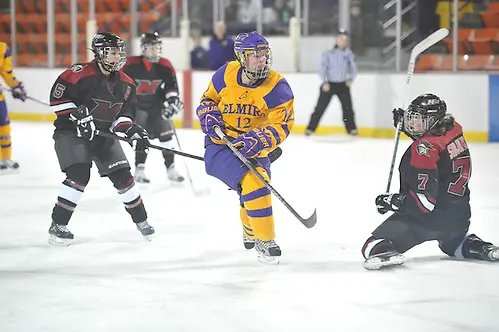 In the 12 years I've been following Division III women's ice hockey, I don't think I've ever seen a weekend quite like what will be taking place this weekend.
In four out of the five conferences, the current top two teams in the standings will be playing each other. No. 1 and undefeated Plattsburgh hosts archrival No. 3 Elmira College for a pair of games that headlines the action.
However, that's just the beginning of this weekend's incredible slate of games. In the ECAC East, No. 9 Manhattanville puts its unbeaten ECAC East league record on the line when it hosts No. 5 Norwich on Friday at the Terry Connors Rink in Stamford, Conn.
In the MIAC, undefeated and No. 2 Gustavus Adolphus battles second-place St. Catherine in a home-and-home series. Gustavus coach Mike Carroll will also be looking to win his 300th career game, as he currently sits at 299.
Last, but certainly not least, No. 4 Middlebury travels to upstart No. 7 Bowdoin for a pair of games to determine NESCAC supremacy.
With about a month left in the regular season, this weekend will provide us a glimpse of how things are shaping up come conference and NCAA playoff time.
Battle of the Birds
With no disrespect to the other match-ups, you'll be hard-pressed to find a pair of games more meaningful than the two that will take place between the Plattsburgh Cardinals and the Elmira College Soaring Eagles on Saturday and Sunday at the Ronald B. Stafford Ice Arena in Plattsburgh.
The Elmira/Plattsburgh rivalry is as good as it comes in Division III women's hockey, and dates all the back to the two schools both starting varsity programs in 2001-02.
The two programs have combined to win four out of the 11 national championships, and have made 12 Frozen Four appearances, six apiece, with Elmira claiming national titles in 2002 and 2003 while Plattsburgh won it all in 2007 and 2008.
The all-time series is also nearly identical, with Plattsburgh holding the slimmest of leads with a 17-16-3 record all-time against Elmira heading into this weekend. In each of the last two seasons, the teams have split the season series.
"Anyone in tune with college hockey knows about the tradition and rivalry between the two programs and their rich history," Elmira coach Dean Jackson said. "Getting the opportunity to play a quality, high-end program twice on a weekend is an exciting time. Given the circumstances, this weekend could be a huge momentum boost into the playoffs."
Although Plattsburgh and Elmira haven't met in the ECAC West finals the last two years due to the rise of RIT, Plattsburgh coach Kevin Houle echoed Jackson's thoughts heading into the weekend.
"This is obviously a huge weekend and as big as it gets in the regular season," Houle said. "The rivalry with Elmira has always been there, and even though we've played RIT in the finals two straight years, Elmira has always been our biggest rival. We're excited to play. Both teams are having really good years, and a lot is at stake."
To say a lot is at stake is almost an understatement. The combined record of the two teams is 28-1-2 heading into this weekend, with both teams perfect in ECAC West play so far.
Plattsburgh is one of the two remaining unbeaten teams in the country (along with Gustavus Adolphus). The Cardinals survived a tough opening weekend at Norwich's East-West Hockey Classic, picking up a win over Manhattanville and rallying for a tie against Norwich after trailing 2-0 in the third period.
"The weekend to start the year at Norwich was definitely a momentum builder when we came away with three points," Houle said. "Coming back on Norwich with two in the third period was huge, and we've been able to build off that. Our defense is still young, but the scoring production has come from different people and we've been getting great goaltending. Sydney [Aveson] can be as good as anyone in the country, and she keeps us in games and gives us a chance to win every time out there."
Plattsburgh has also picked up victories over Amherst, Middlebury, Manhattanville, Bowdoin and most recently Norwich to firmly establish itself as the No. 1 team in the land.
Sophomore forward Shannon Stewart has had a large part in Plattsburgh's success with a breakout statistical season for the Cardinals. She ignited four unanswered goals to spark a comeback in a 4-2 win over Norwich to open the second semester, and then had a seven-point weekend against Oswego, including a four-goal game the first night.
"Shannon has been a very consistent and opportunistic player for us," Houle said. "She's always been noticeable, but lately she's really broken out in terms of numbers, but she's been great for us all year.
Junior Ali Vokos has also provided a spark for the Cardinals, transferring in over the holiday break from D-I Connecticut. She made an immediate impact with a goal and an assist in the win over Norwich.
"That was a great debut for Ali for sure," Houle said. "She can definitely shoot and snipe. She's added depth after we played a large part of the first semester with 10 or 11 forwards. She has also helped offset the loss of Jordan Caldwell, who went down with a season-ending injury."
While Plattsburgh returned a lot of its core members of last year's Frozen Four squad, Elmira had its season abruptly halted last year in the ECAC West play-in round for the second straight season. Add to that a new coach after Greg Fargo left for D-I Colgate, as well as the team's top scorer transferring to Norwich, and you had a lot of unknowns.
However, Elmira has exceeded all expectations placed on them to date, coming into this weekend with just one loss in overtime to Middlebury and a tie in its first game of the season at Norwich.
"It's been a fun year to this point, and a testament to the players and their execution night in and night out," Jackson said. "The focus and work ethic, as well as the attitude of this team, have been great."
Two immediate factors to look at in Elmira's success this season have been balanced scoring and remarkable team defense. Elmira has given up just 12 goals so far this season in 17 games, which puts the Soaring Eagles on pace to rank among the all-time best single-season team defense performances.
"For a team to have success, you have to have a strong defense approach and strong goaltending," Jackson said. "We've been fortunate enough to have great goaltending, as well as a defense that has done a good job at keeping shots out on the perimeter."
Senior Lauren Sullivan and junior Lisa Marshall currently have the two lowest goals-against averages in the nation. Marshall has given up just three goals in six starts for a 0.50 GAA, while Sullivan has given up eight in 10 games played for a 0.79 GAA.
"They are good friends that push and motivate each other while providing positive feedback, and they want others to succeed," Jackson said of his goalies. "Their numbers speak for themselves, and we're confident with either one in the goal."
Elmira also has a deep offensive arsenal, with 10 players accumulating 10 or more points this season, led by junior Tanis Lamoureux's seven goals and 11 assists for 18 points.
"For any team to have success at this level, secondary scoring is a must, and we've been fortunate to have different people chipping in at different times," Jackson said. "The defense has been putting up points as well, so all those factors make it easier to sleep at night as a coach."
Sophomore forward Ashton Hogan has also made an immediate impact in the lineup for Elmira this season, leading the team with 13 goals and three assists for 16 points. Saturday and Sunday will have an added meaning for Hogan after playing her freshman season at Plattsburgh and then transferring to Elmira over the summer.
"Ashton has a unique situation coming from Plattsburgh, but she's been someone to count on and has definitely added a goal scoring touch," Jackson said. "She comes to work every day with a positive attitude in the locker room and has earned the respect of her teammates."
Hogan said there will probably be a lot of mixed emotions heading into this weekend's games.
"A lot of emotions, nerves, and excitement," Hogan said about the weekend. "I became friends with a lot of the girls on the team last year, so I'm looking forward to playing against them."
Hogan's 13 goals this season have far surpassed her totals from Plattsburgh, where she played in all 30 games but only registered six goals and eight assists for 14 points.
"I think I've been getting more comfortable with playing at the college level and having a year of experience under my belt has helped," Hogan said. "I've been playing with great linemates and teammates, and I've been getting a few more opportunities and I've been able to take advantage of them."
Hogan's offensive outburst has been a big factor in Elmira's new identity this season after losing its coach and leading scorer from a year ago.
"Everyone was given a fresh start and a clean slate coming into this season," she said. "No one knew what to expect, and we didn't have anything to live up to. Everybody has been buying into the systems and the coaching and we've been able to be successful because of it."
This weekend, Elmira will get its biggest test of the season to date and Hogan will make a homecoming appearance of sorts when the Soaring Eagles invade Cardinal Country looking to put the first blemish on Plattsburgh's record.
"There are a few big games every year that we play against top 10 teams, and this weekend we're playing the No. 1 team in the country and they are undefeated," Hogan said. "I'm looking forward to it, but it's definitely going to be a really tough test for us."
Both games will be available to watch on live video at www.nsnsports.net/plattsburgh. Saturday's game starts at 7 p.m., with Sunday's tilt scheduled to drop the puck at 3 p.m.