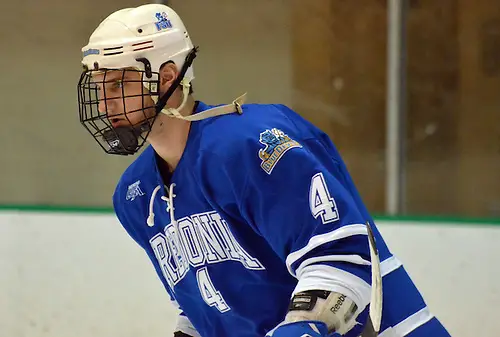 It's why we love hockey players so much: Guys like Fredonia's Mat Hehr.
Informed that he was wanted outside for media duty, Hehr hopped on one leg through the dressing room door, bare foot planted on the freezy Tuttle Arena floor and greeted a lone reporter with a smile, one that never left his face during the three minute, 50 second scrum, even as he marked time by the rhythmic throbbing in his lower extremity.
The pain, no doubt was assuaged by his third period goal against Brockport, one that salvaged a 1-1 tie Saturday, and in all reality, saved the Blue Devils' season, at least for a week.
"We had to come out with at least one point," said Hehr, noting that a loss to the Golden Eagles would have put a huge gash in Fredonia's playoff hopes. "Our goal was two, but to get one was still big."
Hehr's goal couldn't have come at a more opportune moment. He pocketed it exactly three minutes after Brockport's James Ryan had scored (at 10:28) to snap a scoreless duel between goalies Jared Lockhurst and Fredonia's Mark Friesen.
Hehr said that instead of being deflated by Ryan's goal, he and his mates kept their composure.
"(We had to) just to keep doing exactly what we were doing," he said. "We just weren't getting the bounces. We knew if we just kept playing our game, it was bound to bounce in for us."
And it did, after Hehr hunted down Will McLaughlin's rebound and pounded it home.
"I was in the corner," Hehr said, "and I saw our guy () had a quick shot to the net. I just crashed the net and I found the puck laying there. I just swatted it in. It wasn't a very nice goal, but those are the goals we like."
Said veteran Blue Devils' coach Jeff Meredith, "That was a great point for us. I thought our guys showed a lot of resiliency. We stayed with the game plan and turned it into the kind of game we wanted."
Team-wise, this has been the toughest of Hehr's four season's in Fredonia. The Blue Devils (5-12-2, 3-6-1) are headed for their first sub-.500 overall finish since 2008-08, a rarity during Meredith's highly successful 25-year reign at Steele Hall.
Goal have been particularly hard to come by — just three in their last four games.
The biggest trouble spot has been with Fredonia skating five-on-five. The Blue Devils had scored just five full-strength markers in the previous six games. With five teams — including both Fredonia and Brockport — separated by just five points, and all duking it out for the final three playoff spots, the margin for error in all three zones is razor thin.
"We have to play more to our system," said Hehr, a sports management major who has designs on coaching at the college or junior level. "In the past, we had a lot more offense. We could almost rely on a guy coming out and getting a goal if we needed one. Here, we really have to play as a team and commit to defense first. Keep playing our systems and buy a goal like that. Get some greasy goals."
The standings point gained from the tie was especially important, since Fredonia holds the upper hand over Brockport in a tiebreaker thanks to its 1-0 win over the Golden Eagles early in the season.
"That's huge," Meredith said.
A huge as the grin on Hehr's face, for that matter.
"There's a lot of character in that room," said Meredith. "Those suckers have only won two games since early in November, but there's no die or quit in that room. It's kind of amazing, since they've had a lot of reasons to. They just won't go away."