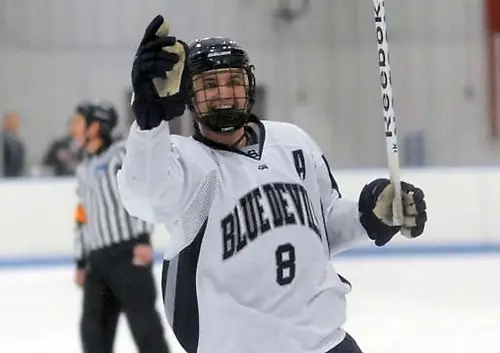 The biggest upset of the NCHA season occurred last Friday night in De Pere, Wis.
Wisconsin-Stout shocked top-ranked St. Norbert, holding on to a 4-3 victory at the Cornerstone Community Center, a venue where the Green Knights seldom ever lose. The upstart Blue Devils, who came into the contest 3-7 in the NCHA, received two goals apiece from junior forward Kevin O'Donnell and freshman defenseman Tate Rusk to ignite the upset.
Last Friday's loss dropped the Green Knights down to No. 2 in Monday's USCHO.com Division III poll. Despite being unranked, Wis.-Stout did receive eight votes, but failed to crack the top 15.
"St. Norbert doesn't get beat very often, especially in their building, so to do it in their barn, it's a pretty big deal," said Blue Devils coach Terry Watkins. "But the kids worked pretty hard at it and we've won some big games this year. We beat St. Thomas when they were No. 1 in the MIAC, we beat Bethel when they were No. 1 in the MIAC, and we beat St. Norbert when they were No. 1 in our league. It was a lot of fun."
Overall, the Blue Devils have had a topsy-turvy season (9-8-2). Wis.-Stout's upset euphoria was short-lived, as St. Norbert topped the Blue Devils, 4-1, on Saturday.
Friday's clash was a thriller, with Wis.-Stout jumping out to a 4-1 lead only to see the Green Knights rally with two goals within 10 seconds. However, steady goaltending from Wis.-Stout senior Nick Hopper (29 saves) held the Green Knights at bay. Hopper pushed back St. Norbert's onslaught with 11 saves in the third period.
"You're not going to hold St. Norbert to one goal; I don't know if you could count on one hand in the last 10 years how many times they've been held to one goal," Watkins said.
Against St. Norbert, the Blue Devils' penalty kill was stellar, holding the Green Knights to just one goal in 13 power-play opportunities through the two-game series. In Wis.-Stout's win, St. Norbert finished 0-for-6. Coming into the series, the Green Knights boasted the best power play efficiency (38.5 percent) in D-III.
"Our penalty kill has been pretty strong all year," Watkins said. "But the best penalty kill we have has got to be the goalie, and Nick worked hard. It was a good night overall, we did some good things."
While the Green Knights failed to capitalize, the Blue Devils did, scoring on a power-play goal from Rusk in the second period. Rusk, a 6-foot-3-inch, 190-pounder from Brainerd, Minn., has been a nice addition to the Blue Devils this season.
Watkins was also pleased to see O'Donnell break loose for two scores.
"He's not been what he was as a freshman, but he's been working really hard to get back to where he was as a freshman — he was first team all-conference," Watkins said. "He's worked really, really hard the past few weeks to regain some of the stuff he used to do. It was fun to see both of those kids have a good night."
Despite knocking off the top team in the country, Watkins said the Blue Devils locker room was celebratory, but not as if it was about to hoist the Stanley Cup.
"We were happy, but we worked hard preparing for St. Norbert, as we do everybody this time of year," Watkins said. "We have some pretty good underclassmen that are coming along. It's obvious we're not going to win the league, so we have to start playing pretty well at the end of the season. We were happy, but it wasn't like the Fourth of July or New Year's Eve or anything like that. It was a big win, but we had another game to play the next night."
Despite dropping the series finale, Watkins thought his team was even more impressive in defeat. Heading into the final period, the Blue Devils were losing, 2-1, but St. Norbert tacked on two additional goals (one empty-netter) to earn the series split.
"We put some pressure on; we didn't lay down Saturday night," Watkins said. "We played a much better third period on Saturday than we did on Friday. When you go into St. Norbert and leave with a split, those are bonus points."