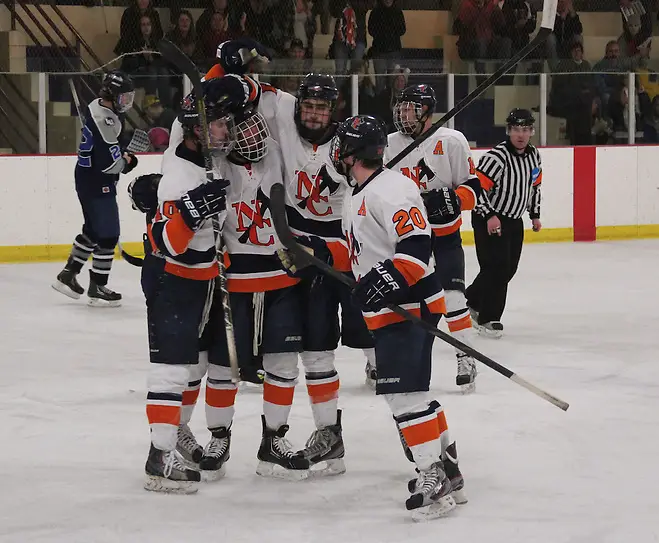 Northland had a rough start to its season, to say the least. After five games, the Lumberjacks had allowed 34 goals while only scoring 11, holding a goal differential of minus-23. Things needed to change for the young team. They lost five straight through Nov. 16.
"As times get tough, it's hard to stay positive; we weren't playing complete games," said assistant captain Nathan Brown. "We worked on taking the positives that were there. Mistakes are becoming few and far between."
That "focus on the positives" mentality in the locker room paid off. In the most recent five games, the Lumberjacks have doubled their scoring output, notching 22 goals. They have only allowed 17 goals, for a goal differential of plus-5. Northland's current record is 6-10-1, with a 4-8-0 conference record the team is sitting with eight points.
"The players were getting used to each other," coach Steve Fabiilli said of the first half action, "There was inexperience on the back end. As the season has gone on, the players have gained confidence and experience. They are getting more consistent on all three areas of the ice."
The Lumberjacks' top six forwards have been the main point producers since early November. In their weekend sweep of Concordia (Jan. 18-19), the top two lines scored all of Northland's 10 goals.
"At the start of the year, we knew we weren't going to have one player that was a superstar," said Fabiilli, "We were going to have to score by committee. Right now, the top lines are competing against each other. They are playing well and producing."
Eighteen members of the roster have had a point this season, with seven players in the double digits.
"Realistically, there isn't one guy doing well in one position and lacking in another," Brown said, "So far, our season has been a team effort. Everyone is doing their job."
Looking forward to the rest of the season, the Lumberjacks are looking to build on their momentum. The team is looking at playoffs as their main goal.
"We missed playoffs last season, but we want to get there this season," Fabiilli said. "At this point every game, each point counts."
Brown feels as though the turnaround for the team will lift them in the remaining eight games.
"Morale is high; success makes that easier," Brown said, "There has been some stress taken off, and we can concentrate on the game in front of us."
Sweeps all around the league
Adrian remains undefeated in the league, as it swept past Marian. Milwaukee School of Engineering beat Lawrence twice in a home-and-home series. Northland took two from Concordia. Lake Forest completed the weekend of sweeps, taking two from Finlandia.
Kraig Wright earned MCHA Player of the Week honors for his 1-4-5 scoring line. Wright assisted on all three of Mike Lennon's goals on Friday night. He then scored the first Lumberjacks goal of Saturday's game before contributing an assist.
MCHA Defensive Player of the Week honors went to Brendan Sullivan of Lake Forest, his third honor this season. He earned a .946 save percentage and a 1.00 goals-against on the weekend. Saturday's shutout of Finlandia was Sullivan's third of the season.
MSOE's Nick Kohn earned MCHA Freshman of the Week honors. The rookie netminder backstopped the Raiders to a sweep, with 50 saves and a 4-0 shutout on Saturday.