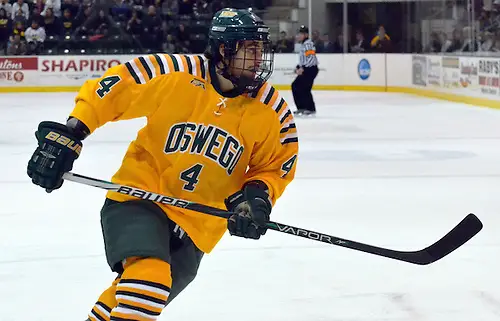 Hands up: who had Oswego's Bobby Gertsakis in your SUNYAC Fantasy League last weekend? (Still looking — still looking — crickets chirping…).
Nobody, not even the sophomore defenseman himself, could have foreseen his three-goal eruption last weekend that helped the league-leading (and nation's No. 2 squad) to road wins at Buffalo State and Fredonia.
Why exactly is that?
Well, Gertsakis, 22, of Pickering, Ontario, had never scored before in Lakers green and gold. So why start now?
"I don't know," Gertsakis admitted after netting two goals — including the game-winner — in Saturday's 3-2 triumph at Fredonia. "I guess I'm getting the puck on net more."
On it and in it, beginning with the first, a power-play marker in Friday's 4-0 win over the Bengals. No matter. It represents a step up performance for an underclassman on a Lakers team laden with 14 seniors and brimming with national title hopes, one that is fully appreciated by Ed Gosek, Oswego's veteran bench boss.
"He's been gaining confidence each game," Gosek said. "I said to him, 'We need you to play.' We pulled him out of a few games about a month ago. It's not that he was bad. But (not as well) compared to how he was playing at the beginning of the year. It hurts getting pulled out. But he had the jump and he had that energy. I think he got back into that mode, and at the right time of the year."
The sudden spree of lamplighting is not the only mystery shrouding Gertsakis. There is this ritual — first pointed out by Margaret H., the better half of your SUNYAC correspondent — that Gertsakis performs while standing at attention during the playing of the national anthems. At certain times, right on the beat, Gertsakis will kiss the gloved knuckle on his right hand. What's that all about?
"It's just my way," he said rather sheepishly, "of getting myself in the right frame of mind. That's all."
Lately, it's been the mind of a goal scorer.
*************************************
Causes
College hockey is often used as a platform to promote worthy causes. Among the worthiest around the SUNYAC is "Saves For A Cure," (SFAC) which is the brainchild of former Brockport goalie Todd Sheridan. Now in its fifth year, to date it has raised more than $20,000, much of which has gone to the Golisano Children's Hospital in Rochester.
Friday, when Brockport will host Morrisville, will be the focal point for the latest SFAC effort. All ticket proceeds will be donated to the charity, and commemorative jerseys worn by the Golden Eagles will be available for auction through Sunday night. Click this link for the online jersey bidding. For more information, contact Sheridan at (732) 261-9714.
In Potsdam, as the Bears fight to secure a playoff spot, they will also be aiding those battling cystic fibrosis. Fans attending this weekend's home games — against Oswego and Cortland — will be able to purchase pin ups, with all proceeds going to the Cystic Fibrosis Foundation.
This comes a week after Fredonia held it's annual "Pink the Rink" game, when the Blue Devils donned pink socks and jerseys to bring awareness to the fight against breast cancer.