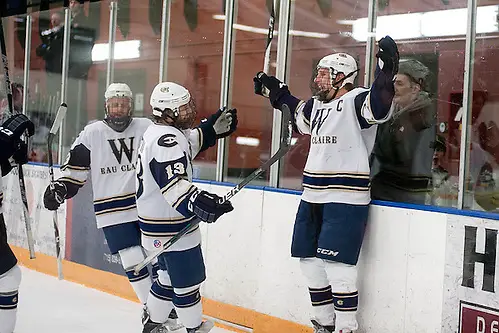 The Wisconsin-Eau Claire men's hockey team hopes the history it made this season is only the beginning of something special.
On Saturday, the Blugolds (19-4-2, 14-3-1 in NCHA) locked up the NCHA title with a 4-1 victory at Wisconsin-Superior. It's the first conference championship in the program's history, and the last league title for the NCHA. Next season, the conference will disband, with the Wisconsin teams forming the Wisconsin Intercollegiate Athletic Conference (WIAC) and private schools St. Scholastica and St. Norbert heading to the Midwest Collegiate Hockey Association (MCHA).
"In all the history of the NCHA, we can now say that we've claimed a conference championship," Blugolds coach Matt Loen said. "The first day of practice, we discussed how cool it would be to be the last team to win the NCHA championship."
It will certainly feel special for the Blugolds when they hoist the final NCHA championship banner to the rafters of the Hobbs Ice Center.
"It's great for the program and, at the same time, really exciting for us. Having been here four years, and not ever getting a conference championship, finally getting one my senior year, it's a nice way to go out," said senior forward Jordan Singer.
Singer, the Blugolds' leading scorer (18 goals, 12 assists), said the program's been building toward a conference title since his freshman season. That year, Loen brought in 12 recruits and laid the groundwork for Wis.-Eau Claire's ascent to the top of the NCHA. Besides Singer, senior goaltender Brandon Stephenson has been among the stingiest netminders in the NCAA Division III this season.
"Right now, we have just about 20 upperclassmen on this team, and we've definitely been building to this moment," Singer said. "We were coach Loen's second recruiting class, and it's pretty big for us to do it this year. Each year, we seemed to get a little bit better, but never seemed to get over the hump. This year, we were able to put a full season together and it's awesome."
Other notable seniors include Isaiah Bennis (9 NCHA goals), Andrew McCabe (21 points), and Andrew Wilcox (17 points). Experience has certainly paid off for the Blugolds this season. By clinching the conference title, Wis.-Eau Claire has secured a No. 1 seed and a first-round bye in the NCHA Peter's Cup Playoffs, which begin this weekend. The Blugolds won't have to hit the ice until the semifinals on Feb. 23.
"Everyone's getting a little bit older, and we all understand that you have to come to play every night," Singer said. "Especially in the NCHA, it's a tough conference, one of the toughest in the nation for D-III hockey. It's that mindset — you can't take a night off — and we really understand that."
Singer said Wis.-Eau Claire's strong upperclassmen have made it easy for the Blugolds' underclassmen to fit into their roles. Having one of the nation's top goalies helps, too.
"Brandon Stephenson has been like a rock back there every night," Singer said. "It's a lot easier playing in front of a goaltender who you can trust that's going to make a lot of big saves, and he's kept us in a lot of games. That makes it a lot easier for the players to play and just do our thing, knowing we have a great goaltender behind us."
In his six seasons directed the program, Loen has built a deep, talented roster.
"We just continue to get production from other members of our team; it's not been just one line that's doing all the scoring," Loen said. "Hopefully, that can continue throughout the playoffs."
Despite having a two-week layoff between games, the Blugolds aren't worried about acquiring rust. Wis.-Eau Claire will use the break to rest and fine-tune its attack in practice. After a benchmark regular season, the Blugolds are hoping to carry their momentum into March and a shot at the D-III national title. The Blugolds have not won a national championship since winning the NAIA title in 1984.
"We don't want to change anything up; what's got us here is what's going to get us through the playoffs, so we're going to stay in the same practice routine and just keep it easy," Singer said. "We have some bumps and bruises, but these two weeks will help us get healthy."
After a grueling regular season, Loen said his players are looking forward to time off and the ability to exhale for a few days.
"We're looking forward to not having the pressure of having to prepare for a game on Friday and Saturday," Loen said. "Maybe we'll have a fun day sometime this week, and then get back to work on Monday."