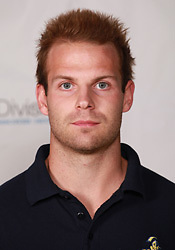 Sometimes, you just need a change of scenery. Junior goaltender Braely Torris did, and it's Neumann University that has been reaping the benefits this year.
"We went into the season with three periods of (goaltending) experience," said Neumann coach Dominick Dawes. "That's all we had."
A native of Red Deer, Alb., Torris has gone 8-4-2 in 16 games overall, with a 2.07 goals-against average, a .937 save percentage, and two shutouts after transferring from Southern Maine. He made 59 saves in a pair of wins last weekend, including 32 stops in Saturday's 3-1 triumph over conference leader and then-fifth-ranked Hobart.
Those two wins vaulted Neumann into the No. 14 spot in this week's USCHO Division III poll.
"Given the situation in the standings, it made it that much more special," said Torris, who was subsequently named ECAC West Goalie of the Week. "Going into the playoffs, it's a confidence boost, and it couldn't have happened at a better time."
Neumann's Craig Cowie also was honored as ECAC West Co-Rookie of the Week, with three assists in the two games last weekend.
Torris made his Neumann debut back on Nov. 3, stopping 32 of 35 shots in a win over Elmira, whom he also defeated this past Friday. After a 3-2 loss to then-No. 10 Utica on Nov. 9 despite 27 stops, he responded with a 21-save effort against the Pioneers the next night in a 1-0 whitewash to earn a series split, along with his first shutout for his new school.
Torris spent his first two collegiate campaigns with Southern Maine of the ECAC East conference. He fashioned a record of 17-20-11 in 49 career games with the Huskies, including four shutouts, after playing junior hockey back home with the Drayton Valley Thunder. He decided after his sophomore season though, that he needed to move on from the Pine Tree State, and so he took his act slightly west to the Keystone State.
"It was just a change of scenery," he recalled. "I just needed a change."
It so happened that Neumann had just lost two senior netminders in Ross McKinnon and Matt Tendler, who together had appeared in 117 games over the previous four years for the Knights. It was former assistant coach Kevin Swallow, now the head coach at Nichols College, who played a large part in getting Torris to the Neumann campus in Aston, Pa.
"The hockey world is small," said Torris. "(He) got the word out and got the ball rolling."
Neumann (14-6-3 overall, 6-6-3 ECAC West) currently sits in third place in the ECAC West standings, seven points behind second-place Utica and one point ahead of fourth-place Manhattanville.
"It's been pretty good," said Torris of his inaugural year at Neumann. "It's been nothing but positive experiences."
He's made 30 or more saves in a game on eight occasions this year, including a 47-save performance in a loss at Hobart on Dec. 1, and has allowed just 31 goals so far this season.
"He's been a great fit for us," added Dawes. "I think he knew a few guys on our roster, and he's been great in the locker room, very supportive."
Another key to Neumann's success this season has been that Torris and sophomore netminder Ben Curley (6-2-1, 2.28, .937) have pushed one another to excel.
"To have two goalies in the top four or five in save percentage, that's not a bad problem to have," said Dawes. "They've been the backbone of our team all year."
Torris and Curley are now tied for fourth in Division III in save percentage.
Torris himself got his start between the pipes back home in Canada, where he followed in the skate trails of his father, who was also a goaltender.
"It was something I wanted to try myself," he said. "My dad played when he was younger, and I wanted to play myself."
Torris played with friends who were a couple of years older, and was one of a select group to play goal in his hometown.
"It took off from there," he said of his progression in pads.
Neumann, which won the NCAA Division III men's hockey national title back in 2009, will wrap up the regular season this weekend with a pair of home games against ECAC West newcomer Nazareth, a team that Torris blanked on Jan. 26 with 35 saves. The Knights are on the outside looking in concerning this year's NCAA tournament, as they were ranked 16th in the PairWise as of Feb. 12, and play in a conference that doesn't have an automatic qualifier.
Though he'll still have a year of eligibility left after this season concludes, whether that's in the ECAC West playoffs or the national tournament, Torris admitted he'd like to try his hand at pro hockey after earning his diploma.
"It's every college athlete's future goal, and one of mine," he said. "I want to see how far I can go, and to have that experience."
After hanging up his skates, whether sooner or later, the criminology major related that he's been debating about attending law school.
"If the pros don't work out, that's the kind of direction I'm taking," said Torris.
Right now the Knights just like the upward journey he's taking them on.
******************************************
ECAC West Notes
No. 6 Hobart (18-4-2 overall, 10-3-1 ECAC West) dropped one spot in the USCHO rankings following its loss to Neumann. The Statesmen are ninth nationally in goals per game (3.92) and sixth in goals-against (1.88). Frank Salituro still leads Hobart with 28 points through 24 games, while Nick Broadwater is 14-4-2 in 20 games, and third nationally with a 1.67 goals-against average. Hobart continues to lead the ECAC West, but is just one point ahead of second-place Utica, which also has a game in hand on the Statesmen. This week: vs. Elmira.
No. 7 Utica (19-4, 10-3) swept Nazareth by 7-1 and 5-2 scores, and moved up one spot nationally. The Pioneers, who could still claim the league regular-season title with at least a win and a tie this weekend, have won eight of their last nine outings and are averaging 4.74 goals per game, which is good for fourth in Division III. Louie Educate is tied for eighth in the nation with 16 goals and 17 assists for 33 points, while Nick Therrien is 17-3-0 in net. Peter LaFosse was named ECAC West Player of the Week with two goals and three assists in two games against Nazareth, while Donny Olivieri was tabbed as Co-Rookie of the Week with three assists in two outings. This week: at Manhattanville, at Manhattanville.
No. 15 Manhattanville (12-8-2, 5-5-2) fell one spot in the Division III poll after playing in just one game last weekend, a 4-3 loss to visiting Hobart on Saturday. Friday's game against Elmira was shifted to Tuesday after being postponed by the blizzard. The Valiants rank seventh in the nation in penalty killing at 87.1 percent, having erased 88-of-101 opposing power plays, and are 13th in scoring offense with 3.73 goals per game. Scott Hudson is atop the Manhattanville scoring scroll with 11 goals and 23 points in 21 games. This week: vs. Elmira, vs. Utica, vs. Utica.
Elmira (10-13, 5-8) fell at Neumann on Saturday, and has lost four of its last six contests after posting a three-game winning streak. Its streak of five consecutive NCAA tournament appearances is also in jeopardy. The Soaring Eagles are 10th in the nation in penalty minutes, and are averaging 18.74 minutes per contest. Josh Burnell leads Elmira with eight goals and 23 points to date. This week: at Manhattanville, at Hobart.
Nazareth (6-16-1, 1-12) is winless in its last five after posting its first-ever conference victory against Manhattanville on Jan. 26. The Golden Flyers' power play is ranked 24th in Division III, having connected on 27-of-130 chances (20.77 percent). Ed Zdolshek made 41 saves in a 5-2 loss to Utica on Saturday. This week: at Neumann, at Neumann.