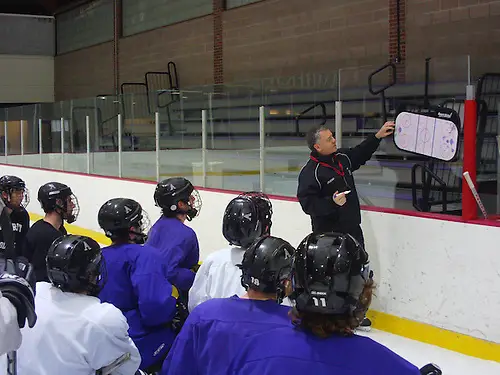 The aftermath of Winter Storm Nemo certainly caused some scheduling headaches for collegiate hockey teams all across New England this past weekend, but for one coach, the date and time changes weren't looked upon as a bad thing. Jack Arena at Amherst College has noted that his team has seemingly struggled on Saturdays in recent weeks, so the shift of games from the traditional Friday-Saturday schedule to a rather unconventional Sunday-Monday pair was something he hoped would break his team out of the on and off performances over the past month.
"I know we have played some really great hockey at times," noted Arena. "We have won on the road at Middlebury, Bowdoin, and Plattsburgh, which are all difficult places to play and come away with victories. Recently we have had some real issues with our level of play on Saturday after a solid Friday night. The most recent example is after winning at Bowdoin on the road, we go to Colby and blow a 3-0 lead in the third period and have to settle for a tie. In this league, all the teams are so competitive and close in talent that the effort and intensity has to be there every time out or the results won't be there. I hope the shift in game schedule due to the blizzard will help our focus, since the second game is a Monday, and not a Saturday. It's a subtle difference, but maybe that is enough to help us play the way we need to against Tufts."
Over the last three Saturdays in conference play, the Lord Jeffs are 0-1-2, having tied Connecticut College, 2-2, at home, lost to Trinity by a 7-4 score at home, and tied Colby 3-3 last Saturday. All of those games came after solid wins on Friday night against Tufts, Wesleyan, and the league's top team, Bowdoin. The Saturday funk definitely has Amherst's coach concerned as the team enters the most pivotal part of the season leading into the playoffs.
"Assuming we can get our game together for the second game of the weekend against Tufts (handily won by a 6-1 score), it really doesn't get more exciting than next weekend," stated Arena. "There will be three teams all tied for second place playing in two games at our rink, and depending on who is ready to play and brings their best game, any of us could finish second to fifth. Wow! That is really some important hockey leading into the playoffs, so we need to be able to play our best game in back-to-back situations. That is what the playoffs are built on. We have a lot of guys that have played in big games, so I hope that those experiences can make an impact on the games we have left to play."
One area where Arena would like to see some overall improvement from his team is more secondary and balanced scoring. The top two lines have been performing well, but some additional contributions from other players would certainly be a welcome thing to see on the score sheet, and also take a little pressure off the top two lines.
"Our first line has definitely seen its dynamic change recently," stated Arena. "Mike [Moher] and Johnny [Van Siclen] have been really productive, but have probably even been a little better lately with the addition of freshman Conor Brown to that line. Conor is not a flashy kind of player out there. He works hard every time he goes out on the ice. He makes good decisions with the puck, and really has been a nice addition to that line. He was hurt for a couple of games, and you could see the impact on those other two guys. They have been very good together and more productive lately, and we will need that in these final games of the regular season and into the playoffs. What we need now is some new scoring from some of our other regular players not on the top two lines to help share the load."
It would be hard to believe that a coach in his 30th season at his alma mater has seen much new in terms of a coaching experience, but that is not the case for Jack Arena in 2013. Son Patrick, a freshman from the Taft School, has seen action in three games this season for the Lord Jeffs. He has scored his first collegiate goal, and in being part of the team has created a new dynamic for his dad, the coach.
"It's a great thing having Patrick here," noted Arena. "He has played in three games, and that may be all he sees this season since he is on the lower end of the roster with the forwards. I ask my assistants Mike and Greg all the time to make sure they tell me if I am not being objective or treating a situation regarding Patrick the right way, but I think he realized quickly that he wasn't going to get any preferential treatment from me or the other coaches, and everything has worked out just fine so far."
So how was it seeing his son score his first collegiate goal for Amherst, a goal that turned out to be the game-winner against St. Michael's?
"On the bench, I couldn't really react," laughed Arena. "Outwardly, it was like anyone else had scored, but on the inside I was very proud of Patrick obviously. It was great, and it is great to have him with the team. It is different, but it's been a nice experience.
Experience is what the Lord Jeffs may be relying on most come the weekend's games against key rivals Williams and Middlebury and before entering the conference tournament. As last year's champions and a Frozen Four participant, many players know what it takes to win big games. That's something the coach hopes will pay immediate dividends with so much riding on the games this time of the year.
"We have played some of our best hockey against some of the best teams," said Arena. "We have struggled against other opponents, but now anyone we play is going to be a quality opponent, so we have to bring an elevated level of intensity and focus to each and every shift for the full 60 minutes. I know we have the talent to do it — now we have to execute it on the ice."
Next weekend, the Lord Jeffs will need strong back-to-back performances if they want to clinch a home-ice berth and even a second place finish. It's one more chance to build on a strong Friday with a better Saturday. Sounds like timing is everything!