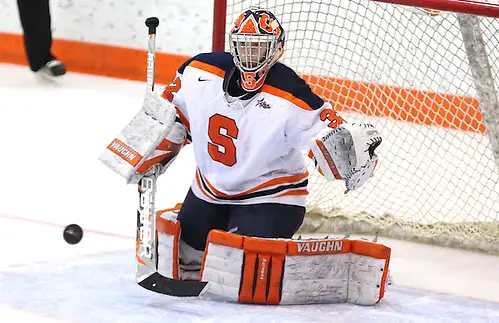 In another language, Mercyhurst means, "My dream just died." What language is that? I don't know, but I'm sure that with the exception of Mike Sisti and Paul Colontino, every CHA coach over the years spoke it fluently.
Syracuse coach Paul Flanagan can remember a time when that was not a part of his vocabulary. While he was behind the bench at St. Lawrence, guiding his team to 230 wins, six NCAA tournaments, and five Frozen Fours, the Saints were 12-2-2 versus the Lakers.
Flanagan's mark against Sisti since coming to Syracuse to build the program has been a far more humbling 0-20-1. While it is understandable for a fledgling program facing an established power, some of the defeats have been maddeningly close. The Orange fell to the Lakers by a single goal in each of the previous two CHA tournaments.
Junior goaltender Kallie Billadeau has been in net for a number of those setbacks, including a pair in Erie a month ago.
"We haven't beaten them yet," she said. "We tied them last year, and we've come close in pretty much every CHA thing."
This weekend brings another pair of opportunities to get that elusive first win, with the Lakers coming to town for a Friday and Saturday series.
"It would be huge, and I know coach really wants to get that win," Billadeau said.
A win for the Orange would be historic for another reason, as Flanagan currently sits at 299 career coaching victories. Eighteen of those wins have come this season, matching the program record set in 2009-10, but rarely have they come easily, as many of the Syracuse games are decided by a goal either way.
"I think last year we were in 17, and I'm not exactly sure, but we've been in 15, 16, or something like that already," Flanagan said. "I think it's probably a trend in women's hockey. There's a lot of low-scoring or close games. Maybe that's probably just a reflection of our sport."
According to the coach, it is harder to find the sort of pure scorers that always seemed to appear on the stat sheets of his St. Lawrence teams like Gina Kingsbury, Rebecca Russel, or Sabrina Harbec.
"When you don't have those gifted scorers, the consequence of that is a lot of low-scoring, tight games. I think our kids recognize that. When I was at St. Lawrence, we had teams probably where you could give up three or four and win six or seven to four. We had all those girls, we knew our strengths, and we went with it."
The current Syracuse roster has a different makeup. Through 30 games, the team lead in points is shared by forwards Holly Carrie-Mattimoe, Nicole Ferrara, and Melissa Piacentini with 22, and Shiann Darkangelo is tops in goals with 13.
"We don't have anybody who's knocking on the door of 20, 22 goals or anything like that," Flanagan said. "We've got some girls in the teens and we're spreading it out quite a bit. Not to say that some of our girls can't score and be prolific from night to night, but we just haven't had it. It is what it is, and I think we know ourselves pretty well, and I think that's a big thing."
The Orange have used contributions throughout the roster to outscore opponents, 84-58, on the season. On the offensive end, nine players are in double figures in points, and seven more have recorded at least six.
The biggest key to an 18-11-1 record thus far can likely be found on the other end of the ice.
"It starts with our goaltending, but certainly our mentality, whether it's goaltending, defense, our overall team mentality is we have to be solid defensively," Flanagan said.
It's one thing for a coach to preach the concept, but another for a team to practice it.
"If we were on Sports Center every morning as women's college hockey, we wouldn't probably be on the highlights for scoring great goals and all that," Flanagan said. "But we buy into we'd be on the highlight reel for a great blocked shot at any point in the game, but particularly late in a close game, or an awesome backcheck — coming back hard and staying with your check right to the net. Making those plays and sacrificing in that respect are kind of unheralded type plays, and our kids have definitely bought into that."
While not a team filled with grinders per se, the Orange still manage to embrace that persona.
"It's interesting; like a lot of teams, we have the hard hat that's passed around from game to game," Flanagan said. "The players pick the player of that night, and quite often it's the player that gets the hard hat that made a great block, a great defensive play, as opposed to the person who got the GWG. The guys who do the three stars, they always pick the person who gets the game-winning goal, but our team doesn't. I think that right there exemplifies and identifies where our kids are coming from. They recognize that's winning games for us."
One of the first players on a team to take note of defensive contributions is the goaltender.
"The team this year has just been playing amazing defense, and I couldn't ask for a better team in front of me," Billadeau said. "Obviously, I owe it all to them. They've been blocking shots and keeping the shots to the outside and being there for rebounds. The support they've given me has been unbelievable."
She values those plays in front of her, coming off a shaky sophomore season that saw her save percentage dip to .897, her goals-against rise to 3.40, and her personal record slump to 5-13-2.
"I had a tough year last year," Billadeau said. "It didn't go very well for me, and I had to refocus over the summer and get back to what I do."
What she is doing this season is stopping the puck. All of her numbers have rebounded. Billadeau is in the top five nationally in both save percentage (.947) and goals-against average (1.35). Most importantly, that has paid dividends for her team: her .700 winning percentage ranks in the top 10.
During her years at Syracuse, she has been part of a goalie tandem with classmate Jenesica Drinkwater. This season, Billadeau has gotten two thirds of the starts.
"In high school, I came from a team where I was the only goalie, so I played every game," she said. "Being here with [Drinkwater] and splitting was a little tough for me just to get used to, but obviously, it's worked out really well to this point. It's nice to get as many games as possible to get into a groove, and I'm lucky it's happening this year."
Others on the Syracuse roster haven't been as fortunate.
"We're doing all this without our top recruit, Laurie Kingsbury, who only played six games," Flanagan said. "She had nine points after six games. Then we lost our top defenseman [Caitlin Roach] end of December. Backing up, I think we were probably optimistic that we could at least be knocking on the door for second and be challenging first. Four games left and one point out, we feel we've actually created somewhat of a playoff atmosphere coming up this weekend with a lot on the line with Mercyhurst coming to town."
If there's ever been a time in the CHA for an underdog to rise to claim the league crown, it would seem to be now.
"How does Robert Morris win three out of four against Mercyhurst this year? We won three out of four against Robert Morris, RIT swept Robert Morris, I think, or won three out of four, and then Lindenwood beat RIT," Flanagan said. "We had four one-goal games with RIT, and it's like on and on and on. So you can't figure it out; there's no rhyme nor reason to what's going on in our league."
Billadeau points out that her team may be learning how to close tight games and come out on top. The Orange have won eight in a row, and six of those were by a single tally. And the timing is perfect, with the biggest regular season series in program history about to take place on home ice.
"We have our crowd coming to watch, and just being comfortable in our locker room and all that," Billadeau said. "Everything is set up for us to have a really great weekend. Hopefully, it will work out."
If it does and Syracuse can win the series with Mercyhurst and close the deal the following week when hosting Lindenwood, the Orange could host the CHA playoffs; Billadeau says that is the ultimate goal.
For that to happen, they'll have to manage a bit more offense than in the first meeting with Mercyhurst, when Lakers goalie Amanda Makela held them to one goal in 120 minutes.
"We have to put more pressure on her," Flanagan said. "If we can't beat her on that initial shot, we've got to generate rebounds, so we've got to get to loose pucks. We've got to find a way to beat her. Regardless of who we're playing, we can't score one goal on a weekend."
He wants his team to revel in the underdog mentality and let the Lakers bear the pressure.
"We've got to tell ourselves that don't worry about our record against them before; that's all in history," Flanagan said. "Just go for it. Put the pressure on them, play like underdogs, just play hard, and not get caught up on anything. They're the ones that should have pressure. They're trying to maintain their posture as number-one team in our league, plus they're on the fringe here NCAA-wise. I think it's our job to put pressure on them and make them feel that pressure with the way we play in each and every shift."
No matter the results of the next four games and the CHA playoffs, the season for the Orange will end with the league tourney, because the CHA champion does not yet automatically qualify for the NCAA tournament.
"My understanding is we still have to play another year," Flanagan said. "They'll try to appeal it again this year and I'm sure our commissioner will bring it to the NCAA, and they might just say for the betterment of the sport, to help the sport grow, it would be good in the best interests of our sport, because we're still an emerging sport. Otherwise, if that's not granted, it's my understanding that we play another full year until we have the [automatic qualifier], which would be pretty neat. For us, we can't dwell about it, but it would be nice."
Like Robert Morris a year ago, the Syracuse players plan to focus on what is available to them, rather than worrying about what they don't have.
"It's unfortunate that we don't have an automatic bid, but this is our season," Billadeau said. "It's a bigger CHA this year, so the playoffs are a little bit bigger, so it's not just the two games. It's nice. It makes it a lot more fun and competitive. Couldn't ask for anything more, really."
Except maybe for that automatic bid to the NCAAs.