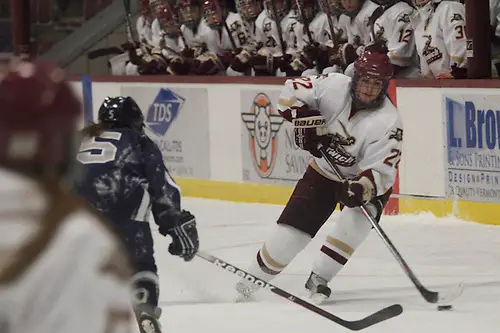 Over its six seasons of existence, the Norwich women's hockey program has developed a knack of coming on strong in the second semester of the season. This season has been no different, as the Cadets are currently riding a 12-game win streak heading into the final weekend of the regular season.
In four of NU's six varsity seasons, the Cadets have gone on unbeaten streaks of 10 or more games in the second half of the season.
With Plattsburgh and Gustavus Adolphus both tying within the last two weeks, Norwich now owns the nation's longest winning streak, despite the fact that Gustavus Adolphus and Plattsburgh have yet to lose.
Part of Norwich's second half winning trend can certainly be traced to its schedule. Traditionally, the Cadets have faced some tough first-half games, opening their season in each of the last three years with two ranked opponents in the East/West Classic. Norwich would then normally close the first semester with a couple of nonconference games and then play one or two more to open up the second semester before heading into a long stretch of league games.
"By scheduling tough games early, it makes it meaningful in the first semester, and certainly makes the newcomers aware of what we're trying to accomplish," Norwich coach Mark Bolding said. "We had some kinks and didn't finish the first semester the way we wanted to this year, and then we went to Plattsburgh to open the second semester and have another loss."
Norwich went 6-1-3 in the first semester of the season, including having its 44-game ECAC East unbeaten streak snapped with a loss to Saint Anselm at Kreitzberg. The Cadets also tied Elmira, Plattsburgh, and Bowdoin as well.
One common theme when Norwich has struggled this season has been poor third periods. NU blew two-goal third period leads in the loss to Saint Anselm and the tie against Plattsburgh. The Cadets also opened up the second semester on Jan. 6 against Plattsburgh by blowing a two-goal lead en route to losing, 4-2, to the Cardinals at the Stafford Ice Arena.
"I think at times we lacked the focus, preparation, and drive to finish these teams off," Bolding said. "Two-goal leads are the most dangerous leads in hockey. But to see it vanish as many times as we have this year is mind-boggling."
However, fast forward to the present, Norwich hasn't lost again since the Jan. 6 loss at Plattsburgh. The Cadets have reeled off 12 straight wins, including two wins over Amherst as well as one each against Manhattanville and Middlebury.
"January is a good time to get on a roll, and I think everyone is finally buying in to our long-term goal of getting to the NCAAs," Bolding said. "It's comforting to know that it's now February and we're not losing games in the third period anymore. I think finally we're seeing more committed hockey players from top to bottom."
For much of the second half, Norwich has leaned on its top line offensive juggernaut of Tori Charron, Jillayne DeBus, and Renee Lortie. Charron leads the country in goals (26) and points (39), while DeBus has chipped in with 12 goals and 20 assists for 32 points and Lortie has tallied 12 goals and 14 assists for 26 points.
"If you have all your most offensive kids together, you look like a genius if they're producing," Bolding said. "I think they have some good chemistry though, and they are having fun. They move the puck well and create scoring chances. When you see a line combination have fun, as a coach it doesn't matter whether it's a first line or a fourth line, you like to have them stick together."
Norwich has also received significant support from three junior defensemen that have elevated their games to the next level after losing two All-Americans last year in Amanda Wilks and Sarianne Lynn. Kayla Parsons has been the most notable with her offensive outburst in production this season. Parsons ranks among the top blue liners in the country with 10 goals and 11 assists for 21 points on the year.
"Our defensemen have been strong this year," Bolding said. "Parsons has had a great year, and combined with Brittany Sharman and Marie-Philip Guay, they've really been a consistent strength for us all season, even when we weren't scoring as much in the first semester."
Sharman has four goals and 11 assists for 15 points, while Guay has two goals and 11 assists for 13 points. Guay also took on an expanded leadership role by being named an assistant captain at the start of the second semester.
With 20-game winner Kelly Fisk returning from injury for the last game in the first semester against Bowdoin, Norwich has turned to a true goalie tandem for the first time in its short existence. Fisk and sophomore Loren Carrier have split the time throughout the second semester, giving Bolding two solid options to choose from every night.
"We're in a great position with two goalies that can win games, and I think the team feels confident in either of them," Bolding said. "It's important to have that depth in any position, and goaltending is no different. The decision time almost always happens in playoffs where you think you should go with one goalie, and we'll see who establishes themselves."
After picking up back-to-back nonconference wins over Amherst (3-1) and Middlebury (5-3), Norwich returns its focus to conference play this weekend by hosting its longtime arch-rival Manhattanville on Friday.
"The schedule worked out great at the end of the year again with Manhattanville on the final league weekend, because I'm sure we'll see them again in the playoffs," Bolding said. "That's huge to ramp up the team's focus and preparation. Playing teams like Amherst, Middlebury, and Manhattanville is great because now you've got to prepare for the toughest opponents and be ready to win every night."
Norwich narrowly escaped with a hard-fought 4-3 victory the last time the two teams met on Jan. 18 at the Terry Connors Rink in Stamford, Conn. Although the Cadets have won three straight against Manhattanville to close the all-time series down to a 7-5-0 advantage for the Valiants, Bolding is leery of the challenge that awaits his team this weekend.
"It was a good game down there," he said. "They played well and got us on our heels. They have a lot of veterans and are a smart, poised team with a good goaltender. They are right on our heels in the league standings, and we'll be in for a battle up here on Friday. They've played a lot of good teams really tough this season. They'll be comfortable coming in here, so it should be an excellent hockey game."
Norwich can wrap up its third straight ECAC East regular season title and hosting rights throughout the ECAC East league tournament with a victory on Friday.