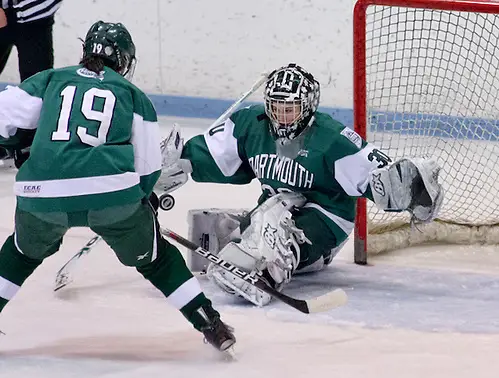 Had Harvard managed to score one more goal versus St. Lawrence on Friday and won, rather than tying the Saints, the Crimson would have won a share of the ECAC title, been the top seed for the tournament, and would be heading into a first-round match with a Colgate team where only the seniors have playoff experience. For the wont of that goal and another point in the standings, Harvard slipped to the third seed and a date with Dartmouth.
The Big Green's non-rookies have all experienced the ECAC tournament, and the captains have won it. Red-shirt seniors Reagan Fischer and Jenna Hobeika were freshmen for the 2009 tournament, although Hobeika was injured and could not play. The Big Green squad fell to Colgate in overtime, 7-6, in its first postseason game before rallying to take the next two games, 2-1 and 7-3, with Fischer supplying two goals and an assist in the deciding game. Dartmouth advanced to the final weekend at Harvard, defeating St. Lawrence, 5-2, in the semifinal and claiming the crown over Rensselaer by a 6-1 tally.
"I think the biggest thing that you learn from that tournament is that it's game by game and anything can go either way, and it really comes down to whichever team shows up to play that day," Fischer said. "You have to take the possibility of kind of throwing out season records and pre-existing notions of who could potentially win, and it just comes down to a shift-by-shift mentality. Going through that in 2009 kind of gives us a little experience and kind of lets us know how we could possibly get things done. Even though we've been the lower seed, we still have an equally good chance of coming out on top."
The Big Green also won a playoff game at Harvard as recently as two years ago, taking down the Crimson, 4-1, before losing the final at Cornell. Meanwhile, Harvard hasn't advanced beyond a semifinal in any of the last four league tournaments. Dartmouth qualified for the NCAA tournament in both 2009 and 2011, while the current Crimson roster's national tournament experience is limited to a single game in 2010. Thus, falling one goal short means Harvard now faces a first-round opponent that likely possesses an equivalent amount of postseason experience, if not more.
The quarterfinal series will be played at Harvard's Bright Hockey Center, and we all know that home ice matters in the playoffs. At least it usually does. In addition to their previously-mentioned success at Bright, the Big Green can reference the road trip of St. Lawrence a year ago that carried the Saints to the ECAC title. They had an eyewitness view to the first step in that journey, falling to SLU in a quarterfinal in Hanover, N.H.
"Keeping in mind what St. Lawrence did last year, they came from behind and ended up winning the whole thing," Fischer said. "It was kind of a great, little Cinderella story to watch, and our goal this year is to hopefully achieve the same thing. We know going into the weekend and every game we play as underdogs, and we're really going to try to grasp that image and use it to our advantage."
Truth be told, I'm not sure that Dartmouth is even much of an underdog to Harvard. Admittedly, the Crimson (21-5-3, 17-3-2 ECAC) posses a better record than the Big Green (16-8-5, 11-7-4). That can largely be attributed to a quicker start, because after the first 10 games, both have produced 12-4-3 marks.
"We started the year really playing a lot of people a lot of the time, playing with a lot of different match-ups, line combinations, 'D' pairings," Dartmouth coach Mark Hudak said. "We committed to doing that for our first 10, 11, 12 games and using that time to kind of figure out what is going to work for us and how do we bring our freshmen along so that when we get to the second part of the season, they're certainly a more reliable group. And I think we're seeing some of that. I think when we look at some of our performances earlier in the year and how we did against teams, I think we've generally done better against teams in the second half of the year. I like to think it's improvement, but you don't know. Maybe another team had a significant injury or something along the way. Or maybe they just had a down game, but we're certainly looking at it from the positive side that we're getting better."
While some obstacles were by design, others were not.
"We really have dealt with not only the adversity I kind of threw at the team by some of the things that we did earlier in the year and by playing so many different people in different roles, but we have had injuries all year long, and they seem like they've been some significant injuries to people where we've been missing this person in the game or that person in the game, and it's affected the power-play unit or it's affected a line combination or a couple of line combinations," Hudak said. "We still have been dealing with that in the second half of the season, but I think we've done better at dealing with it. We're going to have to deal with it again this weekend. Sasha Nanji was hurt in our game against St. Lawrence and is out for the rest of the season. So we're going to have to change the power play again and change the 'D' pairing again."
As the team's leading point-getter among defensemen, Nanji added an element that the team cannot easily replace. Her seven goals are more than twice what anyone else has tallied from the blue line.
"She's that defenseman that as a coach, you're a little scared sometimes when she's on the ice, because she does take a lot of chances, but at the same time, you get excited when she's on the ice, because at any time, something really good can happen," Hudak said. "So we're certainly going to miss her during the playoffs."
Dartmouth does have other sources to tap for offense. Four players have reached the 20-point plateau: seniors Fischer (28), Camille Dumais (28), and Hobeika (21), and frosh Laura Stacey (22).
"I think [Stacey has] done a great job over the course of the year," Hudak said. "She's another one that I think could have been easy for us to try to pair her up with a couple kids that would be easy for her to play with and kind of get her the puck and let her shoot. We've really kind of fought that, because I don't think it would have helped her as much. So I think we have a little bit more of a complete player now. We've put a lot of responsibility on her by playing with other people."
At the other end of the ice, Dartmouth relies on junior Lindsay Holdcroft, who has started 26 of the team's 29 games.
"Lindsay has just been a great goalie for us for three years," Hudak said. "I think she continues to get better, playing with confidence. I think the team does a really good job in front of her. I think it's one of the interesting relations that the goalie has with the rest of the team. If the team trusts the goalie, they can play with a lot of confidence in front of her, and if the goalie trusts her team, it allows her then to also play with that confidence. I think they feed off one another in a very positive way. I know that the other kids on the team really want to play well in front of her and do what they need to do so she can see the shot."
Hudak hopes that the strategy that hurt in the standings early produces a better team in March.
"When you look within our league, in order for a team like us to make it to the NCAAs, we're going to have to beat the best team," he said. "We're going to have to be the best team on that given day. I think that's what we've been fighting for. We certainly have had some great games against Cornell, some great games against Harvard. Clarkson is the one team that we really have had the toughest time with. I think that the team goes into the playoffs saying, 'You know what? We can play with everybody.' And here it is; it's win or go home. And that's kind of how we've approached it over the last couple of weeks. Game by game, win, we move on, win, we move on. Now, it really does mean that. Win, we move on. Lose and it's an early end to the season."
With that pressure, a team has to bring its best effort every time out, and much of the responsibility of ensuring that players are ready mentally falls on the captains.
"It's not difficult at all to build up emotion going into the first round of the playoffs, let alone an Ivy League rival like Harvard," Fischer said. "The key to channeling it is to make sure that we're keeping things in check and going into the weekend with the right mindset. I think one of the things that we're focusing on is just kind of maintaining the energy that we've been having the last couple of weeks. I think we've done a good of channeling our energy and staying focused, and we've had some pretty good outcomes lately. Right now, I think we're going to try and focus on keeping things rolling and just building off of what we're doing lately."
The Big Green lost only once in February, despite playing four of the teams that finished above them. To outlast those teams and climb to the top of the ECAC once more, Dartmouth will need to rely on a deep and talented senior class.
"It is a large group that's been together for four years, and we've had some times where we thought maybe we'd do a little bit better, and we didn't," Hudak said. "And now we're getting to the end and when you look at it, it's nine kids minus Sasha, but it's nine kids that are sitting there saying, 'Okay, here's our last chance.' As a coach, you certainly hope they're going to put all that out there on the ice in these last few games and let's see what happens."