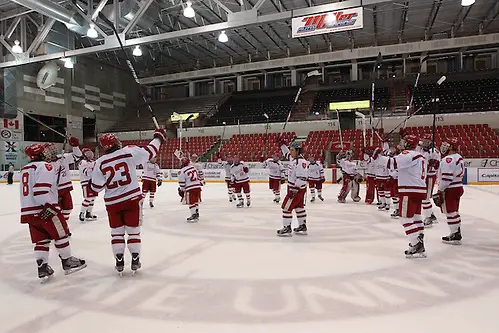 Gustavus Adolphus and St. John's will play for the Minnesota Intercollegiate Athletic Conference championship on Saturday afternoon. A trip to the NCAA tournament will be on the line as well.
Both teams are familiar with each other, having played twice during the regular season. At this point, the focus of the Gusties and Johnnies isn't as much on scouting reports as it is on their own strengths and weaknesses.
"We are more concerned with our team, and we won't change the way we play and they probably won't change much either," St. John's coach Doug Schueller said. "We just want to be as fresh as possible for the game and be ready to play our best hockey."
Gustavus coach Brett Petersen had similar thoughts on the game, as his team takes aim at repeating as MIAC tournament champions.
"We just have to focus on what we need to do as a team and go out and play good hockey," Petersen said. "We've always tried to just worry about what we can control, and it's worked for us this year. We're playing well right now."
As the fifth seed, the Gusties took the longer road to this title game, winning 3-2 in a first-round game against St. Olaf on Friday night before edging co-conference champion St. Thomas, 1-0, on Saturday. Those wins pushed their win streak total to eight. The Gusties (17-7-3) are 10-1-2 since Jan. 1.
While Gustavus was forced to play an extra game, Petersen was never concerned. His team has been through this before, when it won the conference tourney in 2012 and played in the NCAA tournament. All but one player is back from that team.
"As I've said before, we have a lot of players with experience, and I think that was a benefit to us this past weekend," Petersen said. "This is the time of the year where experience can make a big difference, and we have seasoned players who understand how to handle these situations."
The Johnnies, who lost, 3-1, to the Gusties in a thrilling tournament semifinal game a season ago, are confident as well. They have rattled off five consecutive wins, and have lost only once in their last 13 games.
St. John's (15-7-4), the co-champions of the conference, jumped in front of Concordia in its semifinal game by two goals, had its lead cut to 2-1, and then scored three unanswered goals to finish off a 5-1 win.
"We've been playing well, and we were confident we would come out on top, even when they made the score 2-1," Schueller said. "Our guys played one of their best games of the year on Saturday. We played three really good periods of hockey, and I was happy with our effort and performance."
Much of the Gusties' success in their two wins was fueled by goalie Tyler Venne, who was named the conference player of the week. Venne made 26 saves against St. Olaf, and tallied 24 saves against St. Thomas as he earned his third shutout of the season.
Venne has been the top goalie for the Gusties since December, when the team's other two goalies were sidelined with injuries.
"His effort was outstanding; I thought the whole team gave a great effort," Petersen said. "Our conditioning was big for us, too. I didn't think we were tired at all. We were fresh and ready to play."
The MIAC has been a tight and competitive conference all season. Only three points separated the fifth-place team from the first-place teams, and the championship game is expected to be a close one.
Gustavus and St. John's met twice during the regular season, and both games ended in ties.
"There is so much parity in this league, and someone would be naive to think this game won't be as close as most of the other games have been this year," Petersen said. "There isn't a big margin of error in games like this. We both know each other well, and it just comes down to which team plays its best."
Schueller won't disagree with that, and adds that both teams have a lot in common.
"Our teams are very similar in a lot of aspects of our games," Schueller said. "It's all about who can finish chances and be the most consistent team. It's going to be a very challenging game, and we are excited about having the opportunity to host it."