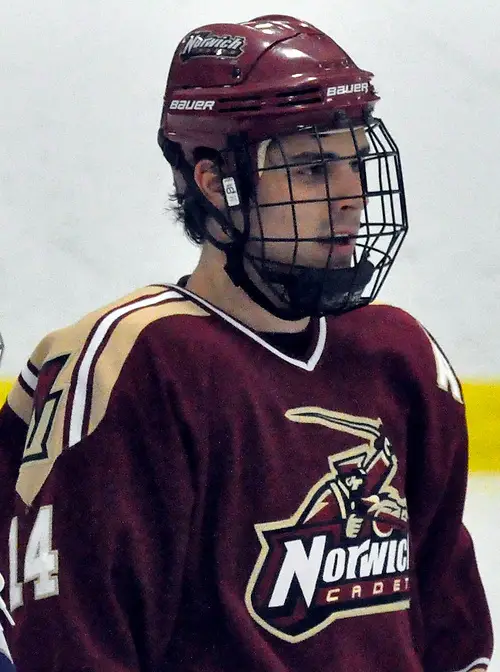 Norwich's four-for-four conference tournament bid went awry when Babson and goaltender Zeke Testa eked out a 2-1 victory in Northfield in a game where the Cadets outshot their opponents by a 40-13 margin. Sometimes having the better of the play isn't enough against a hot goaltender and a team that has had Norwich's number this season.
"The kids were extremely disappointed," said Norwich coach Mike McShane. "They thought the season was over. They don't know how the NCAA seeding works, and I hoped that our season overall was good enough to get us in the tournament. We got a new life this week, and last Saturday's loss has brought a new focus to the team this week. Sometimes, you can play a really good game and it just isn't good enough. Babson played hard and well last week. We will learn from that what we can do better and bring it the game on Saturday regardless of who we play."
Ironically, depending on the outcome of Wednesday's game between Wentworth and Babson, a fourth straight trip to the Frozen Four might challenge the Cadets with beating an opponent they haven't solved this season, and more importantly have lost to twice on home ice this year.
"We played Wentworth in the quarterfinals last year, and they have a good team," said McShane. "I am not counting them out on Wednesday night. This is really a great time of the year. Finding out who is in the tournament and what the match-ups are, along with seeing the great hockey and level of play from all the teams left playing. The Frozen Four is in Lake Placid again — this is all just great stuff."
This group of seniors at Norwich has an illustrious record. As freshmen, they won the national championship at Lake Placid against St. Norbert in overtime. Earning a trip back to upstate New York would bring this group full circle and provide them a chance to bookend their careers with a national title.
"I met with the seniors yesterday, and they have been great," noted McShane. "They have provided great leadership for us all season, and will continue to do so this week and as far as we go in this thing. They feel like we got a second chance after losing last Saturday night, so I know they are motivated to play well and help our team do the same."
While Colin Mulvey has been a fixture with juniors Travis Janke and Tory Allan, Blake Forkey, Kyle Thomas and Pier-Olvier Cotnoir have been spread out among the remaining offensive lines, giving any opponent pause in looking at line match-ups or opportunities to stem the offensive onslaught the Cadets are noted for. All three had big roles in Friday's semifinal win over Castleton in the ECAC East Conference tournament, and as time winds down, both on the season and their careers, the focus and intensity have become more acute for a distinct group that has so much experience in games that matter.
While the upfront talent is well-defined and the defensive pairings are pretty solid, the Cadets have played any one of three goaltenders with favorable results all season, and in fact all three saw playing time in the two games last weekend. Some may think that you need to go with the hot hand, or just one come tournament time, but don't count McShane among those who put a lot of credence in that tenet.
"We really are sticking to our routine on everything," stated McShane. "We are setting our daily goals in practice and working on things to be better. All season, we have looked at the goalies in practice and made a decision by Thursday on who will be playing. Sometimes on a Saturday game, I have let them know that morning. We got all three in action last week, and it was good to see Parker play well in less than great circumstances. We are staying focused on our goals for the week in practice, and based on how they play will make our decision on who goes on Saturday against whoever we play."
Regardless of the opponent or the outcome of the game in Northfield on Saturday night, the seniors wearing maroon and gold should be the highlight of the evening. Not for what they are likely to do in 60 minutes of hockey, but for what they have brought to a top-flight D-III program during their four years at Norwich. They leave a legacy that will be difficult for other classes to match, and hope to set the bar very high on the way out the door by achieving success on one last mission on a rink in Lake Placid, New York.
Norwich: By the Numbers
Tournament Qualification: at-large bid
NCAA Tournament Profile: 14th NCAA Tournament appearance
Last Appearance: 2012 (semifinal loss to St. Norbert, 4-2,)
Best NCAA Finish: Champions — 2000, 2003, 2010
Road to NCAA Tournament
L, 2-1, vs. Babson, (ECAC East championship game)
W, 6-2, vs. Castleton, (ECAC East semifinals)
W, 2-0, vs. Southern Maine, (ECAC East quarterfinals)
Team Statistics
ECAC East Regular Season: 16-1-1, (First)
Overall Record: 23-3-1
SOG: 31.0 per game
Opponents' SOG: 17.8 per game
Power Play: 17.8 percent
Penalty Kill: 84.0 percent
Offense: 4.04 goals per game
Defense: 1.63 goals per game
Individual Leaders
Colin Mulvey — 19 goals, 18 assists, 37 points
Travis Janke — 15 goals, 22 assists, 37 points
Tory Allan — 10 goals, 21 assists, 31 points
Kyle Thomas — 10 goals, 15 assists, 25 points
Chris Czarnota — 1.57 goals-against average, .915 save percentage
Matic Marinsek — 1.97 goals-against average, .896 save percentage
Parker Carroll — 0.58 goals-against average, .950 save percentage