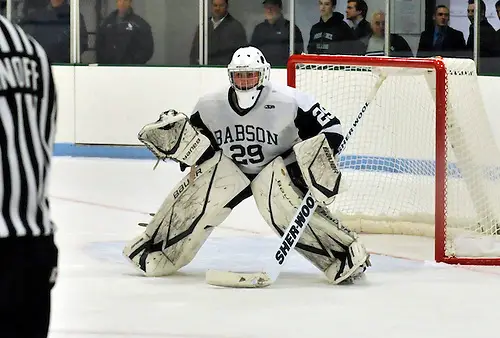 Playing in their third conference championship game in the past four seasons was the charm for coach Jamie Rice and his Babson men's ice hockey team. A hard-fought, 2-1 win, backstopped by resurgent senior goaltender Zeke Testa, earned the Beavers the automatic bid into the NCAA tournament and a first-round game at home against the ECAC Northeast champion, Wentworth.
"Pick Wentworth," repeated coach Rice. "Pick Wentworth! They are a very good team and haven't lost since January. They repeated as conference champions, and won their NCAA first round game last year — pick Wentworth! Seriously, the only thing we are focused on is playing Wednesday night, and I hope we play well and that we get to practice on Thursday."
The Beavers have been playing well themselves of late, and much has to do with the outstanding goaltending of senior Zeke Testa, who has been virtually bulletproof down the stretch while going 9-2-4 this season. In the championship game win over Norwich, Testa stopped 39 of 40 shots, including 20 in the third period alone.
"It is great to see Zeke playing well," stated Rice. "It is really great to see good things happen to good people, and Zeke certainly falls into that category. The great thing about the weekend was that our seniors who have provided great leadership all season came up so big when we needed it. PT [Donato] is the only one who wasn't on the score sheet, but he has led us every year he has been here. Trevor [Hines] ties the game with Norwich from Matt [Leer], and Jay [Haseley] sets up the game-winner.  In the semifinal game, Jay ties the game and Ryan Smith scores in overtime to win it. Zeke was great in both games, but it was terrific to see the leadership on the ice and the contributions of these seniors when everything was on the line.
"I will tell you a funny story. [Former player] Brad Baldelli called me while we were on the bus up to Norwich to wish the team luck. I said we could use number 23 to score another overtime winner like the one that beat Massachusetts-Boston for the title a few years ago. It was a huge goal and his 100th point — you can't script that stuff. Brad said, 'Coach, someone else will create their memory of a lifetime.' So after fighting back to tie the game in the third period, I told the guys in the locker room what Brad said. They didn't know him from playing with him, but knew who he was. Then Ryan goes out and scores to win it — you really can't script this stuff."
Babson's top two scorers, Donato and Connor Berto, didn't factor into the mix in terms of points this past weekend, and that may be a huge plus for the Beavers heading into Wednesday's game with Wentworth. Other players are stepping up and making significant contributions to wins, and it is a different guy each and every time out there. So coach, what is the strategy for the game on Wednesday?
"We are going to go out and play the best we can." Said Rice. "We really can't dissect an opponent at this point in the season, and certainly not during a game, so we will just focus on doing what we do best. There isn't anything I can say or repeat to these guys that they haven't heard a million times this season. There are no new revelations. We are just going to keep things normal, and really hope that we play well enough to practice on Thursday."
So Jamie, that's it?
"No, pick Wentworth! I am not above using anything as a motivational tool, and that would certainly help me out with some stuff for our next practices and the game on Wednesday night. The kids all have computers, and they all read this stuff and the predictions. Help me out here — pick Wentworth."
I guess you will just have to see which team I pick for the first round game on Wednesday, but rest assured, the Beavers will be ready to go on their home ice, because they certainly don't want to miss practice on Thursday.
Babson: By the Numbers
Tournament Qualification: ECAC East Champions – automatic qualifier
NCAA Tournament Profile: 15th NCAA Tournament appearance
Last Appearance: 2009 (preliminary round loss to Amherst, 4-2,)
Best NCAA Finish: Champion — 1984
Road to NCAA Tournament
W, 2-1, vs. Norwich, (ECAC East championship game)
W, 4-3 (OT), vs. Massachusetts-Boston, (ECAC East semifinals)
W, 7-1, vs. Skidmore, (ECAC East quarterfinals)
Team Statistics
ECAC East Regular Season: 10-5-3, (Third)
Overall Record: 17-6-5
SOG: 31.1 per game
Opponents' SOG: 29.1 per game
Power Play: 29.1 percent
Penalty Kill: 89.0 percent
Offense: 3.36 goals per game
Defense: 2.21 goals per game
Individual Leaders
PT Donato — 3 goals, 23 assists, 26 points
Connor Berto — 16 goals, 6 assists, 22 points
Mike Driscoll — 11 goals, 9 assists, 20 points
Nik Tasiopoulos — 5 goals, 13 assists, 18 points
Zeke Testa — 1.90 goals-against average, .934 save percentage
Jamie Murray — 2.24 goals-against average, .922 save percentage