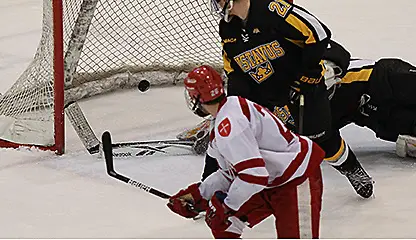 Progress for St. John's men's hockey team has been more of a grind than a smooth ride.
Senior forward Michael Palmiscno, a two-time team captain, will tell you as much. In his first three seasons, the Johnnies won a total of 26 games and made one appearance in the Minnesota Intercollegiate Athletic Conference playoffs. That was last year, when the Johnnies finished 11-13-2 and were knocked out of the postseason in a 3-1 semifinal loss to eventual champion Gustavus.
Like all losses, that one hurt, maybe more than others, but the Johnnies came into this season determined to not only return to the playoffs, but to compete for a MIAC championship.
The agony of defeat was no longer a burden, but rather the ultimate motivation.
"Our goals were a lot different this year," Palmiscno said. "We wanted to win the conference and get to the NCAA tournament. We have gotten better each year I've been here, and we felt like we could be a really good team this season."
Not all dreams come true in sports, but this one did. On Saturday afternoon inside the National Hockey and Events Center in St. Cloud, St. John's made their dream a reality.
The Johnnies (16-7-4) celebrated a hard-fought 3-2 win over Gustavus Adolphus, a riveting game they won on a goal by Justin Hochsprung with just over three minutes to play in regulation. They savored the program's first MIAC tourney title since 2003, and relished the fact that they were taking St. John's back to the NCAA tournament for the first time since 2005.
Hochsprung tallied an assist as well, while junior forward Jason Johnson and sophomore defenseman Nick Senta also scored goals. Sophomore forward John Haeg dished out three assists, and sophomore defenseman Nick Vatnsdal racked up two assists. Freshman goalie Saxton Soley racked up 19 saves and improved to 10-1-1 in his last 12 starts.
"It feels great to win the conference and get a chance to play in the NCAA tournament," Palmiscno said. "We've come a long way during my career here, making a lot of changes, and it feels awesome to have this experience."
Doug Schueller began coaching this team in 2008, and the former Bowling Green State University hockey star guided the Johnnies to 10 wins overall and a seventh-place finish in the conference in his first year.
St. John's was eighth in the conference a year later, and tied for seventh in 2011. The Johnnies won 15 games in that two-year stretch, and were still so far away from being a contender.
The struggles are what made Saturday even more enjoyable, as St. John's won a MIAC tourney title for the fifth time in program history.
"It's a well-deserved championship," Schueller said. "Our players have bought into our system and have phenomenal character. They have worked hard, and have been a great group to coach. We're very excited about still playing hockey this week."
Schueller had a feeling back in November that this team was good enough to compete for a conference crown. Granted, he knew it wouldn't be easy in a conference filled with parity, but as the season progressed, his hunch began to feel more real.
The Johnnies closed the season on a five-game win streak, and won eight of their final 10 while losing only once during that stretch. The co-champions of the MIAC blasted Concordia, 5-1, in the semifinal round of the tournament and survived a grueling title game against a Gusties team that they had tied twice during the regular season.
"We had some question marks going into the season, but I thought we were good enough to compete for a championship," Schueller said. "We played really well in the second half of the season, and that is when it really began to click that we had a chance to do something special."
St. John's will continue its special season this week when it makes a trip to Wisconsin to take on nationally-ranked Wisconsin-Eau Claire in an NCAA tournament opener.
Interestingly enough, the Johnnies and Blugolds have played once this season. It was back on Jan. 4, when the Johnnies were dropped 5-1 on the road. It was one of only three losses St. John's suffered in the 2013 portion of its season.
Both teams have made strides since, but having a little familiarity with an opponent at this time of the year never hurts.
"It definitely helps, because we know what kind of team they are," Palmiscno said. "They are one of the best teams in the country, and have a lot of skilled players. We have to play our best."
Schueller said his team won't change much to its approach against the Blugolds (20-5-2).
"It seems like such a long time ago since we've played them, and both teams are different than they were in January," Schueller said. "It does help that we have played them, but we aren't going to change much now. We'll stick to what got us here."
St. John's doesn't have much time to enjoy its MIAC title, as it is hitting the ice on Wednesday for a 7 p.m. game at the Hobbs Ice Center.
Both teams have endured the wear and tear of a long season, and the way Palmiscno sees it, being ready to roll shouldn't be an issue. The winner plays two-time defending national champion St. Norbert on Saturday.
"We've worked hard all year to get to this point," Palmiscno said. "We will try to get rested as much as possible, but if you don't have the energy to play an NCAA tournament game, you probably shouldn't be out there. We're excited about our opportunity."
One of the keys to success for St. John's has been its ability to be more consistent, something that will be of the utmost importance against Eau Claire.
"We have learned to play a full 60 minutes, rather than take 10 minutes off here or there, and that has been huge for us," Schueller said. "We know that if we aren't consistent for three periods, Eau Claire will capitalize. We can't afford to let up at all."
In a tournament setting, where the pressure is a little higher and the only options are win the game or call it a day, the Johnnies know that nailing down a win in the tourney opener is not out of their reach.
"It's the playoffs now, and we know that anything is possible," Palmiscno said. "We know that if we play our best and give it everything we have, we can come out of here with a win."