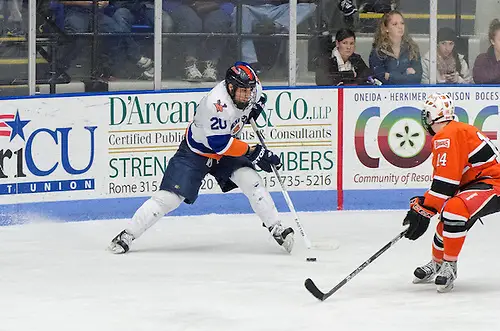 The 2012-13 ECAC West campaign will continue for at least one more contest.
Seventh-ranked Utica (20-5-1 overall) will represent the conference in this year's national tournament, in the Pioneers' first-ever NCAA appearance. They will host a second-round game on Saturday night at the Utica Memorial Auditorium against the winner of Bowdoin and Massachusetts-Dartmouth, who will face each other on Wednesday in a first-round match-up.
Utica, which also won the ECAC West regular-season title over Hobart via a tiebreaker, but was eliminated in the league semifinals by Manhattanville in overtime, gained an at-large bid to the NCAA tournament, along with Norwich and Wisconsin Eau-Claire.
The only coach the Pioneers program has known since its debut in 2001-02, Gary Heenan has led Utica to eight winning seasons, including a record 20 wins this year, along with the league title and subsequent NCAA berth.
"It has been a long road," said Heenan. "It feels great, and I'm happy for our guys."
"We've worked hard all four years, and we have a lot of great guys," said Utica captain and four-year letterman Evan Chlanda. "We came together this year to make it a reality, and our goal was to get to a point like this. It's a great opportunity."
"It's pretty much one of the main reasons I came here," said Utica sophomore forward and leading scorer Louie Educate, who has collected 17 goals and 18 assists for 35 points this year after transferring from Nichols College in the offseason.
"Our team had a good opportunity to go to nationals, and now that we're there, we're excited," added Educate, who was also named ECAC West Player of the Year.
Heenan mentioned that players and coaches have their dreams, even when playing in such a tough league as the ECAC West, where there is no automatic bid to the NCAA tournament, and where the six schools face one another at least three times a year.
"To represent our league right now is certainly satisfying," he said. "It's exciting, and I think everybody (in the NCAAs this year) has been in except us."
He also admitted it would be nice to scout different opponents, and try to get a handle on their abilities and tendencies.
Chlanda said he and his teammates were excited to see the Utica name appear on screen during Sunday night's NCAA tournament selection show.
"The guys were pretty pumped," he said. "They're amped up for sure."
"We weren't sure if we were going to get a bid or not," admitted Educate. "It was a pretty cool moment."
Having one more home game will only make this first Utica foray into the NCAAs even better.
"Our fans come out each and every home game, and it's exciting for us," said Chlanda, a business management major at Utica. "They were lining up for tickets this (Monday) morning. There's a buzz around town for sure, and hopefully we'll come out and play well on Saturday."
"Playing at the Aud is one of the biggest home ice advantages," said Educate, who also spoke of how Utica fans regularly sell the building out, and should do so again on Saturday. "It gets really loud in there."
Heenan concurred that there had been instant anticipation in Utica since the Pioneers NCAA selection was announced on Sunday, especially since they haven't played a game since Feb. 23.
"The lines around the building (for tickets) have been overwhelming," he said. "It's a thrill to be at home, and after a couple of weeks off, we hope to come out of the gate and play the way we're capable of."
Saturday's contest will also mark the final home game of Chlanda's Utica career, which has seen the 6-foot-4-inch, 216-pound native of Islip, N.Y., tally 39 goals and 49 assists for 88 points through 96 games.
"It's been a quick four years for me, but I wouldn't want it to end any other way," he admitted. "We have a great opportunity to take advantage of, and we'll see what happens in the next three games or so."
********************************
Neumann wins ECAC West Championship
Steve Gervais, Casey Rogers, and Jake Krantz broke open a scoreless tie with goals in the last 14 minutes of regulation to lift third-seeded Neumann University to its second ECAC West Tournament title in five years with a 3-0 win over fourth-seeded Manhattanville on Saturday night in Aston, Pa.
It was Neumann's first ECAC West Tournament title since 2009, when the Knights also went on to win their first NCAA Division III national championship. Manhattanville finished the season at 15-10-3 overall, while Neumann concluded the campaign at 19-6-3 after winning its last seven games, and 15 of its final 18 outings.
Braely Torris made 22 saves against the Valiants in picking up his seventh straight win and fourth shutout of the season to earn Most Outstanding Player accolades. Gervais, Scott Farrell, and Harley Garrioch were all selected to the ECAC West All-Tournament Team for the Knights.
"It felt great," said Neumann coach Dominick Dawes of the victory. "The guys deserved every single bit. They worked hard, and we beat every team we played against."
He also pointed out that the Knights, who moved up to No. 11 in this week's USCHO.com poll, had gone 14-2-1 since Christmas. Unfortunately, that wasn't enough to push them into the national tournament, as there is no an automatic bid for winning the ECAC West playoff crown. Eighth-ranked Hobart, which lost to Neumann in the conference semifinals, was also shut out of an NCAA bid despite finishing 19-5-2 overall.
"It's disappointing," said Dawes. "We're one of the hottest teams in the country, but the process is what it is, and we knew that going in."
He added there were plenty of teams that deserved to play in the nationals and could compete at that level, but realized there were only 11 spots in the tournament. He also felt for his 10 seniors, whose collegiate careers came to an end in the title game win over Manhattanville.
"That's a hard pill to swallow," he said. "They deserved that (NCAA) opportunity."
Replacing those 10 players, including eight forwards and two defensemen, won't be a simple task, but it may not be as daunting as it might look.
"We'll see what happens," said Dawes. "We've been down that road before, and we've gotten back to where we needed to be quickly, and that's the goal."
The memories of this Neumann season though, will last a lifetime, especially for the Class of 2013.
"I'm proud of all our guys this year, and the 10 guys who played all four years," beamed Dawes. "Not many people can say they won a championship in their last college game."