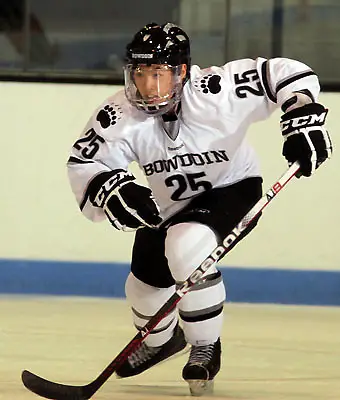 The smiles that one sees on the faces of Bowdoin hockey players, even after the most grueling of workouts, really aren't much different than those of elation seen after Sunday's 2-1 win over Williams College for the NESCAC Conference championship. If it involves playing hockey, this Bowdoin team knows how to have fun playing the game, and it shows on the ice.
"I don't know that I have had such a group here that just goes out and has fun every day," noted Bowdoin coach Terry Meagher. "If the ice melted in the arena and we had to skate on a pond, they would be volunteering to dig pucks out of snow banks or scraping the ice so we could play. They are always smiling, even in practice, and just have fun playing the game. So this game this week is another chance to go out and keep smiling."
The Polar Bears have already tied the school record for wins in a season, and have an opportunity to break new ground in Wednesday's match-up with MASCAC champion Massachusetts-Dartmouth. The Corsairs knocked off defending champion Plymouth State over the weekend to earn their way into the NCAA tournament, and now must travel to Brunswick, Maine, to take on Bowdoin on the big sheet.
"We have exchanged films," stated Meagher. "They have obviously been playing well. They have a very hot goaltender and an iconic coach in John Rolli. We know they will come here and be ready to play, and our guys wouldn't want it any other way."
The "go-to" guys for the Polar Bears all season made their presence felt in the conference tournament during both wins over Middlebury and Williams. Ollie Koo, Daniel Weiniger, and Harry Matheson all factored in on the score sheet, and were directly involved in producing the game-winning goals in both games.
"What can I say about these guys, really?" said Meagher. "Daniel [Weiniger] has been just a terrific player who totally supports his teammates, even when things aren't always going great for him on the ice. He has such great leadership. Harry has been very productive, and is just so  smart out there on the ice. Against Williams, he sees something and goes to a spot and scores a huge goal, ends up the game-winning goal with just four seconds left in the first period. That gave us a two-goal lead going into the locker room, and gave us just an emotional lift.
"I can't tell you how proud I am of all of them, but especially Ollie [Koo]. He has just taken his game to the next level this season, and really has done it on his own and with his teammates. We, the coaches, aren't worrying about Ollie much in terms of spending a lot of time to get him to where he needs to be. He has done it, and has been a very big part of our success this season."
Back in the crease, the Polar Bears have received great goaltending from both Steve Messina and Max Fenkell. At 10-0-1 this season, Fenkell remains unbeaten in goal for the Polar Bears, and earned both wins in the final two games of the NESCAC tournament that earned the automatic bid for Bowdoin to the NCAA tournament.
"Both guys have played well this season," stated Meagher. "It gets really difficult at this time of the year, because you can only play one. Max had a very good weekend, and we will go through the next couple of days and reassess before we make a decision on who goes on Wednesday. We have confidence in both guys, but we will use the time in practice to see who might have a little edge for Wednesday."
Bowdoin last hosted a NCAA tournament game in the 2010-11 season, when they beat Neumann in the first round prior to bowing out to Oswego in the quarterfinals. This year's edition of the Polar Bears is thrilled to again give their home fans a taste of the big tournament, for which they will be the institutional host in 2014 in nearby Lewiston, Maine.
Home or away, this team is having fun anytime they lace up the skates, so whether it is practice early in the week or the game on Wednesday, the players are smiling at the joy of just playing. With the results they have had this season, there is no reason for the team and their coach not to be.
Bowdoin: By the Numbers
Tournament Qualification: NESCAC Champion – automatic qualifier
NCAA Tournament Profile: Fourth NCAA Tournament appearance
Last Appearance: 2011 (quarterfinal round loss to Oswego, 7-5)
Best NCAA Finish: Quarterfinalists — 2000, 2010, 2011
Road to NCAA Tournament
W, 2-1, vs. Williams, (NESCAC championship game)
W, 4-2, vs. Middlebury, (NESCAC semifinals)
W, 5-3, vs. Hamilton, (NESCAC quarterfinals)
Team Statistics
NESCAC Regular Season: 13-3-2, (First)
Overall Record: 22-3-2
SOG: 36.3 per game
Opponents' SOG: 29.4 per game
Power Play: 26.7 percent
Penalty Kill: 82.2 percent
Offense: 4.30 goals per game
Defense: 2.52 goals per game
Individual Leaders
Ollie Koo — 15 goals, 17 assists, 32 points
Daniel Weiniger — 17 goals, 12 assists, 29 points
Harry Matheson — 12 goals, 16 assists, 28 points
John McGinnis — 10 goals, 17 assists, 27 points
Max Fenkell — 2.03 goals-against average, .933 save percentage
Steve Messina — 2.79 goals-against average, .901 save percentage