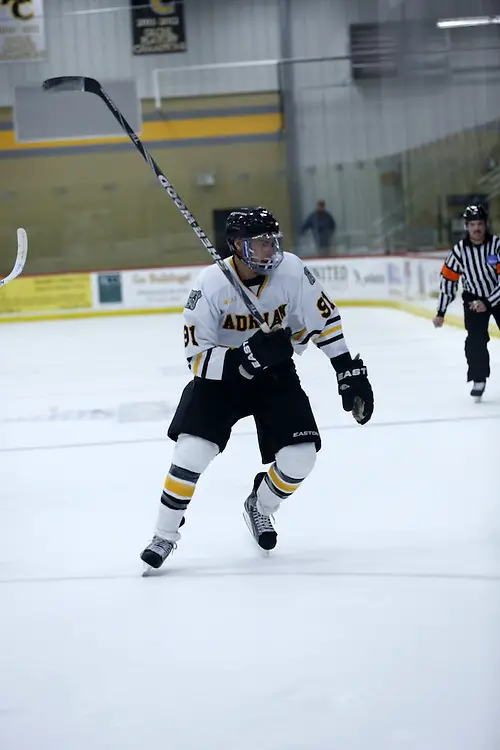 Adrian College forward Shaquille Merasty has been selected as the USCHO D-III Rookie of the Year, beating out St. John's goalie Saxton Soley and Massachusetts-Boston forward Peter McIntyre for the award.
Merasty, a 6-foot-3-inch, 202-pound natural goal scorer who hails from Manitoba, helped Adrian win its sixth consecutive MCHA title. He finished second in the nation in goals scored with 22 in 28 games, and was tied for 10th in the nation in overall scoring with 38 points for a 1.36 points per game average. Merasty also finished tied for seventh in the country in power-play goals with eight, and tied for third nationally in game-winning goals with five. Mersaty also finished second in the MCHA in scoring with 18 goals and 29 points, one point behind teammate Zach Graham, and averaged 1.45 points per game in conference, also second behind Graham.
Merasty also earned All-American honors this season, being selected to the West second team. He was also named to the MCHA All-Conference team and the MCHA All-Freshman team. Merasty was named MCHA Freshman of the Week on Nov. 5 and Nov. 27, and MCHA Player of the Week on Jan. 28.
USCHO's D-III awards are voted on by the Division III columnists and editor. Still to come this week are the All-USCHO first, second, third, and all-rookie teams.