Quinnipiac, Minnesota, Massachusetts-Lowell and Notre Dame are the No. 1 seeds as regional play in the NCAA tournament starts up this weekend at four sites across the country.
Quinnipiac is the No. 1 overall seed and will open the East Regional in Providence, R.I., against Canisius.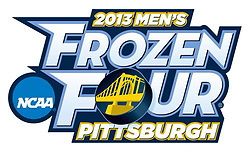 Road to the Frozen Four
NCAA tournament page, with bracket
Union and defending national champion Boston College also play in Providence.
In the Midwest Regional in Toledo, Ohio, Miami plays Minnesota State and St. Cloud State draws Notre Dame to open that regional.
New Hampshire gets to play in its backyard in the Northeast Regional in Manchester, N.H., against Denver. Wisconsin takes on Massachusetts-Lowell in Manchester as well.
"This is why you play college hockey, to play meaningful games," Massachusetts-Lowell coach Norm Bazin said. "We're down to two games to make it to the next step."
At the West Regional in Grand Rapids, Mich., Minnesota opens up against Yale and North Dakota plays Niagara.
Denver has played all three other teams in the Northeast Regional, losing 6-4 to New Hampshire, beating Massachusetts-Lowell in its season opener and tying and losing to Wisconsin.
The Pioneers led New Hampshire 3-0 after the first period on Nov. 24, and 4-2 after two periods before the Wildcats scored four times in the third period to win.
"We had a few big lapses in that game, and it was right at the beginning of a pretty bad time for us in the season," Denver captain Paul Phillips said. "We know how they play. We've played them before, and we played them good for a little bit of the game at least. They're a really good team though, and they'll be close to home. We'll be ready to go, and it's going to be a lot of fun."
The Pioneers and the Wildcats both lost in their conference quarterfinals and had to watch this weekend's games.
"I think both teams, both Denver and New Hampshire, not having had the opportunity to play in their conference tournaments, are going to be eager to get back playing and be able to take advantage of this bit of redemption," Denver coach George Gwozdecky said.
Lowell knows what it's getting into against a Wisconsin team that has won six straight games.
"I had the experience of facing Wisconsin for eight years [while an assistant at Colorado College]," Bazin said. "Defensively, they get good goaltending and are usually pretty tough to penetrate."
But the River Hawks get to play less than an hour's drive from home.
"I think it's great because you allow your fans to be part of the experience," Bazin said.
Wisconsin won its way into the tournament by defeating Minnesota State, St. Cloud State and Colorado College at the WCHA Final Five.
"I think that every team in this tournament can beat any other team," Badgers coach Mike Eaves said. "We've seen that all year in our league and playing in our non-conference games. Any team in this 16-team tournament can win. … The issue for us is maintaining what we have and keep rolling."
The 2013 Frozen Four is slated for April 11 and 13 at the CONSOL Energy Center in Pittsburgh.
Here's the full schedule through the Frozen Four:
Northeast Regional
At Verizon Wireless Arena, Manchester, N.H.
• No. 1 Massachusetts-Lowell (26-10-2) vs. No. 4 Wisconsin (22-12-7), 4:30 p.m. Friday (ESPN Syndication/ESPN3, ESPNU same-day delay, 10:30 p.m.)
• No. 2 New Hampshire (19-11-7) vs. No. 3 Denver (20-13-5), 8 p.m. Friday (ESPNU/WatchESPN)
• Semifinal winners, 6:30 p.m. Saturday (ESPNU/WatchESPN)
West Regional
At Van Andel Arena, Grand Rapids, Mich.
• No. 1 Minnesota (26-8-5) vs. No. 4 Yale (18-12-3), 2 p.m. Friday (ESPNU/WatchESPN)
• No. 2 North Dakota (21-12-7) vs. No. 3 Niagara (23-9-5), 5:30 p.m. Friday (ESPNU/WatchESPN)
• Semifinal winners, 4 p.m. Saturday (ESPNU/WatchESPN)
East Regional
At Dunkin' Donuts Center, Providence, R.I.
• No. 1 Quinnipiac (27-7-5) vs. No. 4 Canisius (19-18-5), 5:30 p.m. Saturday (ESPN Syndication/ESPN3, ESPNU same-day delay 11:30 p.m.)
• No. 2 Boston College (22-11-4) vs. No. 3 Union (21-12-5), 9 p.m. Saturday (ESPNU/WatchESPN)
• Semifinal winners, 6:30 p.m. Sunday (ESPNU/WatchESPN)
Midwest Regional
At Huntington Center, Toledo, Ohio
• No. 1 Notre Dame (25-12-3) vs. No. 4 St. Cloud State (23-15-1), 1:30 p.m. Saturday (ESPN Syndication/ESPN3, ESPNU tape delay noon Sunday)
• No. 2 Miami (24-11-5) vs. No. 3 Minnesota State (24-13-3), 5 p.m. Saturday (ESPN Syndication/ESPN3, ESPNU tape delay 2 p.m. Sunday)
• Semifinal winners, 4 p.m. Sunday (ESPNU/WatchESPN)
Frozen Four
At Consol Energy Center, Pittsburgh
• East Regional champion vs. Midwest Regional champion, 4:30 or 8 p.m. Thursday, April 11 (ESPN2/WatchESPN)
• Northeast Regional champion vs. West Regional champion, 4:30 or 8 p.m. Thursday, April 11 (ESPN2/WatchESPN)
• Semifinal winners, 7 p.m. Saturday, April 13 (ESPN/WatchESPN)