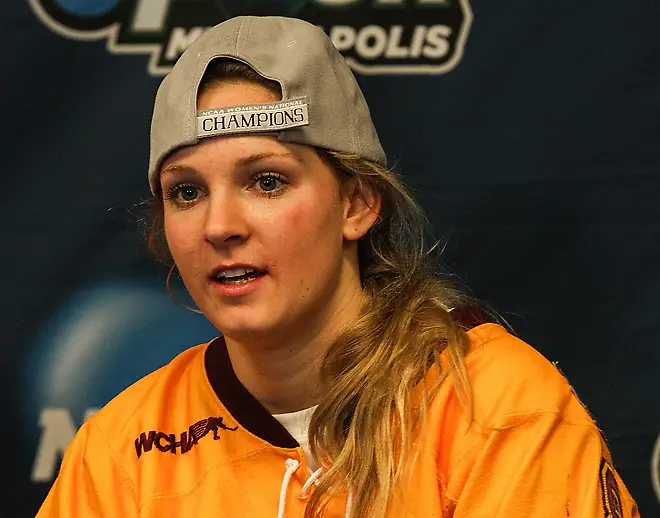 Minnesota forward Amanda Kessel, who won the Patty Kazmaier Memorial Award while leading the country in scoring, and Minnesota goaltender Noora Räty, who set season and career marks for shutouts and wins, have been named USCHO Co-Players of the Year for 2013. Kessel and Räty were both big parts of Minnesota's unprecedented 41-0 season in which the Gophers defended their NCAA title.
Kessel, who fought with injuries for much of the year that hampered her effectiveness, was still lethal to opposing defenses. At one point in the season, she was averaging over 3.00 points per game. She finished the season with 46 goals and 55 assists for 101 points in 38 games, averaging 2.66 points per game.
Of her 46 goals, only nine were scored on a power play, as she finished in a tie for sixth in the category. Kessel's eight game-winning goals were second in the country behind Jocelyne Lamoureux. Kessel led the country in short-handed goals with five, and her goals and assists totals also led all scorers.
"If there's a better hockey player in the country, I'd like to know who it is," said Minnesota coach Brad Frost on Jan. 13. "She is so special, and she's impacting the game at an incredible rate."
Kessel finished with 28 multi-point games on the year. After struggling somewhat with injuries down the stretch, Kessel reached deep within to score two goals and two assists in Minnesota's 6-3 win over Boston University in the national championship game.
Said Bemidji State coach Steve Sertich of Kessel on March 2, "I think she's maybe the best forward in the world right now."
The numbers this season for Minnesota senior goaltender Noora Räty speak volumes. The first-team All-American posted a 38-0-0 record with 17 shutouts, bringing her career totals to 114 wins and 43 shutouts; the season and career marks for both wins and shutouts are NCAA records.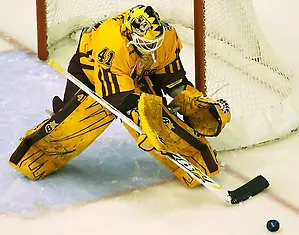 Her other statistics are just as noteworthy. She was the only starting netminder in the country with a goals-against average below one, allowing just 0.96 goals per game.
Räty turned in a .956 save percentage, the best by a goalie in a season in the NCAA era. That raised her career save percentage to .946, and yes, that's also an NCAA record.
"Noora is such a tremendous goalie," North Dakota coach Brian Idalski said earlier this year. "We have such a respect for her and the way that she plays."
This season, the native of Espoo, Finland, was a top-three finalist for the Patty Kazmaier Memorial Award for the second time in her career; she was also honored in 2010 as a freshman.
As great as Räty's direct impact on the game is, the boost her presence gives to the confidence of those playing in front of her is immeasurable.
"She's the rock for our team; she's proven to be the best collegiate goalie to ever play on the women's side," said Frost.
USCHO's D-I Women's Awards are voted on by the D-I columnist and editor. Still to come this week are the nation's top coach, rookie of the year, and the All-USCHO first, second, third, and all-rookie teams.