As winner of three of the last five national championships, Boston College makes any NCAA regional more difficult.
Then you add that the Eagles are the only team in the 2013 East Regional that didn't win a conference championship this season and are the only team entering the group with a loss in its last game and you have the makings of a highly competitive bracket.
Top overall seed Quinnipiac won the ECAC Hockey regular season title and the third-place game in the playoff championship. Union took the ECAC playoff title for the second straight year. And Canisius is on an eight-game winning streak after picking up the Atlantic Hockey playoff crown.
Here's a look at the teams that will be playing at Dunkin' Donuts Arena in Providence, R.I., this weekend: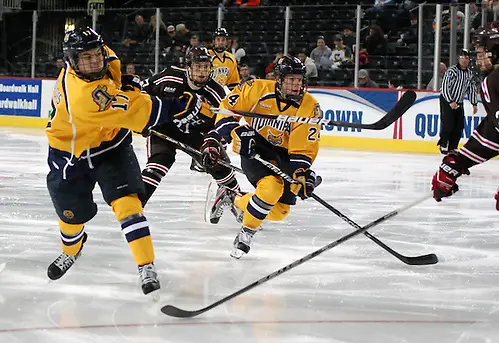 Quinnipiac Bobcats
Coach: Rand Pecknold, 19th season
Record: 27-7-5 (17-2-3 ECAC Hockey, first)
How they got in: At-large bid
Regional seed: First
Last NCAA tournament appearance: 2002
Best NCAA finish: First round, 2002
Why they'll get to the Frozen Four: Defense. The Bobcats are led by a veteran defensive group and have a Hobey Baker Award finalist in senior goalie Eric Hartzell.
Why they won't get to the Frozen Four: Inexperience. Quinnipiac hasn't played in the national tournament since 2002, and faded a bit down the stretch.
Last weekend might not have gone as planned, but Quinnipiac is still right where it wanted to be.
The Bobcats were shut out by Brown in the semifinals of the ECAC Hockey Championship, a game that coach Rand Pecknold said was the worst his team had played all year. Still, Saturday's 3-0 consolation game win over Yale sent Quinnipiac into the NCAA tournament on a winning note.
While losing out at a chance for the program's first Whitelaw Cup surely stings, Quinnipiac enters the tournament as the No. 1 overall seed and is playing in Providence, the location it wanted.
There's been some question as to whether the Bobcats peaked too early, evidenced by their 5-4-1 record over the last 10 games.
That stretch follows a 21-game unbeaten streak, which was the best in the nation this year, and resulted in the least-contested title race in ECAC history. As result, the Bobcats could afford to start planning ahead for any possible first-round opponents.
"I've actually been taping games at home on DirecTV for months," Pecknold said of his scouting efforts.
Their opponent will be Atlantic Hockey playoff champion Canisius, which enters the tournament on an eight-game unbeaten streak. The Bobcats and Golden Griffins were former members of the Metro Atlantic Athletic Conference, with Quinnipiac owning a 17-7-4 record in the series.
The Bobcats have gotten balanced scoring throughout the lineup. Case in point: Bryce Van Brabant, Cory Hibbeler and Kevin Bui each had a goal in the win over the Bulldogs. The trio entered the game with a combined eight goals on the season.
The Bobcats' top forwards put up good — not great — numbers, although senior Jeremy Langlois and sophomore Matthew Peca are excellent two-way players. An improved defense is what's allowed the Bobcats to get where they are. Quinnipiac boasts the nation's top overall defense (1.62 goals per game) and penalty kill (91 percent).
While senior goalie and Hobey Baker Award finalist Eric Hartzell has had a large hand in that defensive success, the Bobcats also have a veteran defensive group that has played well all season, including Zach Davies, who was named the league's top defensive defenseman.
The Bobcats looked tentative against a physical Brown team that was content to clog the middle and keep Quinnipiac's scoring chances to a minimum.
There's two ways of looking at Quinnipiac's play heading into the tournament. One, the Bobcats peaked too soon and are coming back down. Two, Quinnipiac has a new realization for what it'll have to do to pick up the program's first NCAA win, and more.
"We're going to take this as a learning lesson heading into the NCAAs," Bui said after Saturday's consolation game. "We can't take a night for granted because it's one and done. A lot of us haven't been to the second round or Atlantic City. So we're going to have to learn fast and I think we're ready."
Quinnipiac's only other tournament appearance came in 2002, when the Bobcats lost to Cornell 6-1 in the opening round.
— Nate Owen
Boston College Eagles
Coach: Jerry York, 41st season, 19th at Boston College
Record: 22-11-4 (15-9-3 Hockey East, second)
How they got in: At-large bid
Regional seed: Second
Last tournament appearance: 2012
Best NCAA finish: Champion in 1949, 2001, 2008, 2010, 2012
Why they'll get to the Frozen Four: Having won three of the last five NCAA tournaments, Boston College knows how to win. This is a team that is composed in the tough situations. It also doesn't hurt that the Eagles drew arguably the easiest bracket in the regional tournament.
Why they won't get to the Frozen Four: In a single-game scenario, things can get away from you quickly, as the Eagles found out last Friday night against Boston University. Goaltending, thus, is paramount and Parker Milner cannot afford to have any lapses.
Boston College enters the NCAA tournament as the most successful team in this event in the last five years. That, though, is hardly any guarantee that the Eagles will advance to the Frozen Four for the seventh time in the last 10 years.
This year's Boston College team has shown signs of inconsistency. After winning the Beanpot, the Eagles left two trophies on the table — the Hockey East regular season title and the Lamoriello Trophy.
"It's who gets hot down the stretch now," coach Jerry York said. "We certainly feel that this is another opportunity to pursue another trophy and, as we like to tell our kids, this is the shiniest of all of the trophies."
To do that, Boston College will first have to solve a Union team that advanced to its first Frozen Four a year ago and played well down the stretch to capture the ECAC Hockey title.
One major key will be the play of BC's defense. A bit of a patchwork unit all season due to injuries, the Eagles defenders will be pressured significantly by the Dutchmen.
York, returning behind the bench after missing the last two games recovering from a second eye surgery, plans to play just five defenseman on Saturday, leaning on TV timeouts to give his team the opportunity to stay fresh.
"We're going to look to two seniors to really settle us down there in Patrick Wey and Patch Alber," York said. "We're going to move Danny Linell back to forward. With Patch returning to health, we feel five defensemen can play on a regular basis and let us move Danny back to forward."
The Eagles also will have to get stabilizing goaltending from Parker Milner, who struggled in last Friday's 6-3 loss to Boston University in the Hockey East semifinals.
The one thing BC cannot count on in its regional is familiarity. BC has never played any of the other three teams. Quinnipiac and Canisius will join Union in hopes of keeping BC from another Frozen Four.
"Generally there are teams in our region that we've had history with," York said. "Usually it's North Dakota."
York said he more than respects Union given how well it played a season ago. He calls Canisius the Cinderella team, comparing it to the Florida Gulf Coast team that is making history in men's basketball. As for Quinnipiac, the No. 1 overall seed, York knows this is a good team despite its 6-4-1 record down the stretch.
"Quinnipiac is the No. 1 seed in the country and you don't get that by shopping at CVS," York said.
Still, given the Boston College recent resume, particularly of the senior class, you could consider the second-seeded Eagles a favorite to reach the Frozen Four.
"Our mind-set is this is a mini-tournament in Providence and the winner of this goes right to Pittsburgh," York said. "We're very, very excited about this."
— Jim Connelly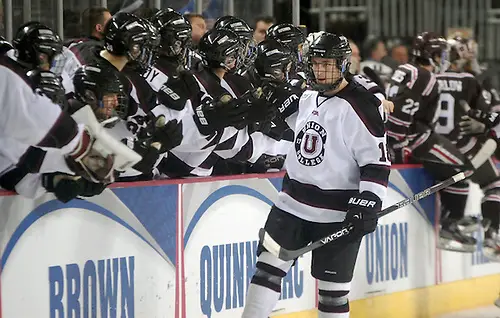 Union Dutchmen
Coach: Rick Bennett, second season
Record: 21-12-5 (10-8-4 ECAC Hockey, fourth)
How they got in: Automatic qualifier, ECAC Hockey playoff champion
Regional seed: Third
Last NCAA tournament appearance: 2012
Best NCAA finish: Semifinalist in 2012
Why they'll get to the Frozen Four: Union has been there before and the Dutchmen are playing as well as they have all season.
Why they won't get to the Frozen Four: Two words: Boston College. The defending national champions await in the first round. Take nothing away from Union, but the Eagles present a daunting matchup.
There was plenty of conjecture in the media that the Dutchmen experienced a bit of a falloff from last year's Frozen Four run, but the numbers say otherwise.
Union won its second straight Whitelaw Cup and is making its third straight NCAA appearance. Those are the marks of a program on the rise, which it's safe to say Union has been over the last few seasons.
"If you keep writing peaks and valleys, you're going to keep our bulletin board stocked," Dutchmen coach Rick Bennett said. "It's all part of the racket that we're in with sports. We just have to deal with it. These guys have done a tremendous job."
Still, the numbers do show that this season has had its challenges. Union went through a stretch with only two wins in 11 games but enters the NCAA tournament winners of five straight and seven of its last nine.
While last year's top scorers Jeremy Welsh and Kelly Zajac, along with steady captain Nolan Julseth-White, are all playing professionally, there's plenty of familiar faces from the Frozen Four team.
Goalie Troy Grosenick had some injuries this season, but he and the Dutchmen defense have allowed just five goals over their last five games.
Forwards Wayne Simpson, Daniel Carr and Kyle Bodie provide plenty of offense up front, while Union recently has also gotten contributions from Max Novak, Kevin Sullivan and Josh Jooris.
The Dutchmen feature an aggressive forecheck and can convert turnovers into goals quickly. They also have several defenseman who can jump into the play, including Shayne Gostisbehere, Greg Coburn and Mat Bodie.
Union gets a tough draw in defending national champion Boston College. The Dutchmen and Eagles have never faced each other, although Gostisbehere and BC forward Johnny Gaudreau were members of the gold-medal winning U.S. World junior team this winter.
"Last year was really special; just going through some ups and downs makes it as special," Bennett said of the Dutchmen winning their second straight league title. "I don't want to take away from last season, but this season with these guys has been phenomenal. It just never gets old. It's a lot of fun to work with these guys."
— Nate Owen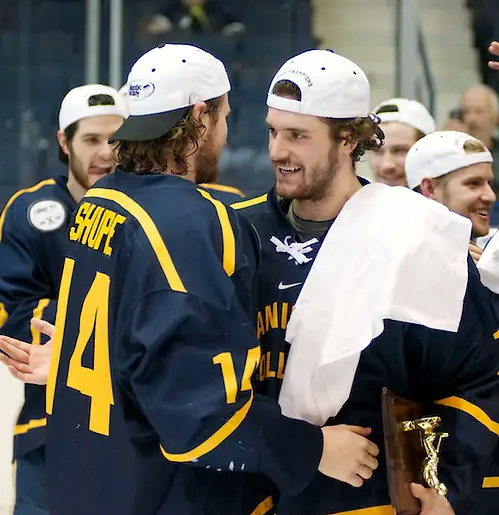 Canisius Golden Griffins
Coach: Dave Smith, eighth season
Record: 19-18-7 (12-13-2 Atlantic Hockey, seventh)
How they got in: Automatic qualifier, Atlantic Hockey playoff champion
Regional seed: Fourth
Last NCAA tournament appearance: None
Best NCAA finish: None
Why they'll get to the Frozen Four: The Golden Griffins are on an incredible roll, plowing through the field in the Atlantic Hockey tournament as the seventh seed. Canisius is on an eight-game winning streak, the longest in the nation and best in school history.
Why they won't get to the Frozen Four: As the 16th seed, Canisius has the toughest road to Pittsburgh.
It's been a wild ride for the Golden Griffins, who were in ninth place in Atlantic Hockey going into the final weekend of the regular season.
Canisius hasn't lost since, winning its first Atlantic Hockey title and first trip to the NCAA tournament.
Coach Dave Smith said that his team is living in two worlds right now, trying to temper the excitement and anticipation of the uncharted waters ahead and trying to focus on the task at hand, which starts with a matchup against top-seeded Quinnipiac.
"We've talked about it," Smith said. "This is my third trip to the NCAAs, including two [as an assistant] with Mercyhurst. You have to prepare for the distractions but at the same time have fun.
"I told the players you have to take all that and put it in a box. You have to separate the different worlds but try to have a great experience in each of them."
The last month has been a great experience for Smith and his team, which has 15 freshmen and sophomores.
"The players have matured through the season," he said. "The team has taken on the personality of the [four] seniors. The seniors have each contributed something. [Chris] Barrea hasn't played, but he's a leader and very resilient. Torrey Lindsay is a captain and is also the captain of our [third-best] penalty kill. Ben Parker captains our defense. And Preston Shupe is a highly skilled scorer and has scored some very big goals for us."
A pair of juniors, forward Kyle Gibbons and goaltender Tony Capobianco, also have led the way during the Golden Griffins' hot streak. Gibbons, who named MVP of the Atlantic Hockey tournament, has 34 points since the first of the year, tops in the nation. His 17 points in March are also the most in Division I.
Capobianco has appeared in 40 games this season, posting a .935 save percentage. He made 75 saves in Rochester last weekend and 90 the weekend before that at Air Force.
Capobianco and the rest of the Griffs will look to keep things rolling against Quinnipiac, the top seed in the tournament. Like Niagara, which Canisius defeated in the AHA semifinals, the Bobcats feature a Hobey Baker Award finalist (Eric Hartzell) in net.
"We've watched them on tape and obviously they're very good and had a lot of success this season," Smith said. "We played them early last season (7-1 and 4-0 losses) with 20 freshmen and sophomores so this will be a good look at how far we've come.
"Our key is going to be focus and playing the kind of hockey that's gotten us this far. Our league has prepared us well for the NCAA tournament."
— Chris Lerch