It's almost getting predictable. When Minnesota and North Dakota both make the NCAA tournament, they end up in the same regional.
It has happened four of the last five times the teams have appeared in the same field of 16, dating to 2006.
As the top two seeds, they could be meeting Saturday at Van Andel Arena in Grand Rapids, Mich., for a spot in the Frozen Four.
Niagara and Yale, however, have other ideas.
Here's a look at the 2013 West Regional, the only one of the four sections that includes all at-large selections: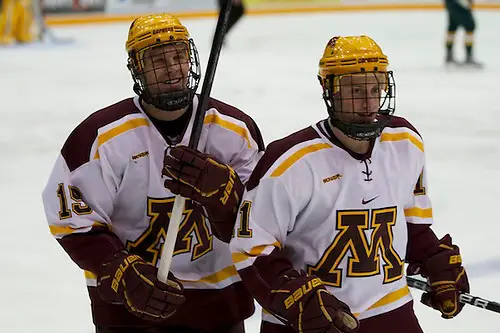 Minnesota Golden Gophers
Coach: Don Lucia, 26th season (14th at Minnesota)
Record: 26-8-5 (16-7-5 WCHA, tie-first)
How they got in: At-large bid
Regional seed: First
Last NCAA tournament appearance: 2012
Best NCAA finish: Champions in 1974, 1976, 1979, 2002, 2003
Why they'll get to the Frozen Four: Minnesota might be the deepest team in the tournament and plays as well on both ends of the ice as any team in the nation.
Why they won't get to the Frozen Four: If the Gophers play as flat as they did last Friday against Colorado College, they can lose to any team.
Missing the WCHA Final Five championship game no doubt made for a bitter taste in the Minnesota players' and coaches' mouths after losing 2-0 to Colorado College in the semifinals.
Minnesota played its way into the No. 1 seed in the West Regional with a great regular season, and it's ready to leave the CC game in the past.
"I'm disappointed, to be frank, that we're not playing for a championship," Minnesota coach Don Lucia said after Friday's game. "We've been good about bouncing back. We lose a game, we seem to play better the next time out. That has to happen again next week."
The Gophers have the capability to regroup and make a return trip to the Frozen Four with their talent and depth. Minnesota's top five forwards each have 31 or more points this season.
Erik Haula is Minnesota's best all-around player, with the ability to score and pass the puck. He leads the team with 49 points on 33 assists (second-most in Division I) and 16 goals.
Nick Bjugstad leads the Gophers in goals with 22 and Kyle Rau is second on the team in points with 39 (15 goals, 24 assists).
Minnesota has one of the better offensive defensemen in the nation in Nate Schmidt. Tied for third in points by defensemen (31), Schmidt is the quarterback of the Gophers' top power-play unit. He leads Division I in power-play points (18) and power-play assists (14) and has one of the heaviest slap shots in the WCHA.
"We've had a great season and we've put ourselves in a great position," Lucia said. "I'm looking forward to watching our guys bounce back this week."
The Gophers beat Yale in 7-3 in the Dodge Holiday Classic in their last meeting in December 2002.
"We need to work on our compete level and make sure we finish our checks and limit our turnovers," Minnesota captain Zach Budish said. "The coaches always stress we're playing our best hockey when our hit totals are up and our turnovers are down.
"That's pretty much the same for any team but our team especially, when we're moving our feet and finishing checks, we're more involved and create chances that way."
The key for Minnesota is to throw the first punch and make it a heavy one. The Gophers can't let Yale hang around and give it a chance to win.
That's what nearly cost Minnesota a couple times in two one-goal wins in the WCHA first round against Bemidji State and it did the Gophers in last Friday against the Tigers.
— Tyler Buckentine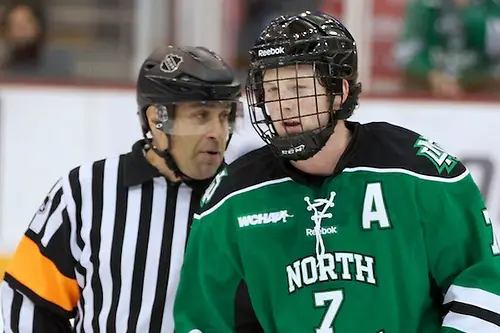 North Dakota
Coach: Dave Hakstol, ninth season
Record: 21-12-7 (14-7-7 WCHA, third)
How they got in: At-large bid
Regional seed: Second
Last NCAA tournament appearance: 2012
Best NCAA finish: Champions in 1959, 1963, 1980, 1982, 1987, 1997, 2000
Why they'll get to the Frozen Four: UND is stacked offensively and finds the net from seemingly everywhere on the ice. Hakstol's group has averaged 3.30 goals per game this season, and the points aren't only being put up by the forwards — UND has the nation's second-best blue-line corps in terms of offensive production (22 goals and 75 assists for 97 points).
Why they won't get to the Frozen Four: Minnesota gave UND a 5-2 pounding in last year's West Regional final in St. Paul, Minn., and, if UND outlasts Niagara in the first round, the nation's second-ranked team could then repeat last year's feat this time around.
Although North Dakota has never missed the NCAA tournament in Dave Hakstol's nine seasons as UND's coach, one thing has always eluded his team: a national championship.
In order for UND to give Hakstol his first national title and the program's first since 2000, it will first have to navigate a tough West Regional that includes a WCHA league rival that thumped UND at this same point last season.
The No. 2 seed in the West Regional, UND will play Friday evening against a Niagara team that ran roughshod over Atlantic Hockey for most of the season before losing in the league's playoffs and having to settle for an at-large bid into the NCAA tournament.
If UND can find a way past the Purple Eagles, there's a very good chance that WCHA archrival Minnesota would be UND's opponent in Saturday's regional final for the right to advance to this year's Frozen Four in Pittsburgh.
Waters in that regional final would be even choppier than they will be in the game against Niagara, though. Minnesota put on a dominating performance in a 5-2 win over UND in last year's West Regional final, and both teams will be gunning for bragging rights again for this postseason.
UND certainly has weapons strong enough to get the team to Pittsburgh, though. Hobey Baker Award finalists Danny Kristo (25 goals, 26 assists) and Corban Knight (15, 33) lead the way up front, and the team's 3.30 goals per game place UND fifth in the nation in terms of scoring offense.
The team does, however, need to shore up its defense in a hurry. UND is conceding an average of 2.45 goals per game this season (17th-best in the country), and neither junior goaltender Clarke Saunders nor freshman Zane Gothberg is among the nation's top 30 netminders in terms of save percentage.
Hakstol hopes, however, that his team can get the ball rolling by entering the Niagara game with the mentality it needs to have in order to perform in this one-and-done competition.
"It's a four-game tournament and you only get one shot at the first game," Hakstol told the Grand Forks Herald. "That's what we're focusing on and preparing ourselves for.
"It's exciting to be in. We're going to narrow our focus and get ready for a great game on Friday."
— Matthew Semisch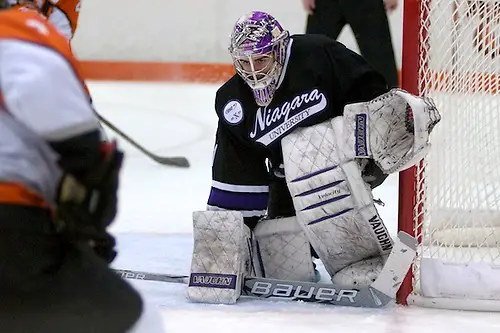 Niagara Purple Eagles
Coach: Dave Burkholder, 12th season
Record: 23-9-5 (20-5-2 Atlantic Hockey, first)
How they got in: At-large bid
Regional seed: Third
Last NCAA tournament appearance: 2008
Best NCAA finish: Second round in 2000
Why they'll get to the Frozen Four: Any team with a Hobey Baker Award finalist in net is going to be in every game. Junior Carsen Chubak has a .938 save percentage and six shutouts.
Why they won't get to the Frozen Four: The Purple Eagles were just 1-3-3 in non-conference games this season.
The past week has been a roller coaster ride for Niagara, which despite being the clear favorite to win its first Atlantic Hockey playoff championship was knocked out in the semifinals by archrival Canisius.
Dave Burkholder's team then played the waiting game before finding out that it had earned the first at-large bid in league history.
"We're glad to be honored with an at-large bid that was based on our body of work this season," Burkholder said. "We're grateful for a second chance."
Burkholder said his team had to regroup from a rough weekend, but is back on track.
"We had a meeting on Sunday morning with players and staff and aired some things out," he said.
"We let guys go on offense because we have skilled players up front, but they have to be responsible transitioning from offense to defense," Burkholder added. "We were not good in that department against Canisius. We gave up three goals in transition.
"We called some people out on that and got some things off our chests. Then we moved on and put it behind us."
The Purple Eagles' success starts with AHA player of the year and Hobey Baker Award finalist Carsen Chubak, who is among the nation's best goaltenders, posting a .939 save percentage and six shutouts. Chubak has all-league defensemen Kevin Ryan and Dan Weiss in front of him, although Weiss did not play last weekend due to injury.
Up front, you won't see Giancarlo Iuorio among the national scoring leaders because he has missed 11 games due to injury and therefore hasn't appeared in the required 75 percent of games to be listed. But the senior has 21 goals in 26 contests and is averaging 1.3 points per game. Linemates Ryan Murphy and Marc Zanette have 36 and 28 points, respectively.
As for Niagara's first-round opponent North Dakota, Burkholder said his team faces a daunting task.
"You've got 18 NHL draft picks and a pair of guys [Danny Kristo and Corban Knight] who have 305 points between them playing in the WCHA," he said. "If we play like we did against Canisius, we're going to be in for a long night."
— Chris Lerch
Yale Bulldogs
Coach: Keith Allain, seventh season
Record: 18-12-3 (12-9-1 ECAC Hockey, third)
How they got in: At-large bid
Regional seed: Fourth
Last NCAA tournament appearance: 2011
Best NCAA finish: Third place in 1952
Why they'll get to the Frozen Four: Yale has finally paired NCAA experience with a competent goaltender in the same season.
Why they won't get to the Frozen Four: As goes goalie Jeff Malcolm, so go the Bulldogs. When he is off his game, the team is rarely able to compensate.
Do you remember the 2008-09 Bulldogs, who went 24-8-2 en route to a clean sweep of the ECAC Hockey hardware? Or what about the 2009-10 team — the one that stunned North Dakota in the Northeast Regional before going down to Boston College in a blaze of manic, unforgettable lunacy the following night? The spring of 2011 wasn't bad for the Bulldogs, either, securing a program-record 28 wins, another league tournament championship and another NCAA win along the way. Do you remember all that?
Well, forget it: This ain't one of those teams.
The current iteration of Keith Allain's Bulldogs is battle-tested for sure, but it simply doesn't run as deep as previous Yale rosters.
Senior captain Andrew Miller (16 goals), junior Kenny Agostino (15) and senior Antoine Laganiere (14) can make you nervous, but the scoring isn't as spread out as it has been in previous years. Yale's 2.82 goals per game is seven-tenths of a goal fewer than it averaged last season, and the lowest total in a half-decade.
For a team that was scoring more than four goals a game just two years ago, it's a big change that has necessitated big adjustments.
Fortunately for Yale, one of the necessary adaptations came through this year: Senior goaltender Jeff Malcolm boasts a 16-6-2 record with a .914 save percentage and 2.42 goals against average; his backups are a combined 2-6-1 with .890 and 4.06 statistics. Clearly, the Bulldogs are a better team with Malcolm between the pipes.
Beyond these upperclassmen, rookie defenseman Ryan Obuchowski led the team with a plus-10 rating for the year, sophomore defenseman Tommy Fallen notched 15 assists and 22 points, and junior forward Jesse Root has put up a balanced 9-11–20 line in 30 games.
Yale did not qualify for the tournament in the most desirable of fashions, losing both its semifinal and consolation games by shutout. What had seemed on Thursday to be practically assured was suddenly — with the overwhelming number of upsets in other leagues — evaporating before the Bulldogs' eyes.
Miller said that he and his teammates knew the stakes before Saturday's third-place game against neighboring Quinnipiac, but the nation's top seed held serve and denied Yale's increasing desperation.
But when Notre Dame finally ended the March of the Underdogs and eliminated Michigan in the CCHA championship game, Yale knew it was in.
"Having to worry about the CCHA championship was not the position we wanted to be in," Miller said via email, "but we felt that our body of work throughout the season should put us in position to make the tournament."
The Bulldogs' leader believes that his team's experience will serve it well this weekend, and that focus is paramount to success at the national level.
"I have learned that the pace of the game is fast, and the smallest mistakes can send you home for the year," Miller said, "so in order to win games in the tournament you have to be at your best in all aspects of your game."
While outsiders will indubitably question Yale's qualifications in light of last weekend's results, Miller is confident in the Bulldogs' competitive pedigree.
"We are a competitive group of kids and we are looking forward to this weekend," he said.
— Brian Sullivan